Prof. Saumen Majumdar, Associate Professor at IIM Tiruchirappalli, is InsideIIM's Professor of the Year 2020! Having worked as Senior Economist at National Council of Applied Economic Research (NCAER) among other laurels, this is the 2nd year in running that Prof. Majumdar has been voted Professor of The Year by students! Find out why students at IIM Trichy love his classes and why he is "the coolest guy on campus."
Note - The winner(s) of the InsideIIM Professor of The Year at any given campus has/have been chosen by current MBA students of that campus. The voting process began in the month of February 2020, and MBA students could nominate their favourite professors here. The professor(s) with the maximum number of votes has/have been declared the winner(s) in 2020.
Meet Saumen Majumdar - Associate Professor, IIM Tiruchirappalli & InsideIIM Professor of The Year In 2020.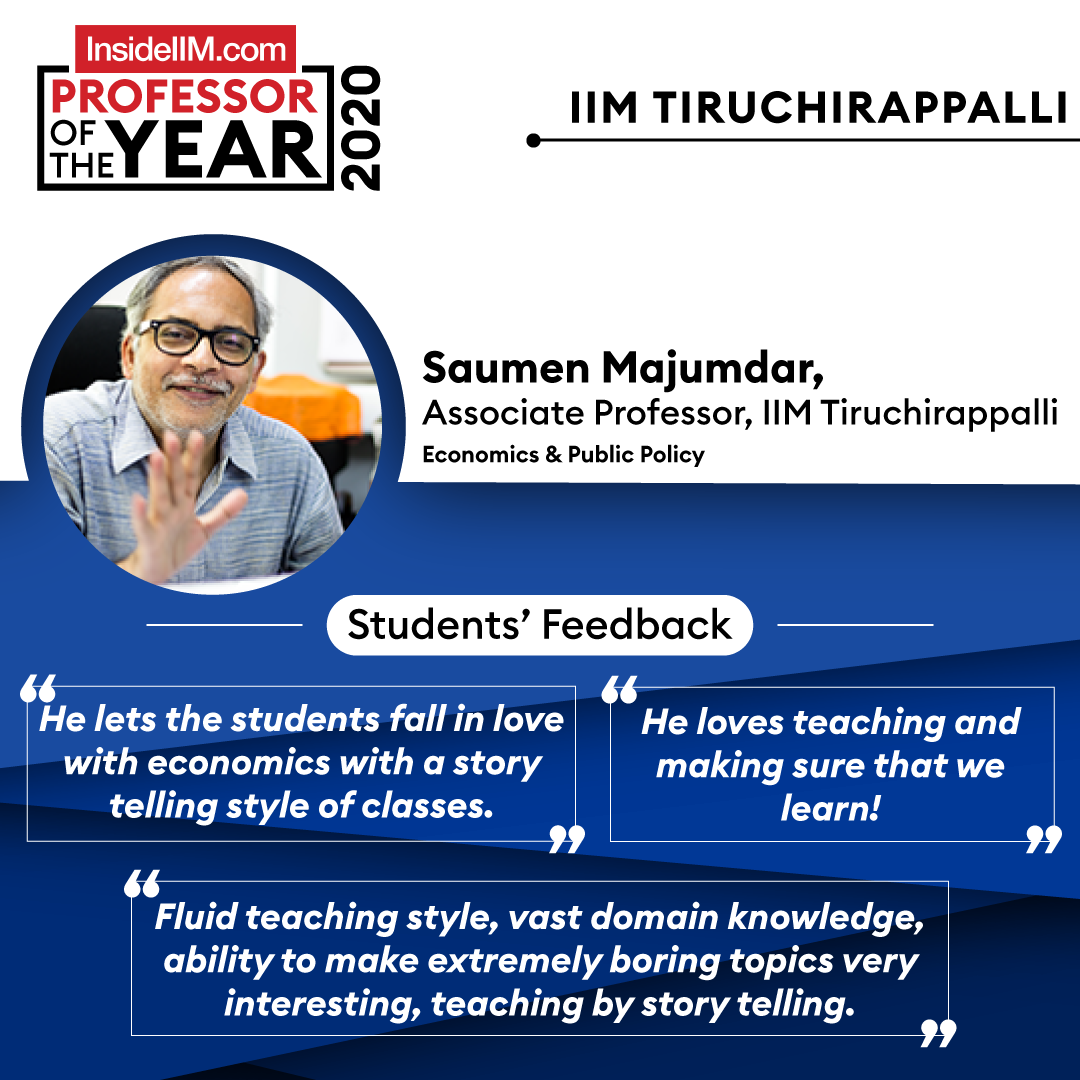 Prof. Majumdar teaches core courses in the Economics Area (Microeconomics, Macroeconomics in the Global Context and Indian Economy) and an elective course on Econometrics. With a B.Sc in Economics with Physics and Mathematics as allied subjects from Calcutta University and also Masters in Economics with specialisation in Econometrics, Prof. Majumdar completed a Post Graduate Diploma in Development Policy (MPhil) as well as Doctoral dissertation from Indira Gandhi Institute of Development Research (IGIDR, Mumbai).
An eminent economist, Prof. Majumdar has worked as an Assistant Professor for years at IIM Ahmedabad and later worked for GE Capital International Services and Centre for Infrastructure and Regulation at National Council of Applied Economic Research. Find out more about Professor Majumdar here.
InsideIIM Professor of The Year 2020 - What IIM Trichy Students Have To Say About Professor Majumdar
"His passion towards the subject and the way he gets excited when students come up with interesting facts makes his class more engaging. He encourages everyone to share their views and listens to everyone."
"The pedagogy is very unique. The level of interest he builds up during Indian economy and policy class is altogether to a different level. The students wait for his lecture as most of the theory is taught in the form of story. I had never imagined that economics could be interesting but all thanks to the Prof he ensures that content is delivered in an interesting manner. Writing exams for IEP was also very interesting and students enjoyed writing the same. He is the perfect professor for the current generation of students and is very practical."
"A unique delivery style where he brings into account his even more unique work experience. The class bursts into laughter when he tells one of his life stories, only to later connect it to a concept of economics and policy making. The sole torch bearer of Economics at IIM Trichy, Dr. Saumen has handled the responsibility excellently."
"One of the best professors, I've ever come across, he will put in his best efforts to teach in class, and explain the toughest of concepts in the easiest of ways. He teaches Indian economy in the third trimester after macro economics, so everything becomes relevant as you learn it from the Indian perspective. A humble and down to earth person, he will always treat you with his contagious smile, whenever you see him."
"He turns difficult concepts into easy stories and teaches in a manner that not only it's simplified but also it gets engraved in our brain. His objective is to teach students not grade or do anything. That's what makes him amazing."
The following are professors at IIM Trichy who missed out on winning the title of InsideIIM's Professor of The Year in 2020, but are loved by IIM Trichy students:
Mukundhan K.V.: "He explains every minute detail and makes sure the student understands the strategy behind the cases. He also makes the student work hard and learn on her own."
Sankalp Pratap: "Sankalp sir has been a source of energy for the entire batch and has been a go to person for not just academics but any issue students have. He is a lot more than a professor when it comes to helping students in making better decisions and guiding them in their b-school journey."