Internship Experience at Ambuja Cements by Rachit Pradhan, PGP 2013-15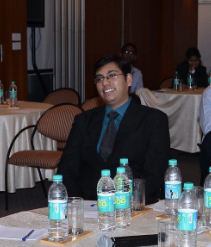 Rachit Pradhan, Summer Intern at Ambuja Cements, Qualitative Study of Channel Management, Marketing Domain
I have a year's experience in the IMRB before and the only extensive field work I ever did was during the 3-week induction program of my IMRB job where I was asked to execute a questionnaire to get the feel of a field job for a very brief period of a week. Being in Analytics department of IMRB, I had great time in juggling with backend work of primary research data received from our field department. As a budding marketing Student, I wanted to challenge myself for an extensive field work and no doubt this one was one heck of a challenge. This internship was a rather a sneak peak to more than a dozen cities of India in 53 days.
Day 1 when you expect an intern to get the feel of an organization, I was rather asked to come prepared with a report on the selection of the KPI's of my study as per my interaction with channel partners in Mumbai about Ambuja ways of working and dealing with channel partners over a span of 5 years .A Prework which was given along with my joining letter. To my surprise on the joining day I was asked to sit in the War Room with my reports ready, It actually turned out to be a long orientation session and followed by a quick introduction to Marketing Dept of Ambuja Cements. Next day was spent on drafting the action plan for the coming 8 weeks.
Taking the challenge head-on, I left for Nagpur on Day-3, City of Oranges. The daunting task was planned in 4 phases wherein I kick started with Nagpur in Central India, was given a week in Ahmedabad to gauge the feel of cement Hub of Western India , 9 days for Jaipur & Chaksu in North Western Indian, 15 days to cover Chandigarh,Panchkula, Ambala, Kurukshetra,Karnal and Panipat in Northern India and 13 days to conquer Kolkata and Ranchi in Eastern India. Well each phase had its own beautiful story and a page would be too short to capture it a single shot.
When it came to real business, Field visits were never easy especially in scorching 40 plus degree heat. With my weekends were spent on travelling, I had to ensure utilizing my maximum time on weekdays with channel partners to gauge maximum information. Lucky enough to meet few of them in the branch offices and Regional sales offices but the majority was spread across the outskirts of the cities. Hence visit was an only option to capture their invaluable insights. These market visits were brilliant eye-openers not only in terms of meeting various professionals and learning from their experiences but also appreciating the mutually beneficial relationships. Animated conservations near a Tapri/tea stall, Dhabas and hours of travelling on national highways become a daily affair. Task was to gauge the summary of my interview on decided metrics for Ambuja Brand, compare that on a likert scale with the past and come up with recommendations to the upper management for increasing the effectiveness of channel management. Beauty of this experience was in mingling with people of different cultures and knows how there association had been with Ambuja Brand over the years. Its really amazing to see people across states and from different cultures who don't even know you and from you are, accepting you quickly and treating you as one of their Ambuja family members. Thanks to Elections 2014 I had something common to speak.
No clue how these memorable 48 days zipped past, there I was in the review week, final 5 days of my internship but I was in for one more surprise. Just when I was finalizing my final draft to be presented I came to know that the review panel had been extended to 4 Members comprising of MD of Marketing Mr.Ajay Kapoor,Head of Branding and Marketing Communications Vivek Deshpande,Head of marketing commercial services Mr.Sanjay Gupta along with one of my mentors Mr.Premsherin,Head of Channel Management .Review session was more of a brain storming session of two hours .Gyaan pouring all over my head right from the start. Needless to say it was one of the most insightful sessions of my career interacting with such prominent personalities of the industry.
Four Key takeaways of these internships I would love to share with my peers and juniors: 1) Go out and network with as many different people as possible 2) Never Ever Give up. There would be times when things won't turn up your away the reason is something better is waiting for you. 3) Not just like but love what you do and stay hungry in terms of Knowledge 4) Challenge the Status quo if you wish to move ahead. Best way to set your internship is to look it in terms of a PPO i.e Public, Places and opportunities.
Post Internship, I was fortunate enough to be shortlisted as participant of Summer School program 2014 of IIM Ahmedabad for Qualitative research track for the very same study conducted with Ambuja Cements .I received a golden opportunity to present the study on conducting a Qualitative study in cement Industry with popular qualitative research techniques like Grounded Theory, Ethnography, Focus group discussion in front of Research Scholars, Doctoral students ,distinguished faculties from IIM-A and Harvard University and Students from SAARC nations.
With this goldmine of memories and learnings, I am all set to begin the 2nd phase of my MBA and with the hopes that these learning stay with me forever.
*************************************************************************************