Internship Experience At Patanjali Ayurved Limited – Ankit Gupta, IIM Rohtak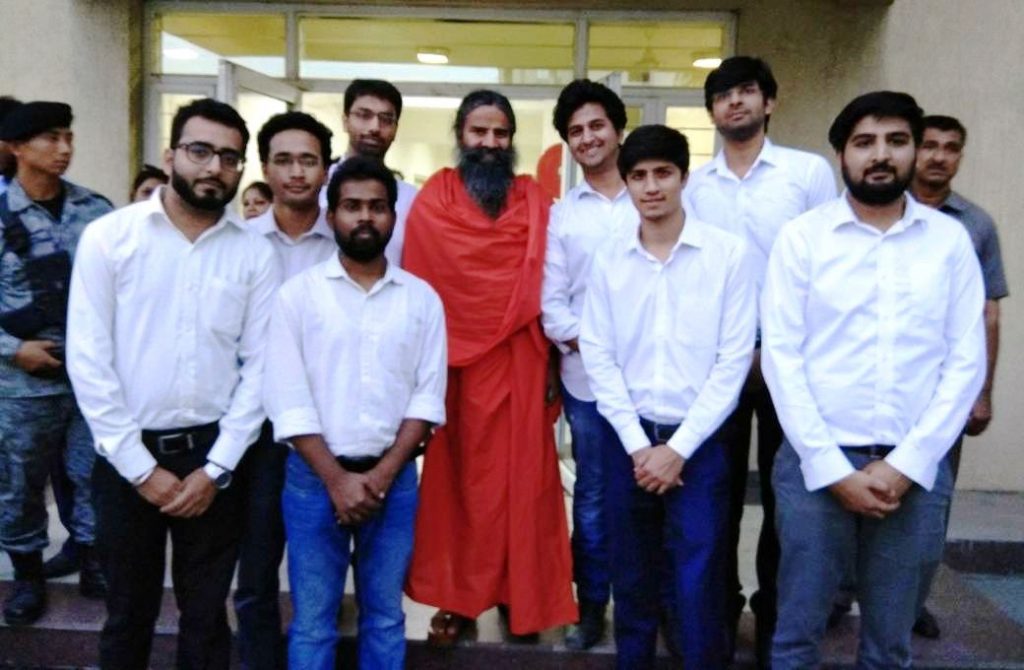 Om. Patanjali Ayurved Limited (PAL). This name needs no introduction. There is no denying the fact that The stalwarts of the FMCG industry are perplexed and thrilled by the stupendous rate at which the company is growing. In terms of revenue, PAL has already surpassed Dabur, a century old FMCG company and is all set to bring down Hindustan Unilever (HUL), to become the leading FMCG company of the country within the next two years.
With a dream of making a self-reliant and healthy Bharat, PAL was set up in 2006 by Yoga-guru Swami Ramdev ji and Acharya Balakrishna ji at Haridwar, UK. The company has already become India's fastest growing FMCG company within a very short span of its inception.
Working for Patanjali has become a dream for the most youth of India. I, along with 9 batchmates from IIM Rohtak, got a wonderful opportunity to work at Patanjali during my summer internship'18. I was very excited upon my selection at Patanjali after 40 students along with some faculties went to its corporate office at Haridwar for the interviews during November'17. It was an awesome feeling when I got to know that I was among the top 10 students who would be working for Patanjali during April and May'18 as this was the first time Patanjali had hired professional MBAs for an internship.
In order to give a holistic view of my stint at Patanjali, I'll be writing about my experience under separate heads.
The myth: The greatest myth about Patanjali is that since it is a Desi company, there will hardly be any professionalism or corporate culture in the organization. As such, before going to Haridwar, I too was very sceptical and hundreds of questions crossed my mind that since this is the first time interns are coming to Patanjali, what will the culture be like? What will be the behaviour of other employees? But all my misconceptions were cleared on the very first day of my induction.
Day 1 at Patanjali: I did not expect that there would be an induction process and a specific internship program planned as this was the first time, but I was amazed when we received a formal induction by our group mentor explaining the vision and mission of the company and what was expected from us during our spell at the organisation. We were later given a tour of the entire Patanjali food and Herbal park where we saw the humongous scale of production of Patanjali products. It was a life-time experience to witness the whole process of manufacturing of the leading SKUs of the company so closely. We were shown the entire facility along with the Quality control lab, Coloroma unit and Patanjali Bio-Research Institute (PBRI). We were also made to taste various products like juices, sharbats and candies. In the second half, our group mentor assigned a POC and allotted different departments to different interns based on their preferences from Marketing, IT, Analytics, Finance, HR, Operations and E-Commerce.
The move: On day 2, all the interns were shifted to their respective departments. I worked with the Marketing and E-commerce department which oversees and manages the B2B and B2C sales and distribution of the organisation through E-commerce. My project was to work on the 'E-commerce fulfilment strategies of Patanjali' and devise strategies (both B2B and B2C) and automation in order to improve the overall process by reducing the gaps between various stakeholders thereby increasing sales through E-commerce.
I learnt various aspects of marketing including omni-channel marketing and contributed by designing various documents and reports to be implemented PAN India. I also got an opportunity to visit Patanjali's largest Carrying and Forwarding Agent (CFA) located at Hassangarh, Haryana along with my Manager and a colleague. It was a great experience to visit India's largest warehouse and train employees to improve the process and contribute to the strong trajectory of Patanjali.
The culture at Patanjali: I have a prior experience of working with IBM and obviously one cannot expect an MNC culture from Patanjali but the culture at Patanjali is unique in its own ways. The exuberance and commitment of the employees is unmatchable. Employees have a great sense of brotherhood and respect towards each other and are extremely helpful. They are expected to wear traditional clothes thereby keeping the philosophy and traditions of the company intact. The work culture is at par with corporate culture with an extremely talented pool of employees who work with full dedication towards achieving the goals of the organisation. Patanjali has a unique policy of providing lunch and travel facilities to all its employees. Its core values of Seva and Santulan can be sensed with ease.
Hospitality at Patanjali: One of the best parts of my internship was the accommodation provided throughout the 8 weeks. We were provided with twin-sharing fully-furnished AC rooms with a LED TV and balcony in the lush green and huge campus of Patanjali Yogpeeth. One can enjoy the true beauty of nature in the soothing and serene environment. Dinner was provided in the mess which was very healthy and satvik in nature while all the basic necessities could be bought from the nearby market. Regular yoga and meditation classes and frequent yoga workshops attracted bhakts from India as well as foreign countries. Separate cabs were provided to us for commuting between Yogpeeth and corporate office.
The icing on the cake: Apart from the great experience and enriching learnings during my internship, the most memorable event was meeting Swami Ramdev ji. His great words of wisdom and unbelievable management lessons were probably the best part of the internship.
Conclusion: The purpose of any internship for a student is to effectuate classroom theory, personal skills and prior work experience and implement it to boost one's skill set thereby gaining unique real-world insights and at the same time providing valuable inputs to the organisation. Patanjali proved worthy of everything making me completely satisfied with my internship and I'd love to work with Patanjali in the future.
Before ending my article, I would like to share my key takeaways that might be insightful for prospective interns and MBA candidates during an internship at any organisation:
Strategise: Always go with a plan. It's imperative that one formulates a clear roadmap of what one wishes to do during the internship. Do a thorough reading about the company; its goals and objectives; understand how it operates, who are its competitors and what it wants to achieve in the long run. This surely gives an edge especially in case if the company provides PPI/PPO opportunities.
Be Proactive: Always be on your toes and take initiatives. Exhibit leadership and managerial qualities and show that you can lead from the front and be responsible. This helps greatly in forming a very positive image in front of the employer.
Be inquisitive: Always listen and observe things minutely. Understand the decision making and the way of working of your mentor. Learn as much as you can. Ask a lot of questions and try to gather as much information as possible in order to make some value addition to the organisation.
Utilize your time: 2 months is a lot of time. Plan everyday and make use of the time very efficiently. Acquire new skills and hone your existing skills.
Make connections: Most of us have a common answer to this one question asked during our MBA interviews; 'Why MBA?' and the general answer to this is: Networking with a diverse group of people and making new connections. Well, an internship provides a great opportunity to do exactly that. Make a lot of connections and interact with different people to understand their way of thinking. Networking is a very crucial aspect of business and one must always learn to leverage connections in future.      
With this, I end my article. I hope you find this article insightful. All the best for future. Om.
Additional Reading:
Ankit Gupta
Ankit is an avid sportsperson and a dreamer. He is currently pursuing MBA from IIM Rohtak. With a work experience in Information Technology sector from Technology giant IBM and FMCG & E-Commerce experience from the fastest growing FMCG giant Patanjali Ayurved Limited, He wishes to work for a company looking for change in growth trajectory, marketing strategies, omni-channel marketing, business development and team building.