Journey At Boston Scientific – Ananya Jena, XIMB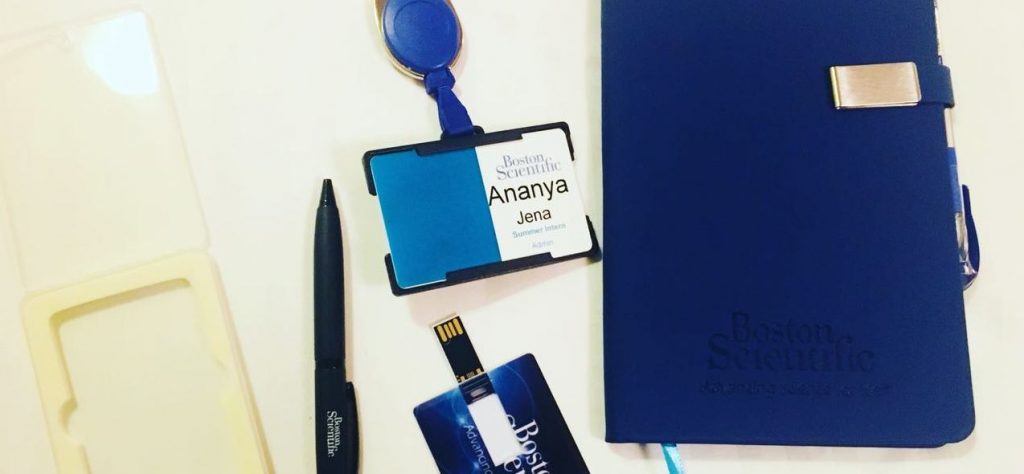 Operations, Finance, Marketing, Strategy! – The major jargons that you learn not long before or after you enter a B-School. Abundant opportunities but what would be my forte? I was yet to figure out. 
Within a month of joining XIMB last year, Summer Internship Placements were at the doorstep. Amidst all high and lows of the hectic B-School life, placements are a priority and like every other student, I had my choices and aspirations. Finally, after a month of applications and luck trials, I got an opportunity to intern with Boston Scientific Corporation (BSC), a US-based medical device producing company in Sales and Marketing domain.
Their basic selection procedure was pool shortlists, GD rounds and final interview. As a company from the healthcare sector, it's applicants were expected to have knowledge and experience from any sort of related fields, and I absolutely was miles away from it. Hence I expected my stint with them in summers to be an interesting one!
As soon as the papers from 1st year got over, I with the other interns from my institute moved to Gurugram to spend our next two months with the Boston Scientific team. BSC provides it's interns the best facilities to ease their stay at a new place or should I say pampers them to the core. As we reported at the office, we had a detailed orientation programme and were briefed in short, all about BSC and were gifted some goodies.
Who is the most important person to you in the internship? For me, it was my project guide!
We were mailed the details of our project and guides much in advance by the HR team of the company which was a unique and rare practice for the internship programme. Excited to the core, I had already connected with my project guide in the middle of the exams and had figured out that my project is going to be a challenging one! As our induction got over, we were guided to our cubicles and were introduced to the office team. My project guide was in the Marketing domain and headed an entire division. In no time, I rushed to my guide and discussed my project.
How was my project was going to be? Was it going to be theoretical analysis or field job? Well.. it was a blend!!
With little knowledge about the medical device industry, I started with preliminary research on the internet and simultaneously got a clarity of my deliverable. After some theoretical work and presentations, I was told that I have to get down to the field for primary research. The customers here are the hospitals and hence the respondents are doctors! That was the challenging part and my biggest takeaway. After travelling to 11 cities and numerous hospitals, my project took a shape and I got a clear understanding of the B2B marketing. The second major learning was understanding the dynamic sales force who assisted me in my project. The most unique thing about interning with Boston Scientific is understanding a highly regulated and niche market where you face major challenges even as an intern.
The d-day!
All the efforts summed up in one presentation which was my only contribution to the organization – It is the best!! This is when you get to put all your skills and learning from the first year of B-School (just not in groups). A relatively larger panel (or should I say experts) than my mid-review (an essential part of your progress) subjected me to all sort of criticism, queries and appreciation! The very feel of pressure is indeed a real-time corporate experience.
As I wrapped up my final presentation, I was asked by the HR team " How was your journey so far from a mechanical engineer in a core chemical plant, to an intern in the marketing industry of medical device?"  I had nothing else to say but brilliant! The transition from one job role to another job role was indeed a smooth one.
Anything else that was an icing on the cake? Of course, the cities across India that I travelled to. The company takes care of your itinerary and accommodation in a very systematic (and posh) manner!
Did this internship help me figure out the answer I was looking for? It surely did and is gonna shape my second year at b-school!