Mahindra's "War Room" Blasts The Bugle From SIBM Pune This Year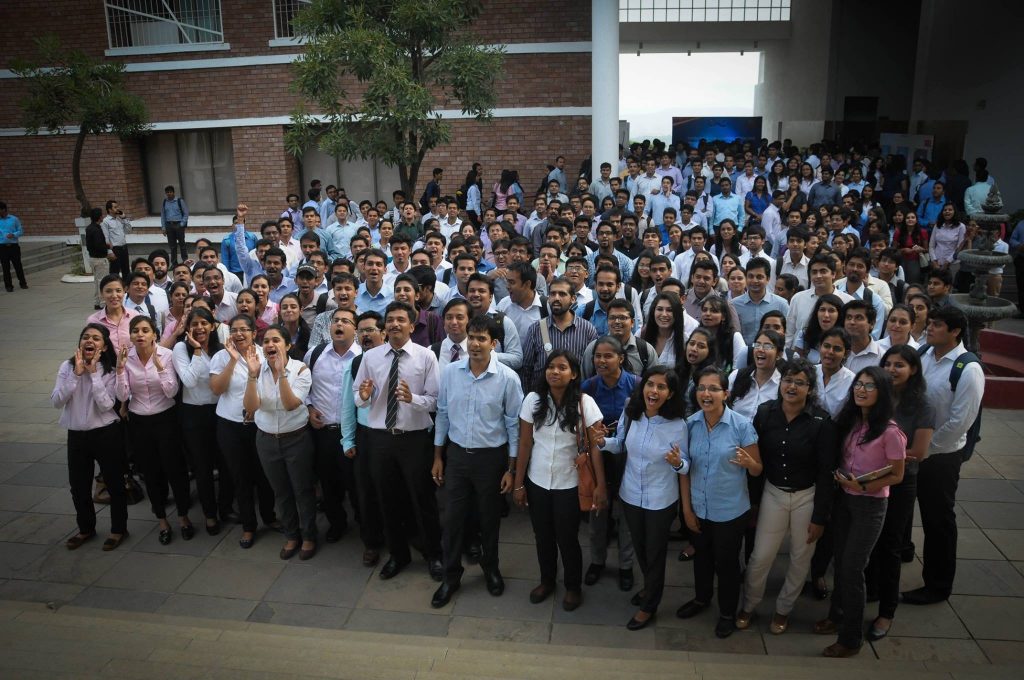 Where the impossible is probable
SIBM Pune, July 16, 2015: It is case-study competition season at Symbiosis Institute of Business Management, with the launch of Mahindra's "War Room" – a strategy contest for students to demonstrate their academic, social, business and fundraising skills over the course of six months. Based on the Mahindra Group's "War Room" practice, used as a major tool to engineer the transformation of the Group, a campus version called Mahindra War Room (MWR) was created to position the Mahindra Group, among B-school students, as a global federation of diverse businesses, united by the brand, purpose, values, and culture that Mahindra represents.
When asked about what is different about Season 8 MWR, Dr. Prince Augustin, Executive Vice President, Group Human Capital and Leadership Development, Mahindra & Mahindra Ltd. said, "It's all about possibilities; life is all about hope and challenges. Mahindra is a story of possibilities & therefore the theme of 'Infinite Possibilities' this year will help us connect with our Group's aspiration of being a Top 50 Most Admired Global Brand by enabling people across the world to Rise. In that sense, we are looking for crowd sourced ideas of what it means to be a Good brand."
For SIBM Pune, winning has become a habit. Students from SIBM Pune that formed the team that won last year were: Dhruv Anand, Kungumaraj Mohan, Varun Gandhi and Anisha Saluja who just gave this piece of advice to the students of MBA 2015-17 batch, "Don't just look at the caselet from a participatory angle but look at the feasibility & implementability of the solution because that is important for any business. Mahindra gives caselets that are real business ideas and can't wait to implement all that ideas that come from The War Room." This year, some of the best B-school students across the country will go head-to-head in the Season 8 edition of Mahindra War Room, which kicks off Wednesday, 15th July, 2015.
Over the next six months, teams of four will vie for the competition's largest pool of cash INR 5 Lakh, individual prizes, a Mahindra Holiday Package and, as well, the opportunity to gain employment with Mahindra – a pot that makes this event the envy of Business Strategy competitions in India. "At SIBM Pune, we are both pleased and proud of the achievements of our students and the levels they can reach to get a task accomplished. The best quality is our students who have a 'never say die' attitude – working in world-class infrastructure surrounded by nature's greenery – making SIBM Pune a unique and prime destination for businesses, as they hunt for the best talent to join them." said Dr. R. Raman, Director – SIBM Pune after the launch of Season 8 MWR pan-India from SIBM Pune Hilltop Campus.
Details of Rewards
Grand Finale, Winner Prize: Rs. 5.00 Lakhs (Team) + Centuro Motorcycle (Individual) + Mahindra Holiday Package (Individual)*
Grand Finale, Runner-Up Prize: Rs. 2.50 Lakhs (Team) + Mahindra Holiday Package (Individual)*
Preferential Recruitment Process (PRP): Winners and Runners-up at the Grand Finale to be offered PRP (Preferential Recruitment Process) of GMC Selection
*Mahindra Holidays: 2 Nights and 3 days Holiday Package sponsored by Club Mahindra
About SIBM Pune: Symbiosis Institute of Business Management (SIBM), Pune is a premier B-School of India recognised for its excellence in academics, high quality management programs and its valuable contributions to industry, society and students. SIBM Pune is a student driven institute. The students' council consists of nine teams, which organises a number of events, management competitions as well as cultural and sports activities. SIBM Pune ensures that its alumni community stays well connected with the college. Several events are organised wherein the alumni interact with the students and share their corporate experiences. The students of SIBM Pune continue to prove their mettle thereby strengthening the brand of the college in the corporate world. SIBM Pune, with its picturesque campus, state of art infrastructure and meritorious students continues to be one of the leaders in management education. To learn more visit http://www.sibm.edu/.