The pandemic has hit the job market across the world - hard. According to a recent report, nearly 19 million salaried Indians have lost their jobs since the pandemic began. The pandemic also hit the Indian MBA hiring market in the first half of 2020, with job offers and summer internships being cancelled or deferred, even for IIM students/graduates. So what is recruiters' outlook towards hiring MBAs in the near future? Is it largely negative or positive? To find out, the reputed Association of MBAs (AMBA) surveyed over a thousand employers to find out what's on their minds.
In May 2020, the MBA career services and employer alliance (MBACSEA) reported that among 118 global business schools, 67% had seen at least one job offer for their graduating students rescinded and 83 per cent said that start dates for some new graduates had been delayed.
Take Your Career To The Next Level. Ask Our Experts Anything. We Will Respond Within 48 Hours.
By mid-June 2020, it was revealed that job offers continued to be cancelled at leading business schools in India, as confirmed by officials at IIMs A,C,K & I, IIMs Udaipur, Kashipur and Sambalpur, as well as NMIMS Mumbai. Companies like Uber, Gartner revoked job offers while others like Oyo and Droom deferred them. Many unnamed startups also revoked job offers from top Indian b-school campuses.
It can be said with certainty that, when it comes to jobs, there is a lot of uncertainty in the minds of not just those who are currently at business school but also those looking to get into their dream institutes in 2021. Recognizing this uncertainty which stems majorly from not knowing what plans employers have for the future, AMBA has conducted a survey of 1000+ employers, of which 8% were from India. Here's what they found.
The MBA Job Market In 2020 - 5 Key Highlights From The AMBA Employer Report
The AMBA survey was taken by 1047 employers representing a host of industries like Consulting, BFSI, Marketing, Manufacturing, and IT amongst others. Most of the respondents (43%) were based out of Europe, a fifth were based out of Asia (including India), and 7% of the respondents were based out of North American countries. Here are the key insights they provided:
61% of recruiters who responded said that they were either 'not very confident' or 'not at all confident' about the state of the global economy. Further, 60% of those who responded said that they didn't have any confidence in their respective home countries' economy.
35% of recruiters who responded said that they were going to hire a lot less for MBA-relevant roles, citing multiple reasons primary of which was economic uncertainty. Other reasons included an increased focus on core business survival instead of growth, disinclination towards hiring and training 'expensive' talent, and dynamic changes to business. A total of 60% of the respondents said that they would be reducing hiring as compared to 2019.
53% of participating employers feel that the biggest challenge of recruiting in the MBA job market is the lack of skills that candidates display, and 47% feel that MBAs lack creativity. 28% of the respondents felt that a major challenge in recruitment was that there were too many candidates for a limited number of jobs.
Employers do not believe that MBAs either effectively use or know how to use Artificial Intelligence or Augmented Reality in their work, though 57% believe that MBAs are able to include the use of Big Data in their work processes.
87% of the respondents are either fairly favorable or very favorable towards hiring from business schools, and 68% of recruiters rated MBA hires as 'Very Good' or 'Excellent' as employees.
---
What Is On Employers' Minds When It Comes To The Economy & Hiring MBAs In 2020?
The pandemic has adversely impacted the global economy. As per the World Bank, "the pandemic is expected to plunge most countries into recession in 2020, with per capita income contracting in the largest fraction of countries globally since 1870," and should disruptions to the global economy be prolonged to the second half of 2020 and into 2021, the outcome could be worse than the bleakest estimates.
Therefore, it comes as no surprise that employers across the world have very little confidence in the global economy. 6 in 10 of the 750+ employers who responded to this question have a pessimistic outlook towards global and national economy in 2020, and possibly 2021.

With such a bleak outlook towards the economy, it is not surprising that 6 in 10 of the 750+ employers who responded to the question 'Do you envisage your organisation hiring more or less or about the same number of management leaders in 2020 compared to 2019?' are going to reduce the number of MBAs hired in 2020.
Among those planning to cut back on the recruitment of management leaders this year, compared to last year, reasons included:
The COVID-19 pandemic and associated economic uncertainty – this was the dominant reason across the board.
Fears over economic slowdown.
Global oil and energy stagnation.
Dynamic changes to the business.
Focus on core business survival rather than growth.
Disinclination to hire and train 'expensive' talent.
Moving from globalisation to localisation.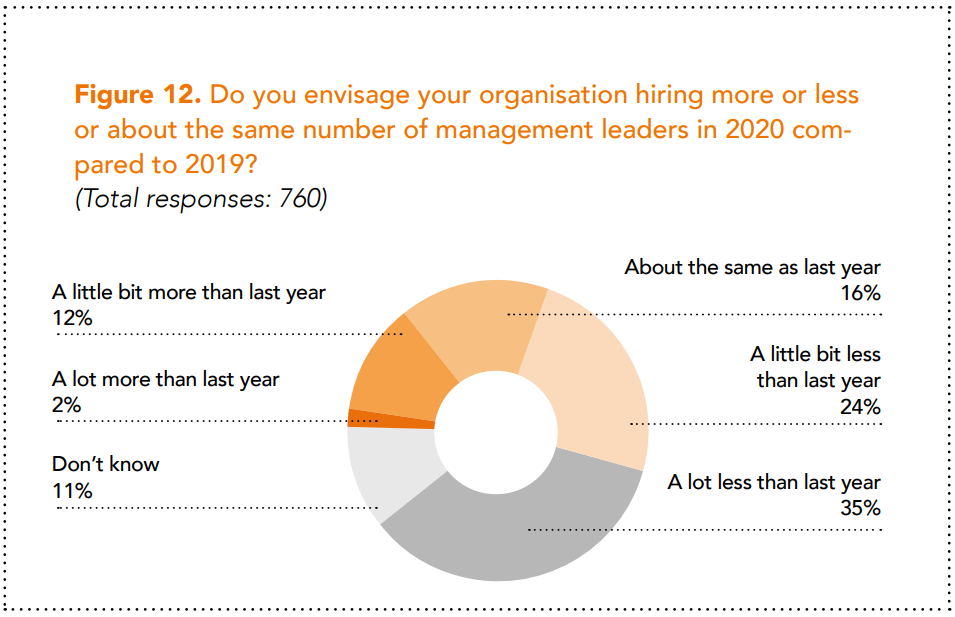 Among those planning to recruit higher numbers of management leaders over the course of 2020, compared to 2019, reasons included:
Scaling up to address challenges brought forth by the COVID-19 pandemic.
Start-ups with ambitious growth plans.
Critical plans already in motion that require increased headcount.
The need for more innovation.
Preparation for economic upturn.
Expanding needs in light of new technology.
The organisation is unaffected.
---
What Are The Important Aspects That Employers Keep In Mind While Hiring MBAs?
Ever wondered what about an MBA graduate's profile matters to recruiters the most? Apart from the skills and experience they bring to the table, what is the impact of factors like the alma mater of the candidate, specialisation they took up, or even the format of the classroom? To find out, AMBA posed the question to recruiters, 'When you recruit MBAs in the future how important will each of the following aspects be for you?' The following were the results.
Amongst the 9 aspects listed out, the top three aspects 'very important' or at least 'fairly important' to over 75% of the respondents were the Accreditation of the MBA (i.e., is an MBA program accredited by AACSB, AMBA, and/or EQUIS), the internationalisation of the MBA, and aspects completely excluding the MBA (which presumably can be inferred as the skill set, personality, and experience of the candidate).

So what's not important to recruiters? The top-3 aspects that recruiters consider 'not very important' or 'not important at all' include the format of the MBA (i.e., did you complete your MBA online, via classroom, or in a hybrid format), the type of MBA completed (full-time or executive), and the country in which the MBA was completed.
AMBA also asked recruiters the characteristics that make an MBA graduate the ideal hire for senior level jobs. 8 out of 10 of the 750+ respondents said that the personality and character of the applicant was important, and at least 7 out of 10 held the candidate's past work experience in high regard.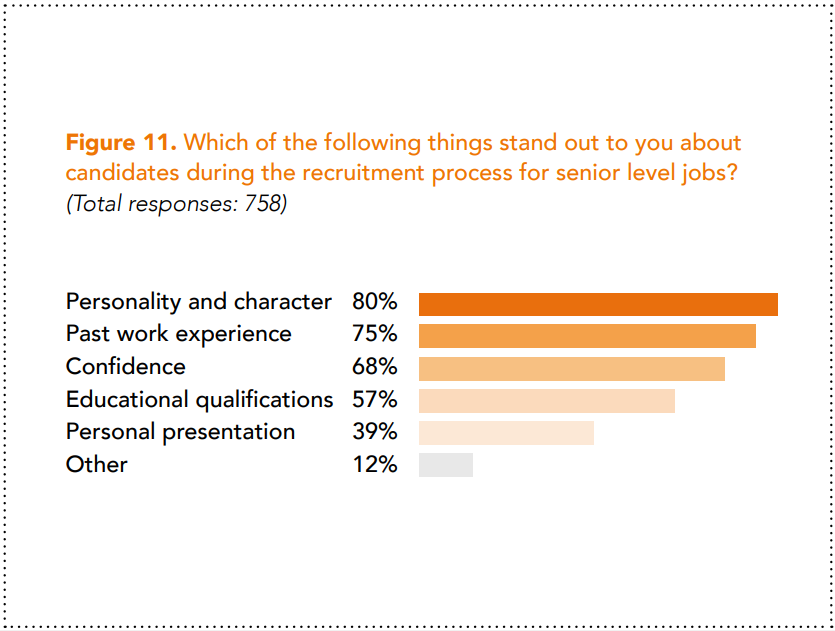 Just over 10% of the respondents believe that 'Other' characteristics like passion, attitude, empathy, humility, subject matter expertise, sensitivity to diversity, language skills, preparation, and common sense are of importance while hiring MBAs for senior level jobs.
---
What Are The Biggest Challenges That Employers Face While Recruiting MBAs?
AMBA asked employers what the biggest challenges were that they faced in the MBA recruitment landscape. This question not only brings out obstacles in recruitment but also presents an opportunity for MBA students to do a course correction and make themselves more employable in the future.
Amongst the top-3 challenges that recruiters face in the MBA hiring market is the lack of skills (5 in 10 employers think this), lack of creativity (nearly 5 in 10 employers think this), and too many candidates for too few jobs (nearly 3 in 10 employers think this).

---
The AMBA report also answers questions like 'How do employers rate MBAs as employees?', 'What technological skills do MBAs lack?', 'What employers think is the difference between an MBA and a non-MBA?' amongst other questions. You can read the detailed report here.