XLRI - Xavier School of Management believes that enduring corporate success can only be built on a foundations of ethics and social consciousness. At XLRI, money goes hand in hand with meaning, values and valuations grow in concord.
XLRI provides future business leaders with cutting edge business intelligence, an environment that fosters healthy competition and the chance to leverage personal aspiration for the greater good.
A multi-dimensional course structure, a diverse selection of colleagues and a collection of responsible academic minds make for a compelling milieu in which to develop potential.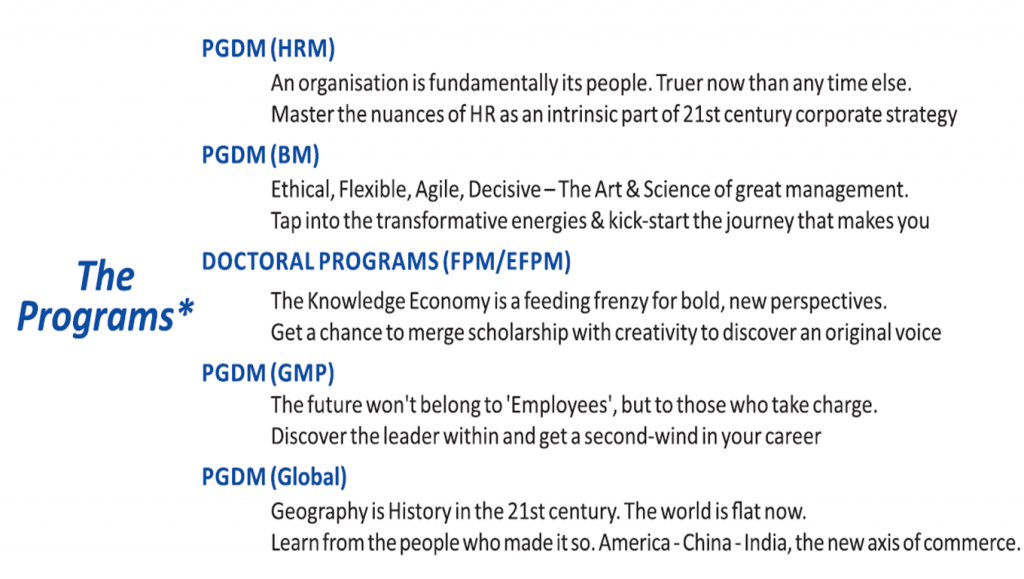 PGDM (Human Resource Management)
An organization is fundamentally its people, it is truer now than anytime else. Master the nuances of HR as an intrinsic part of 21st century corporate strategy.
The useful organizations of future would be built on the manager's ability to develop, recognize and tap talents of the people. The HRM program at XLRI has shaped HR thinking and Practice in India and abroad. The programme trains future Human Resource managers to how to understand and tap human potential and help shape the future of economy through organizations. The key focus areas of the programme are: employee relations, human resource management systems and practices, legal framework, interpersonal and leadership skills. The programme offers a holistic development with good basic understanding of other subjects like strategy, finance, marketing, IT and operations management.
PGDM (Business Management)
Ethical, flexible, Agile, Decisive - The Art & Science of great management. Tap into the transformative energies and kick-start the journey that makes you.
Shaping future business leaders to create sustainable future. The BM programme at XLRI intends to produce highly skilled managers with equal importance given to awareness to self. The rigorous training, right milieu and intelligent peers ensure that we prepare managers with an holistic integrated approach to decision-making, which goes beyond organizations, humans and markets. The programme blends basic and advanced level knowledge to in diverse subjects to broaden horizon of the future managers. The key focus area of the programme are: Economics, Finance, Information Systems, Marketing, Production Management and Strategic Management. Emphasis on ethics, sustainability and values run through all the courses.
(Are you among the best? Prove your mettle now. Register for XAT 2015 Apply Now)
PGDM (Gobal MBA)
Geography is History in the 21st century. The world is flat now. Learn from the people who made it so. America- China- India.the new axis of commerce.
Success of global organization in the present times would depend upon their ability to understand and operate in the three of the biggest economies India-China and U.S. The global MBA program, one-of-a-kind programme in the world, offered in partnership with the Weatherhead School of Management at Case Western Reserve University (USA ) and Tongji University (China) is constitutes a diverse class of Indian, American and Chinese students. Students would be exposed to global realities as they have to spend minimum three months in the three countries. This exposure would be both experiential and academic. Students would be taught by best of faculty drawn from each of the three partner schools in Shanghai, Cleveland and Jamshedpur.
For HRM/BM/Global MBA: NRI/PIO/Foreign candidates can apply either through XAT (www.xatonline.net.in) or GMAT score (www.xlri.edu) GMAT taken between December 1, 2012 and December 20, 2014
Eligibility : (For HRM/BM/Global MBA) Candidates must hold a recognized bachelor's degree of minimum three years duration in any discipline or complete their graduation by June 10, 2015.
Candidates having experience of three or more years will be given preference for Global MBA.

For registering online for XLRI's programmes, please visit http://www.xlri.edu/
Are you among the best? Prove your mettle now. Register for XAT 2015 Apply Now
5 Reasons why you should take the XAT
For XLRI's Final Placement Report 2014(BM & HRM). Read here
For XLRI's Summer Placement Report 2014(BM & HRM). Read here