"Quit More, Quit Often" – Prateek Panda – Entrepreneurship at SPJIMR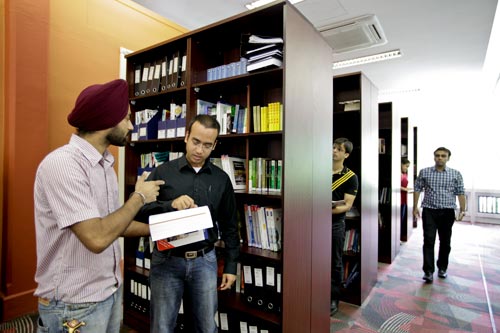 A business school basically serves to ready you for a career in management and fast tracks your career in the corporate world by providing you with the perfect launch pad. So whether it is the perfect investment banking opportunity or a sales stint in an FMCG, whether it a Leadership development programme in your dream company or a product development role at a leading tech startup- a business school offers you with an opportunity to achieve your target. What one can safely conclude from here is that management education readies you to work in the capacity of an employee. But off late we have been seeing a trend where business schools are nurturing serious entrepreneurs intent on being the employer of choice rather than an employee of possible choice.
The Entrepreneurship Committee at SPJIMR – one of the twenty four ADMAP committees (ADMAP is one of SPJIMR's flagship programmes whereby the administration of the entire college is managed by students who are in one or the other of the twenty four committees) kick- started the academic year with a session on Entrepreneurship by Prof. Sunil Handa, a serial entrepreneur and faculty at IIM Ahmadabad who also heads the entrepreneurship cell at IIM A. The Committee has since then come a long way- with coordinating extended sessions by Sunil Handa where students genuinely interested in undertaking an entrepreneurial initiative were given an opportunity to have a tete-a-tete with the professor. A newly constituted Entrepreneurship Cohort has also been started this year at SPJIMR which is primarily a focus group on entrepreneurship with an aim to enable young enthusiasts to take plunge as soon as they are done with their MBA. The idea behind the cohort is to serve as an incubation cell for ideas, in addition to providing enough support and incentives so that young business school students can look toward setting up a start-up rather than go for a typical B School placement.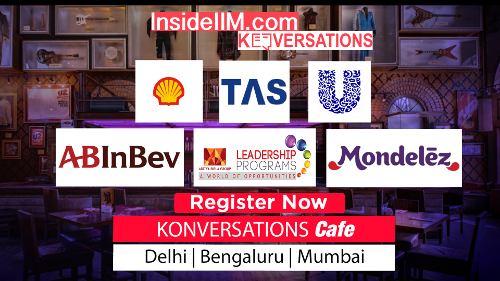 Pivotal to all these developments is the interest of students who would like to take the "path less traveled". Prateek Panda, 24, a first year PGDM (Marketing) student is no stranger to taking the plunge. Founder of TheTechPanda.com, this young entrepreneur shares his thoughts on entrepreneurship and the incredible journey that it has been. Excerpts from an interview conducted with him by this correspondent are as below:
Could you give me a brief background about yourself?
I was born in Bhubaneswar, Odisha in a typical middle class family. I say typical, because where I was born working in the public sector had a kind of sanctity and respectability attached to it. Thanks to my father's public sector job, I lived for most part of life all over the country and that kind of shaped my world view and perspective about life. I came back to Bhubaneshwar to pursue engineering at the KIIT University. This was where I started my first company at all of 19 years. I used to sell customized open source software for Small and Median Entrepreneurships and educational institutions which could help make their lives easier. I had made up my mind that I would like to start something of my own rather than work for someone else. A cushy MNC job was not something I found very fulfilling and thus was born TheTechPanda.com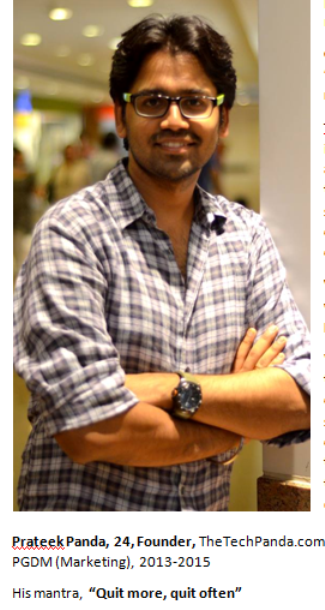 You chose to take a path less travelled, was that a conscious decision and were there any pitfalls to the choice that you made?
I had always wanted to do something different and my stint during engineering college days only served to vhet my appetite for entrepreneurship. Given this of course taking the all important decision of going it on my own was not entirely without moments of self doubt and hesitation. With my family background the decision making dilemma was only compounded. However I was really lucky to have been a part of a group of like minded individuals at KIIT. So as the months went by, I became more and more convinced that I needed to give my passion an honest and sincere try. My distance from the blackboard increased and soon we were sitting behind on the last bench making business plans during class hours. We started the first company with the idea of making some money while we worked on bigger ideas and thus to rid ourselves of any kind of dependency on our parents. It worked and we struck gold.
There were of course the obvious pitfalls. Thinking of taking up a job, especially the regular kind was an option that was almost ruled out. It was too monotonous, too tedious- this what we were doing was far more exciting. Again an entrepreneur's life is a heady roller-coaster ride. There will be times when we wouldn't have enough money to pay off our bills. And I had to still come to terms with my family's averse reaction to my decision which was the toughest part of the entire journey
How did you come up with this idea of starting a website for startups? Were you looking at founding a tech startup or were there other areas of interest as well?
Having worked briefly at one of India's leading platforms for startup stories and entrepreneurship made me realize that the number of new businesses coming across sectors and particularly in the technology sector was huge and so many of them deserved media attention and a dedicated platform that would highlight their journeys and tell their stories in a spirited manner. That is how TheTechPanda was born with the intention and single point agenda to fill this void in the media space (especially the online media) and thus serving to be an integral part of the startup ecosystem in India.
Again, having said that there were a number of business ideas across sectors but honestly ideas are worth dime a dozen. It is really the implementation and execution that matters the most. For me at that time, the added benefits connected to a tech startup were that it had a lot of benefits like lower costs, no location constraints etc.
Given that it is a technology startup and we are seeing a lot of technology startups what would you say are the most essential elements to making a tech start up work?
Well here I would like to add that first and foremost, and this holds true for any kind of startup, what is most essential is that you have a great team of equally, dedicated  and driven people. The biggest issue facing entrepreneurs is finding good co-founders and setting up the initial team which would work on that one big idea!
For tech startups, I believe there are two things that one needs to keep in mind. First- always focus on the Minimum Viable Product and launch it. This will help you get valuable customer feedback which can then be used to shape the product in a direction that the customers truly need. Second, since Tech startups have very low capital requirement, people tend to lose interest soon and jump to something else because of minimal to no liabilities. While that can be good especially once you have a stable product, one should make sure that complacency does not set in.
Given that when it comes to startups there is always a 'consume without pay' psyche, how do you plan to monetize the TechPanda platform?
TheTechPanda was monetized from the first month itself. As most online media companies, we depend on advertising as our major source of revenue. It is true that there is a 'consume without pay' attitude towards startups, which is why we made a collective and conscious decision not to charge our readers for the content that they consume.
What is the way ahead for theTechPanda? Moreover where do you believe it is currently at? (in terms of a product/startup life cycle)
 Well, we have a long way to go. We will be completing two years this June. As far as the product life cycle is concerned, I think we have just moved in to the growth stage. The last six months have been spectacular considering the constraints that we have. In the months to come, we are looking at increasing our reach and tapping much more startups for their stories and experiences.
Given that you are doing an MBA currently at one of the best schools in the country, what plans ahead? (you may mention tentative plans if they are not crystallized already)
The support in terms of network and knowledge that SPJIMR provides is great and will be a major fueling factor in the days to come. As we grow, this will help focus our product and service much better.
If you had a mantra that you swore by in terms of being an independent entrepreneur what would it be briefly?
I'd say "Quit More, Quit Often". This is applicable to entrepreneurs as well as those in regular jobs. The intention is not to settle down with something that doesn't excite you enough especially when you are going to spend a major chunk of your daily time on it. So, keep quitting till you find your thing!
Any other thoughts…
Keep a good support system in the form of family and friends. You'll need them through your journey and their faith in you can help you when you are at your lowest and motivate you to continue
– as told to Sonal Sapale