Media Cell, IIMK, recently had the pleasure of interacting with alumus Mr. Sandeep Chatterjee ( Batch of 2003) who is currently Associate Director at KPMG. He has worked as Lead Consultant at Infosys Technologies and Principal Consultant at Oracle Consulting in the past. Here's what he had to say about the field of Consulting:
1. According to you, what does the word 'consultant' mean?
A consultant is someone who looks at an issue from various angles and suggests possible solutions. Generally, consultants have experience of various industries and can provide a diverse range of options for any given problem. If you have expertise in one particular sector, you might miss out on some aspects. Some issues require knowledge of various industries. For example, the concept of assembly line was developed using learnings from various industries. In the consulting field, you can learn more in five years than you would working in a core field for 10 years. The learning curve is quite steep in this domain.
2. What are the qualities that are required in a consultant?
A consultant is expected to be trustworthy, committed and someone who always sticks to his/her words. Credibility is one of the most important attributes sought in a consultant. The field usually demands long working hours and hard work so punctuality and dedication to work are essential.
3. How important is it to have prior work experience when applying for consulting firms at B-school placements?
Consulting firms generally pitch to clients by selling the collective wisdom garnered through many years of work experience present in their teams. A certain level of maturity is required to understand the pulse of the industry and interact with clients. Consulting firms prefer people with prior work experience because along with sector specific knowledge, they have also imbibed skills such as networking and dealing with clients.
4. How difficult is it for freshers to be selected at consulting firms?
It is not something unheard of. If a candidate can project a certain level of confidence and maturity along with knowledge of macroeconomic conditions and market awareness that is sought by recruiters, he/she has a good chance.
5. What does the career ladder look like in a typical consulting firm?
MBA graduates generally join at the position of an associate consultant. After a couple of years they progress to the roles of consultant- senior consultant- manager- associate director- director and then finally partner.
6. How difficult is it to switch from a core sector to consulting and vice versa?
Its not at all tough to make such switches in your career. Consulting firms generally seek professionals that have a deep understanding and experience of various industries and domains. So, if you join an FMCG company or financial services firm post MBA, you can always switch to consulting after some years of experience.
Similarly, there are many companies that are willing to hire people with consulting experience since they bring in substantial variety of experience of having worked in projects of different industries.
7. How important are the learnings of the MBA curriculum in the industry?
It is essential to develop a sound theoretical base during the MBA course. What is critical is how you apply those learnings practically in the real world. Students should constantly try to apply the concepts learnt in classrooms to real issues faced in the industry.
8. You have a blog on which you write articles regularly. How does this creative side of yours fit in the consulting world?
Creativity is very important when you present solutions to a client. Irrespective of the nature of your work, the manner in which you report it is critical. Companies generally demand reports and presentations that are well structured and thus you need to be meticulous in your reporting and engage in peer review of the same.
9. What is your take on the current government and the future economy of India?
I believe the new government has come with a lot of promise and is dedicated towards bringing the Indian economy back on track. However, there seem to be diverging view points already within the government. The need of the hour is to progress from looking at short term plans towards evolving long term plans for the Indian economy. The industry seems to be confident that under the leadership of the new PM, the government will bring about positive change in the country.
10. You have been closely associated with IIMK for many years now. In your view, how has IIMK evolved over the years?
When I was a students at IIMK, we were all at the old campus. I spent only a few months in the new campus. The new campus has developed beautifully and its truly a privilege to be a part of such a great campus. Also, the institute management, Director, faculty and the student community have worked hard to turn it into a world-class institute and have managed to bring great visibility to the campus. The quality of education has also gone up tremendously with a variety of courses on offer such as 'Social Transformation of India' and 'Sports & Analytics'.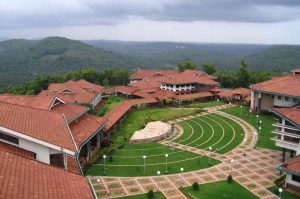 11. The junior batch (PGP18) has recently joined the campus. What advice would you like to share with them?
Go beyond the curriculum and academic books. Explore different fields and try to gain a variety of experiences on campus. Interact with as many people as you can and participate in all possible activities offered on campus.
We are extremely grateful to Mr. Sandeep Chatterjee for sharing his valuable time with us. We also thank the Alumuni Committee of IIMK for their cooperation.
Ipsita Acharya and Venu Merh