Summer Internships are the defining two months for every MBA student. They play a vital role in introducing students to the corporate world. To bag a great internship is a task in itself – and to this effect, all late night preparations, GDs with peers, guidance from seniors, I can confidently say, are worth it! I am certain that most MBA graduates would agree with me.
My journey with HUL started with Carpe Diem, where I was representing NMIMS, Mumbai, competing with the brightest minds in the country. True to its name, it motivated me to "Seize the Day", and I was pleasantly surprised when a brilliant opportunity knocked on my door right then and there! I was selected to be a part of the Coveted Unilever Leadership Internship Program (ULIP) – which was both, a blessing, as well as a great chance to test and prove myself.
I want to build a career in sales and marketing and a summer internship at HUL seemed like a firm step in the right direction. Counting days to the start of the internship was tough; I was forever sitting at the edge of my seat, pretending and practicing calmness as normal college routine progressed. However, one specific email from HUL literally made me jump from the seat. It was confirmed – I was going to be posted at Unilever House, 100 VE the head office in LONDON. What more could I have asked for?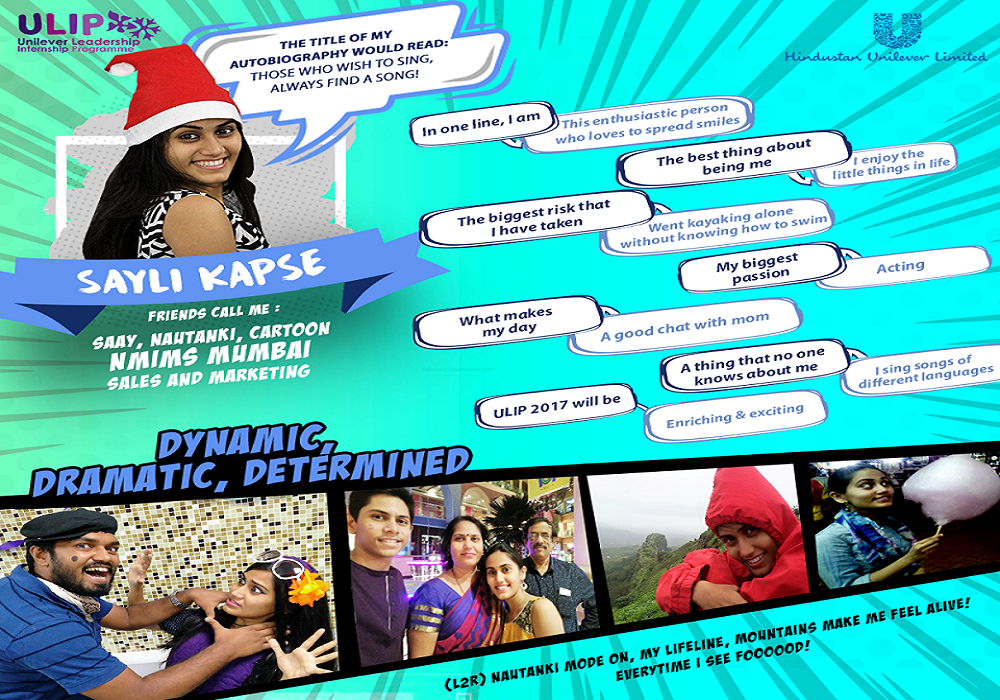 Given the ease of global travel and interactions in our time and age, having cold feet about travelling to the UK would be unexpected. However, for someone who has spent her entire life at home, stepping over international boundaries brought 'butterflies in the stomach'! As it turned out, the way the administration and logistics team at HUL functioned, my fears proved futile.
Finally dawned the day when we had our first tryst with the HUL campus at Andheri, Mumbai. The warm welcome which we were given generated in all interns an instant sense of pride to be associated with such an organisation. Along with a personalised welcome note, we received goodies, laptops and all the gears and tools one would need during the course of the internship. And the cherry on the cake were the luxurious accommodations! Unheard amounts of affection and attention were lavished on the interns, but what stood out starkly was the amicable, warm and humble demeanour of each person we met at Unilever. The work culture already started feeling fantastic.
After three days of intensive induction and team building sessions, it was finally time to travel to London. Like stated earlier, HUL took care of everything – from a cab to pick us up from the airport, to a converter in my room. Literally, everything!
On the first day at the London office, I met my tutor. I received my project brief, and began work. During the course of working, I learnt a lot more than what was entailed in my project. Right from building an understanding of the task at hand, to creating a proposal and presenting it to higher management, I was given an opportunity to learn, grow and build personal and professional capabilities. The learning was enhanced via the many interactions I had with people from different teams, offices and departments.
The culture at Unilever is great. Colleagues and seniors are always available to help and guide. Right from my tutor, to the President of my division – everyone made me feel at home and a part of the Unilever family right from day one.
I consider myself very fortunate to have been given such astute guidance throughout. My tutor and mentor were always there to help me understand my strengths, identify areas for improvement and to show me the right path.
While I absolutely loved my weekdays at work, the weekends were equally fun and memorable. London has a plethora of places to enjoy and explore, and I can confidently say that I have visited more places in these two months than my entire life! Right from the 'ever-busy' silent streets of London to the beautiful and cheerful town of Yorkshire, we got to see it all! The visit to Scotland was so beautiful, I could write another blog on it!
Finally, the two months are getting over, leaving me with a mammoth bag of memories, learning and experiences. I might not have mentioned it earlier, but I also earned few great friends as my co-interns, who, I am sure, are there to stay. Thank you HUL for giving me this platform to learn and grow. I can proudly say that I will cherish this knowledge and experience for my entire life.