An on-field sales experience is the thing every marketing guy craves for as it gives an immense understanding of the ground realities. And my internship at Food Crafterz provided me with the much-coveted sales experience. Food Crafterz is a startup which provides Branding service, Sales and Distribution service and Digital Marketing service to manufacturers of food products in FMCG category. I worked in the Sales and Distribution role. Being a foodie myself, I got involved in the product launch of two healthy snacks - Flavoured Foxnuts also called as Makhanas and Toasted Millet Muesli. Both of them had to be positioned as a premium product targeted towards the elite customers of Mumbai.
Flavoured Foxnut is a very healthy snack which can be used as a munchy to satiate our sudden food cravings. Muesli could be used as a breakfast cereal as well as a snack. Every execution starts with planning. My boss, the CEO of Food Crafterz, was someone who had immense experience in the health food segment. She helped me segregate Mumbai into specific territories. Once we had decided the territories to be covered, we finalised the schedule of our visits. We had four territories to be covered. After the planning, I got into implementation mode and started making visits to premium retail stores in Mumbai. I was accompanied by a salesperson who was well-versed with the location of the outlets.
Take Your Career To The Next Level. Ask Our Experts Anything. We Will Respond Within 48 Hours.
On entering a retail store, we encountered various situations such as an attentive owner, an inattentive owner, crowd blocking our interaction etc. Within some days of our visits, we understood that the best time to pitch our product to new outlets was from 10 am - 2 pm. This was the time shops had fewer customers and owners could pay full attention to our business proposition. The 2nd half of the day was mostly spent in repeat visits and collection of insights from established retailers. While pitching my product, I was crisp and clear. I made sure to highlight three key aspects of my product - healthy, toasted in olive oil and anytime snack. Then I asked for the retailer's feedback on the product and packaging. There were some genuine concerns which I reported to my top management. Issues which were under our control were immediately taken care of. I assured them of regular delivery service. I talked about the retailer margins and payment terms at the last. Here, establishing an immediate connect was the key to a successful sale. If the retailer did not feel the 'wow' factor, sales did not happen. Most of the times, I made the retailer taste all the flavours of our product. There were differences in the responses from retailers. Retailers of a particular territory preferred some flavours which were not preferred by those in another territory. Essentially, though most of our flavours were appreciated by the retailers, their buying behaviour differed across territories. I appreciated the concepts learned during my courses on Marketing and Sales & Distribution Management. There were some areas where we had appointed distributors. I got a lot of insights from distributors about the habits and preferences of the end consumer.
We did advertisements in the form of sampling and POP (Point of Purchase) displays. This boosted our sales tremendously. Most of the retailers did not charge us for POP displays. A few retailers charged for in-store advertisement as per their policy.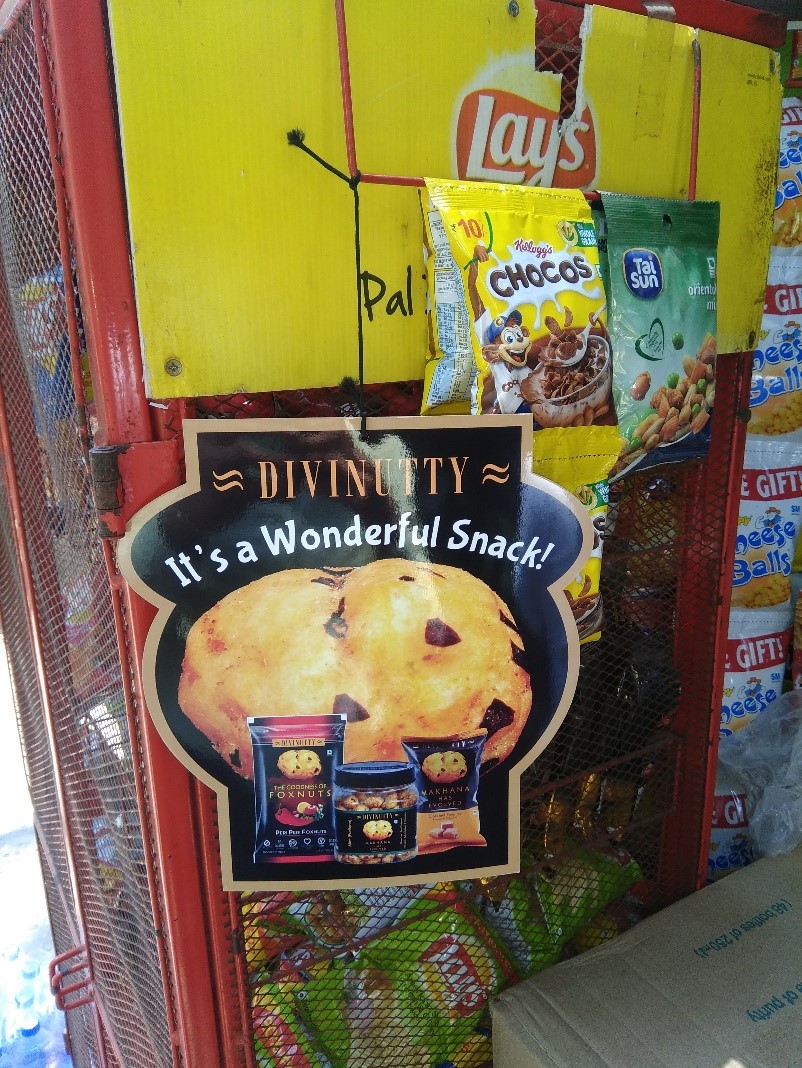 Our POP Display at a Retail Outlet
I also had an experience of managing large clients during my internship period such as Taj, Novotel, NSCI Sports Club etc. The nature of the transaction was different. These bulk purchases always stressed on creating long-term relationships and we tried to reciprocate in every way possible. The buying decision process was a complex one in this case which ran into several meetings. We had a hard time convincing buyers about our value proposition against local suppliers who maintained competitive rates. Finally, we were able to close our sales with some Five Star Hotels and a Cafe.
Apart from this, I handled deliveries to retail stores and large clients, received consignments, created bill management and stock management systems.
i) A good mentor can make us try a variety of things. If we fail, he/she will always be there to provide guidance. In my case, I was very lucky to have Ms. Priyanka Mehra as my mentor.
ii) Sales is not about talking, it is more about listening patiently to our customers' needs. A calm and effective approach is more suited than an aggressive approach.
iii) A casual talk with a retailer can give great insights about the performance of the market, buying habits and emerging trends.
Now, as I reflect on my summer internship, I would say it was really an eventful and memorable experience.
#FOOD CRAFTERZ #IIM INDORE MUMBAI #SUMMER SAGA 2017 #INTERNSHIP DIARIES