SNAP IT is an initiative by the Admissions Team of SCMHRD, Pune to help SNAP aspirants in their preparation. It is an informal and an interactive session where aspirants get an opportunity to gain insight on SNAP, meet students of SCMHRD and SCMHRD Alumni and gain access to lots of preparation material. This event helps aspirants understand the nuances of MBA life and the life after joining the industry.
DETAILS OF THE EVENT This year it is the eighth season of SNAP IT and the team is going to 23 locations across India. The event is scheduled for 5th/ 6th December.
Below is the schedule of SNAP IT Season 8.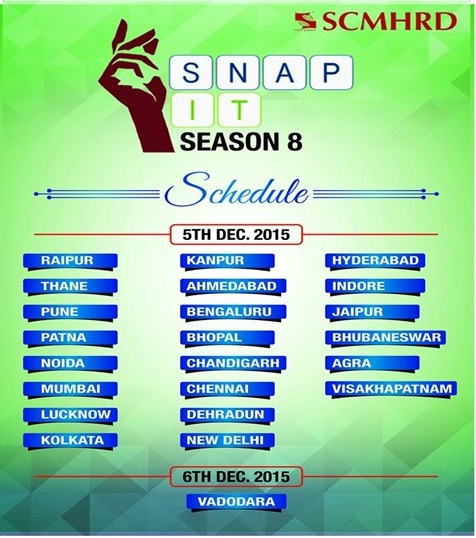 SNAPSHOT is a free mock SNAP series brought to the aspirants by SCMHRD, powered by TestFunda. GK is an area which gives jitters to a number of aspirants. By registering for SNAPSHOT, aspirants also get access to GK mock tests which help them in SNAP preparation.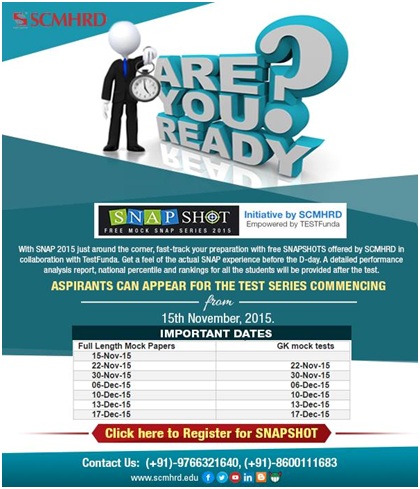 Last Date to Apply for SNAP is 24th Nov, 2015 . Log onto: snaptest.org
Last Date to Apply to SCMHRD is 19th Dec, 2015
Read stories by S.C.M.H.R.D. Admissions & PR Committee here
The S.C.M.H.R.D. Official Blog here