SPJIMR Business-Academia Conclave (SBAC) is here!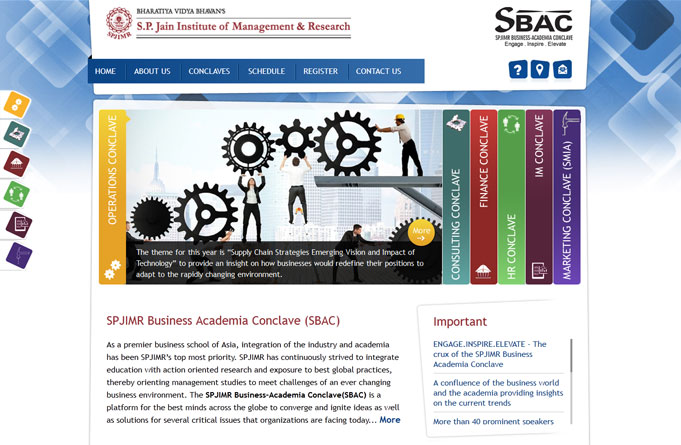 SPJIMR Business-Academia Conclave (SBAC) is a platform for businesses and academia to connect, share experiences and learn from each other against the backdrop of evolving market conditions. Initiated in 2010, SBAC has witnessed increasing participation from the industry in the six conclaves – Consulting, Finance, HR, Information Management, Marketing (SPJIMR Marketing Impact Awards), and Operations conclaves; primarily featured through keynote addresses, panel discussions, seminars, symposia, case-study presentations, etc. More than 35 prominent speakers from around the globe and 550+ corporate participants come together on this common platform every year.
SBAC 2016 promises to deliver a unique and enriching experience spread over three days – January 7,8 and 9 2016 at the SPJIMR Mumbai campus. Six of the most prominent, contemporary and relevant industry issues across different domains would be the conclave themes in SBAC 2016.
Key Takeaways
Immerse with a pool of outstanding business practitioners and thinkers from across the globe
Opportunity to update oneself of the current best practices that are identified and successfully adopted in organizations
Generate, share and obtain validation of ideas and opinions and get acquainted with complex implementation issues, from several panels of eminent speakers and discussants
Gain visibility and strategic advantage by participating in enriching discussions
A platform to network with industry leaders, experts, consultants, academicians from across the world
To register for SBAC, click here.