The month of September began! It was the month of Summer Internships! The air was filled with anxiety, efforts, hard work and CV preparation! Unfortunately or Fortunately (You are free to decide!) I headed the Placement committee and I was responsible not just for myself but the entire batch of 84 students at SDA Bocconi Asia Center! With a heap of responsibility, I worked all day long with the Learning and Development and Corporate Relations team and all night long for my own summers. It was tedious but I knew it would be worth every penny of effort! Then came Day 0 of Summer Internships where we had to manage the whole show! Running between recruiter's desks, taking care of classmates, interview round coordination and reviewing my own CV, there I was.
Interview Rounds for Ferrero: It was an organized chaos when the HR stepped into a room of students. She gave a detailed presentation on Ferrero and the different facets it had from Marketing to Sales to Supply Chain and Finance. It was wonderful when we saw the history of Ferrero and the values and culture that the company has grown with. The family-owned FMCG has become a giant now and we could the love brands and their growth int he past 5 years with a series of acquisitions. It was huge and at that moment I decided that I want to work here - just because of the work culture, the sustainability values. What struck chords with me the most was the Entrepreneurial Project of Ferrero where it gives back to society with a Kindergarten in Baramati. The HR went on to explain about the Global Graduate Trainee Program and its entire lifecycle of learning it offers to a fresher entering the industry from Management. There were 3 rounds of interview: GD and 2 personal interviews - HR and Domain Round! GD and HR round was conducted in college and Domain round was conducted by video conferencing in their regional office-Mumbai.
Preparation Strategy: Well, all said and done, I had gone through the entire website, piece by piece. Which means that I had left no stone unturned about knowing of Ferrero. I had even gone through the latest news of Ferrero, their recent press releases and their values in detail. This helped me a great bit in all the rounds. The only strategy is to showcase the company's values in you more than the knowledge, the values are what they check in any interview! I had done a detailed self-evaluation and associated an example to every Ferrero value. Additionally, I had created a self-persona to relate every facet in the form of a story- be it any question related to marketing or my CV. The questions ranged from medium-hard where the domain round tested me on marketing concepts and about the relevance of my work experience. The key is to match your work experience to the company you are going to work for in some way. You have to sell yourself in the end! The interview ended with a Case Guestimate which went well for me, thanks to the faculty at Bocconi and its robust curriculum! Always ask questions at the end! I asked a question about a recent news of Ferrero, posted just 5 hours ago and the interviewer was pleasantly surprised! This was the game-changer. Yes, I was selected in marketing Department of Ferrero along with other 4 lovely classmates!
Internship Experience and Learnings: Decked in Business Formals, all 5 of us reached the office and were stunned to see the office. The regional HR greeted us and took us on an office tour where we saw that every meeting room was named after a Ferrero brand- Kinder, Duplo, Country etc. The biggest board room was named ' Ferrero'. The first thing we were introduced to is the cafeteria (Yes that's important) and then to the business leaders. We were given a complete induction bout various brands of Ferrero and its operations across the global. It was all not so sweet until we got our own joining kits with Ferrero Rocher in it!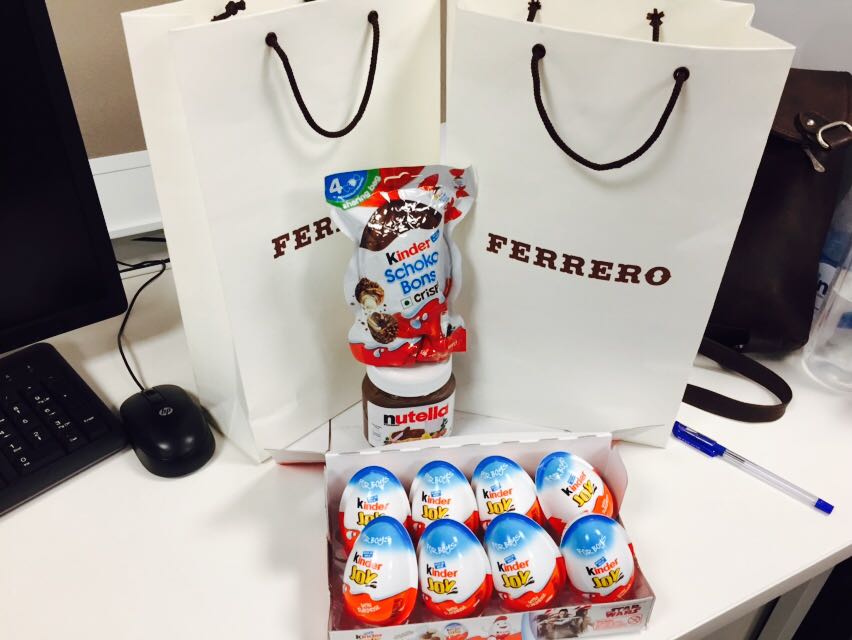 (Who would not like Ferrero Rocher?) I worked in the Kinder Department where I worked under Assistant Brand manager . A whole induction was conducted on Kinder for 2 days where I learnt about this love brand, their target market and its evolution since time! I was allotted a project to evaluate seasonal opportunities in Kinder and study the market in detail to come up with recommendations for its seasonal packs. What is marketing without a market visit? Thus the next week was set out in Market visit which was a split between Traditional Trade and Modern trade. It were 2 different worlds and I loved every bit of it. Travelling in dusty roads of Pune taught me the ground reality of Traditional trade market and observing modern trade made me understand the stark differences from the former. The visits were encompassed with lot of retailer interviews, market observations, target group observations. My mentor supported me in the whole journey. Though I used to get 10 minutes of his day, he made sure, he reviewed what I had done previously and suggested new modifications. He made it a point to teach me about Business presentations and how it works in an Italian context. Though Bocconi had taught me one view, I learned another view- the art of minimalism and clarity! The next few weeks were spent in rigorous analysis of competition and their offerings. I had always loved chocolates, but this made me dig deeper into its world. I loved the analytics part, because of my professor back in Bocconi, Mr. Poli who taught us every inch of it. It was so thorough and fresh in my head that I was well versed with market clustering, zone analysis, conditional analysis etc. The mentor was surprised by my findings and he loved the aesthetics of my analytical work. He asked me to now think of recommendations. Now, in my first year of b-school I had participated in a lot of external competitions (Regional Finalist- Brandstorm, National Winner- FCB Ulka Comstrat, National Runners-Up - Mallennial Challenge by BestSellers) They had taught me the art of ideas as they were the test-grounds. Because of many competitions, I could think on my feet and I could suggest well-thought ideas with execution strategy. But ideas are ideas, unless you test! Thus I went to conduct a Dipstick study and took up consumer immersions to test those ideas and to map the target group interests. This activity was critical to my project. Thanks to Kraftshala, an online marketing course I had taken up a month ago. Kraftshala had made the students undertake consumer immersions and prepare a marketing brief for 3M and a buddy brand. It also taught us the art of consumer insights. This activity helped me greatly in my summer internship and I could follow the same steps. With class taught concepts, external courses and competitions, my Powerpoint presentation of 70 slides was ready to be reviewed by HR , mentors and business leaders. It was heart-warming to see the efforts of 2 months in those slides. The final review went impeccably smooth and they loved my ideas and suggestions. They told me that they would be happy to implement these ideas in the near future as they were sustainably well thought with interesting consumer insights. The last day was the best as we had the opportunity to meet with the Head HR for India - Ms. Ilaria Cantu where she asked us about our learnings and had a quick chat about Bocconi. She spoke about the international exposure at early career stage at Ferrero.
Advice to Juniors: Please, please please, participate in corporate competitions and keep testing your knowledge and ideas! That is the rule No. 1. Its second most important after your CV! Keep reading and updating yourself with the domain and industry you want to work with. That would ease your thought process and you would be able to solve any complex business project with dexterity! Also, the faculty of b-school is the best possible asset you have. Utilize to the fullest! Master the art of Powerpoint Presentations and advance your Excel skills- because these are your two long lost buddies- during and post your MBA!
Overall, Kinder was an amazing brand to work with and it introduced me to the whole world of kids and toys! Ferrero was a wonderful Italian FMCG to work with a global viewpoint. It was a well structured 2 month, a journey I would never forget! (Not majorly for the project, but I really miss eating free Ferrero Rocher and Kinder Joys!)