CAT exam is due this month and a lot of aspirants would be eager to know more about the MHRM IIT Kharagpur, an MBA-HR course of Department of humanities and social sciences in academic collaboration with Vinod Gupta School of Management,IIT-Kgp and Rajiv Gandhi Law School,IIT Kgp. Current students and recruiters would also be keen to know the state of affairs with other campuses and other companies respectively.So, we come up with the summer placements report of MHRM 2015-17. MHRM- IIT Kharagpur gave another stellar performance this year when it completed its summer placements for the Batch 2015-2017. Being one of the few specialized HR course in the country, MHRM saw its placement season reflecting the faith reposed by the corporate world in our student.MHRM has done a fabulous job placing 16 students in some of the top companies in India. Notably, the IT and Manufacturing sector offers stand out.The observation being that many of these internships can also translate into full-time roles.Round 2 for the summer placements has already started even before the end semester examination of the IIT kharagpur.
The batch of 2015-17 encountered a magnificient scenario when the complete batch is placed(summer internship) in the shortest time span ever.
There were a host of companies from different domains like IT, manufacturing, HR Consulting,chemical/polymers, E-Commerce, auto ancilliary and Financial Services which participated in the placement process.
Various intern roles in fields like Organisational development, Talent acquistion ,HR analytics, HR consulting,compensation and benefits,training and development were offered to the students. What was heartening to see was the addition of big shot first time recruiters in addition to our already big list of previous recruiters.
Ananad group, Altimetrik, Rehau Polymers, Yodlee, Tega Industries, Salto Dee Fee Consulting, Stayzilla,Nomura were the companies to visit in the first round and other new or previous recruiters would visit during the coming rounds.
Different sector companies participated in the Summer Placement season (The companies were enough to place the small batch size) and the average stipend also saw a great rise of whooping 76%.
43.75 % of the batch is placed with the highest stipend.Manufacturing being the largest sector in placement pie.
| | | | |
| --- | --- | --- | --- |
| Participating companies: | First round | | Anand group, Altimetrik, Rehau Polymers, Yodlee, Tega Industries, Salto Dee Fee Consulting, Stayzilla, Nomura |
| | |
| --- | --- |
| Manufacturing | 7 |
| Auto Ancilliary | 2 |
| HR Consulting | 1 |
| Chemical/ Polymer | 1 |
| IT | 5 |
| Total students placed | 16 |
Cumulative figures for two months:
| | | |
| --- | --- | --- |
| Average Stipend: | | 55,825 |
| Median Stipend: | | 53,500 |
P.S. The stipend amounts are not inclusive of to and fro travel and accomodation (in some cases).Only amount in hand is considered while calculating average and median stipend.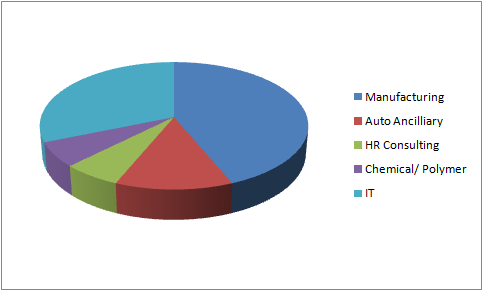 The above figures are till the completion of first round of summer internship process.