Summer Placements : IIM Indore – Class of 2014 -16
This was the largest batch across IIMs (a total of over 550 students, with the IPM program also being included in the summer placement process). After the stellar performances of XLRI Jamshedpur, TISS and FMS Delhi, IIM Indore too has enjoyed a great run this season.
One of the other things that catches the eye is Boston Consulting Group hiring students for Summers. While BCG has been visiting IIM Indore for Finals for 4 years now, they have recruited during summer placements for the first time. The return of Bank of America Merrill Lynch after a hiatus of 2 years is another positive. Deutsche Bank continues to hire at IIM Indore in large numbers. There is a good diversity of profiles, except perhaps in FMCG where some marquee names are missing : P&G, Nestle, Coca-Cola, Mondelez etc. – Some of which visit some of the other comparable campuses like FMS, XLRI
Highlights of Summer Placement Class of 2016 (as reported by Placement Committee, IIM Indore)
–   The largest batch to be placed across all IIMs (557 students). The unique five year Integrated Program in Management (IPM) was also a part of the summer placement process.
–   Summer placement season saw participation from 153 companies, with a jump of over 40% in the average stipend.
–   Axis Bank, Bank of America Merrill Lynch, BCG, Britannia, Emerson, Gartner, Hero MotoCorp, Hindustan Times Media, Hindware, iNautix, Maersk, Metro Cash & Carry and Snapdeal were few of the new companies that participated in this year's placement season as compared to last year.
–   Five major recruiters – Deutsche Bank, Goldman Sachs, HSBC, ICICI Bank and J.P. Morgan handed out offers to 42 students.
–   Tolaram Group hired students for their international Sales & Marketing role while Vodafone hired students for its global leadership program.
–   Sales & Marketing continued to be the most preferred domain on campus with 40% of the batch opting for it.
–  Boosted by multi-million dollar funding rounds from private investors, E-commerce sector saw participation from companies like eBay, Flipkart, Snapdeal and TaxiForSure recruiting for multiple profiles. Snapdeal offered roles in Analytics, and Finance.
–  The added diversity brought in by the IPM batch helped open new roles from companies such as ICICI Bank and General Electric.
Banking and Finance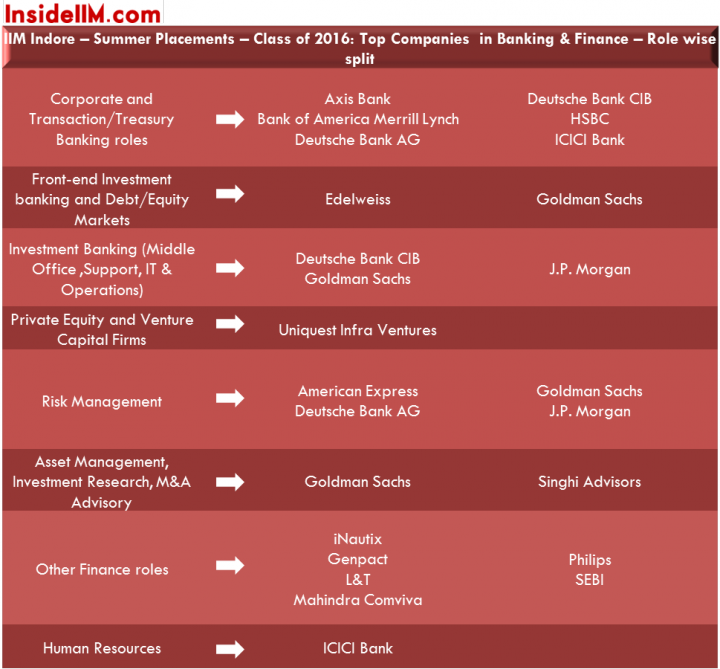 IIM Indore placement team claims one of the roles offered by Goldman Sachs is a front-end role in Debt/Equity markets. We are awaiting confirmation from company and alumni sources for the same.
Consulting and General Management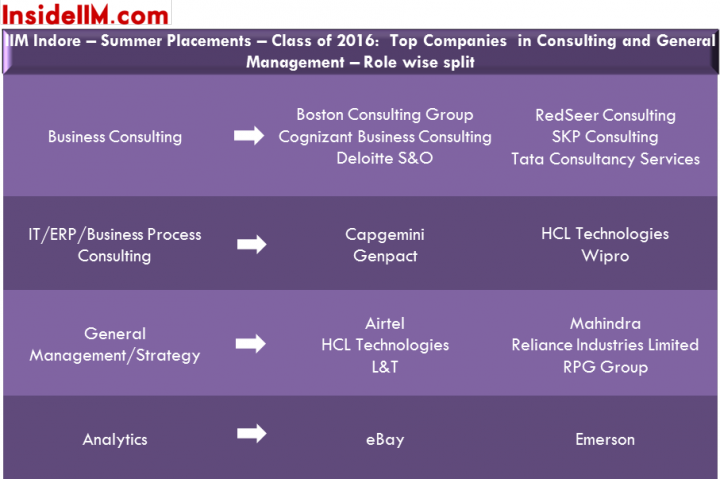 Sales and Marketing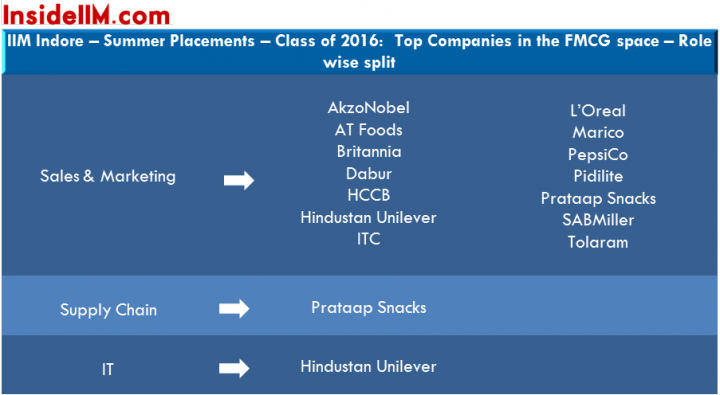 E-commerce, Telecom, Media and Technology
Pharma, PSUs and Others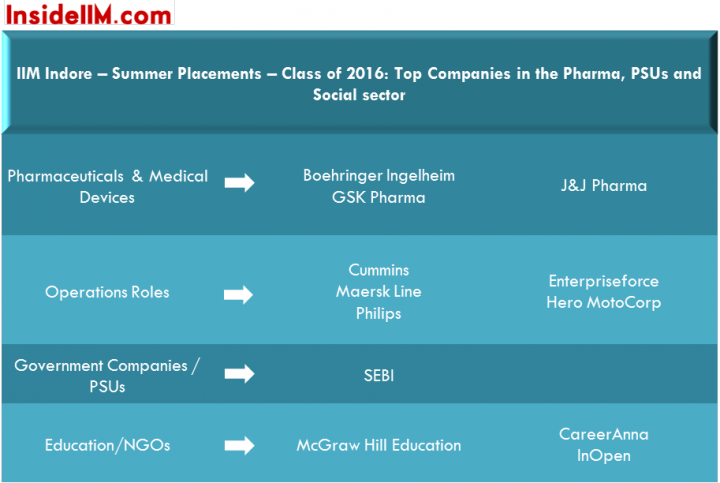 Other details you may be interested in
Summary data

Domain-wise split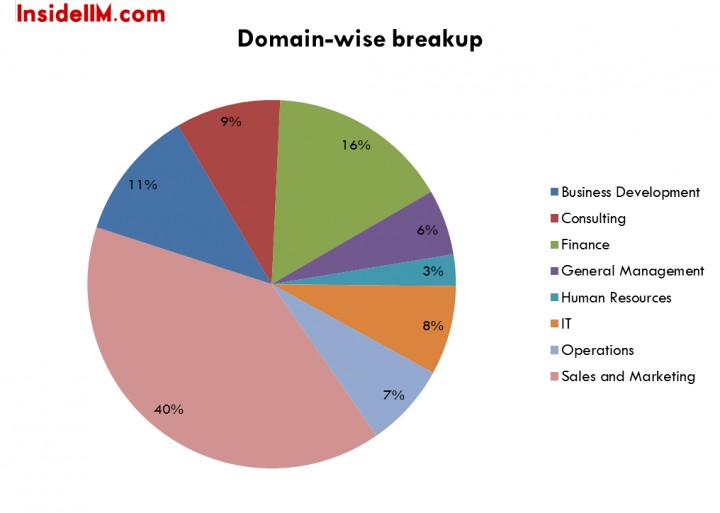 Sector-wise split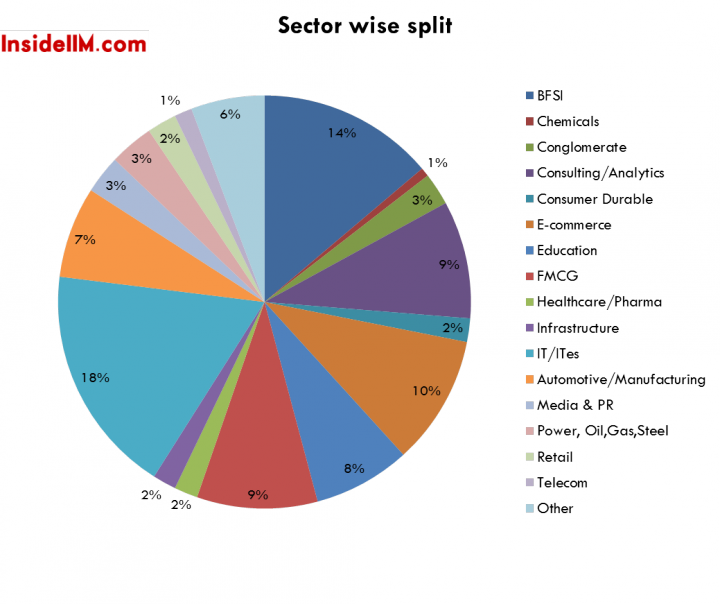 We would like to thank the Placement and Media Team at IIM Indore for helping us report their placements in the InsideIIM format.
We must put a disclaimer that despite our best efforts it is not always necessary that the data given to us is 100 % accurate.
In case you wish to point out anomalies in the report, do write in to us at editor(at)insideiim(dot)com. We will try to clarify it with the placement committee. Anonymity will be ensured.
Track the official book of IIM Indore Media Cell on InsideIIM here.
Read about last year's summer placements at IIM Indore here – IIM Indore Summer Placements – Class of 2015 
Read about Final Placements at IIM Indore for the batch of 2014 here – IIM Indore Final Placements – Class of 2014 
You can read about the summer placements at XLRI this season here.
You can read about the summer placements at TISS this season here.
You can read about the summers placements at FMS Delhi this season here
Read all articles on this year's summer placement season here – Summer Placements – Class of 2016
Read all articles on last year's summer placement season here – Summer Placements – Class of 2015
Read all articles on this year's final placement season here – Final Placements – Class of 2014