Teams at IIM Shillong battle it out in the Mahindra War Room 2013 Campus finals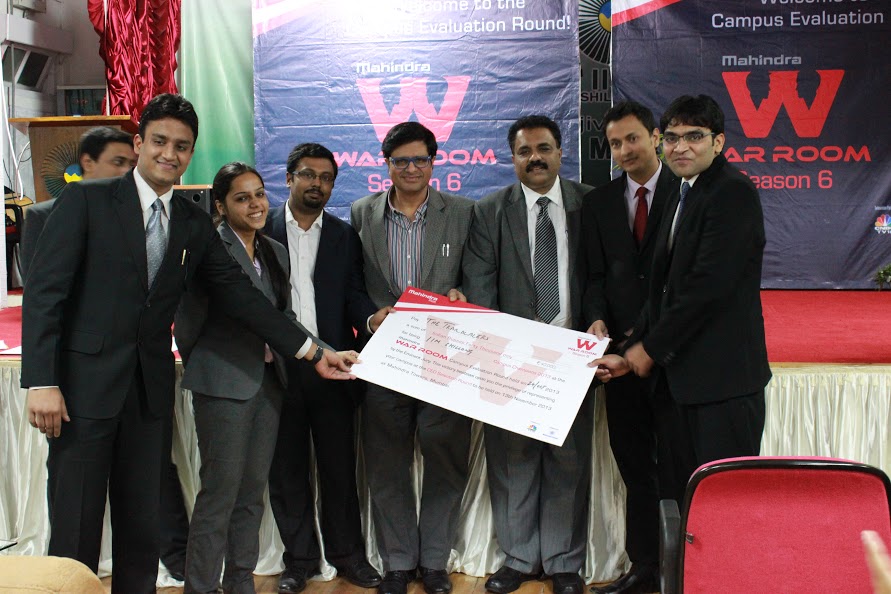 Mahindra War Room 2013 campus finals started with the panel members from GMC expressing their satisfaction about the response from students of IIM Shillong and the quality of the presentations that they evaluated. Out of forty eight submissions, six got selected for the campus presentation. The students took up some of the most challenging cases which the panel felt had been solved very creatively and presented very impressively. The cases that were taken up were on some of the sectors which had the most challenging business scenarios in India like agriculture, after-sales service and logistics. Some of the cases that were presented were "Going bananas with mahabananas", "Bracing the backend for headwinds", "Building a farmer inclusive business model" and "Innovating on the franchisee model".
The presentation started off with the team "Fireflies of Shillong" presenting the case "Going bananas with mahabananas". The panel members were positively impressed with the presentation and also gave suggestions for viewing the real-time business problems from a different perspective. As the event proceeded, the participants and the panelists saw a variety of innovative ideas to solve some of the most compelling business problems which not only block the development of the concerned sector that the case focused upon but also the national development. The two teams that received special appreciations from the panelists and that were popular among the participants of the event were: "Meluhan Warriors" and "Shillong Super Kings".
The team "Trailblazers", consisting of Anushri Bansal, Shashank Singh Tomar, Ashish Singla and Ishaan Mohan made their presentation on the case "Building a farmer inclusive business model". Their presentation showcased the team's efforts, attention to detail, data accuracy and the depth of research. When all the presentations were over, the judges held a private meeting for deciding on the winners. The students waited anxiously for the results discussing the probable winners. The teams "Meluhan Warriors", "Shillong Super Kings" and "Trailblazers" were the most popular and the three had almost equal chances of winning. Also the most discussed topic was the "Best presenter" award.
The judges after making their decision, addressed the participants for the event. They appreciated the effort and quality of the work that the students had made. Also they said that the students had made presentations which were better than some of the best presentations made by many corporate executives. The panelists said that they had to make lot of efforts to decide the winner as the competition was very stiff.
The final winners were the team "Trailblazers". The team rejoiced in their victory and the participants of the events were also delighted. The runners up were the team "Shillong Super Kings". The best presenter award was bagged by Rahul Panse. The most creative team name award went to the team "Momo Mamas". The panel looked forward to the presentation of the team "Trailblazers" in the next national level and wished them good luck.
Track IIM Shillong here