The Experience of Shadowing the Chief Marketing Officer of Pepsico India – The Pepsico Apprentice
The Start of the Contest Experience -
It was an email by our Placement Team at college with the details of a Pepsico Contest called "The Apprentice" that led me to participate in this coveted event. What set this competition apart was a completely different set of challenges with each of the three different rounds. Right from an online quiz to a story board and then a video showcasing the Employee Value Proposition for this amazing company, this contest tested my creative side at its best. It was the best feeling to win this contest after all the hard work and efforts involved to clear each of the rounds without forgetting the amazing support from our Director Dr. R Raman. From the initial thousands only the top 30 made it to the final rounds, but the chance of apprenticeship was waiting for only the three winners, among which I was the lucky one. After the win I was ecstatic to know that the three winners would get a chance to shadow the COO, CHRO and the CMO of the Pepsico India respectively. Based on our profiles each of the three winners were assigned their leaders. Since I was specializing in Innovation with an inclination in marketing I was very lucky to be assigned the CMO Mr. Vipul Prakash as a senior leader, whom I got the opportunity to shadow for a day. We were emailed and greeted by the Pepsico India HR Team on what should we expect from this apprenticeship. What excited me the most was a mention of signing of an NDA before the start of the day at Pepsico India. The last time I signed an NDA was when i was a part of a Formula 1 Team as a Team Member reminding me of the action packed time I had back then.
The Meeting with the other Winners and our Leaders -
I met the other winners Md.Shibli of SJMSOM IIT-Bombay and Pratik Chauhan of IIFT-Delhi who like me were from MBA first year and equally excited. Since Shibli and I had a flight from Mumbai we met at Mumbai Airport and had planned to pick up Pratik from IIFT and head to Gurgaon where the hotel was booked for us. I met Pratik at IIFT Delhi which I had heard has a beautiful campus right in the heart of New Delhi which was true to my expectations when I visited it. We three headed to Gurgaon for our hotel where a special goodie bag planned by the Pepsico HR Team was waiting for us in our hotel room. It had a special Pepsico Apprentice T-shirt, Mug and a Diary. All three of us were not able to sleep that night due to the sheer excitement of what was being planned for us the next day. The next morning while Shibli was assigned the COO Mr.Partho Chakrabarti and had a market visit planned very early on, I and Pratik were joined by the CHRO of Pepsico India Mr.Samik Basu for a breakfast at our hotel. Mr.Basu was waiting for us in the hotel lobby where he recognized us instantly with the Pepsico Apprentice T-shirts we were wearing. He greeted us very warmly, introduced himself and invited us to join him for breakfast. Within minutes of interacting with him we realized how much of a grounded and amazing personality he is. He discussed his daily routine right from him making a point to drop his twin children to school daily to discussing about the human resource strategies at Pepsico India. The session with him was very insightful. Soon after we were joined by the Pepsico India CMO and my mentor for the day Mr. Vipul Prakash. In his earlier roles Mr. Vipul was part of the marketing team responsible for a very famous "OYE BUBBLY" campaign for Pepsico India. My conversations with him started by introducing myself to him and how he planned the "OYE BUBBLY" Campaign. Currently he heads 22 brands in India right from Mountain Dew to Kurkure and Pepsi. It was wonderful to know his past experiences and the story behind the campaigns he was responsible for and how he stuck to his ideas even when he was faced with negative reviews, some of which went on to became very successful brand campaigns for Pepsico India.
The Market Visit, Digital Agency meeting and interaction with the CEO Pepsico India -
The next thing planned for us was a market visit to understand how Pepsico India deals with its suppliers and distributors and its strategy to ensure it reaches every type of consumers daily. We were joined by the Area Sales Manager who gave us all the insights to the whole process from order building to delivery. This was probably the first time both the CMO and CHRO were together on a market visit. We got the taste of both the modern retail and the traditional retail models from our visits. After the visit Pratik moved to the CHRO's office where an exciting day was planned for him, while i was to accompany the CMO for a digital marketing meeting with Mindshare. On our way to the Mindshare office, I had a small discussion on some strategies Pepsico could implement especially for the youth, Mr.Vipul was very open to discuss the same with me taking my inputs for the same. The meeting with Mindshare was to understand how Pepsico India through Loop Room manages its digital mediums like YouTube, Twitter and Facebook in real time and connects with its customers and fans alike. I was given a brief tour of the Pepsico Social Media Platforms and their strategy adopted. The next stop planned was the most memorable moment for me as I was going to meet Mr. D Shivakumar the CEO of Pepsico India at an innovation workshop for Pepsico Employees. It was fantastic hearing the top leaders at this workshop and the views of the CEO himself on their strategy and future plans. I was introduced to the CEO by Vipul Sir .The first conversations with the CEO were about my college campus helipad and a cricket ground right on the valley he remembered from his last visit some years back. We had a small talk on our course content and later I asked for a photograph with him which he happily obliged.
The Final Stop and Meeting the Brand Managers-
My next stop took me to the Pepsico Head Quarters in Gurgaon where the CMO's office is based. His cabin was a cricket enthusiast's delight with autographs of famous cricketers on cricket memorabilia, special IPL edition glasses and customized display products everywhere. We had a conference call planned with senior executives at Pepsico Dubai on their branding strategies. Along with that there was a brand meeting with JWT India where I explored the true side of the CMO where he was strategizing on how the brands at Pepsico would look like in the coming years and how they should innovate on all fronts. The meeting exposed me to the detailed and futuristic planning the brand managers along with the CMO do for the brands we love. I was also given a small tour of the Pepsico HQ and as a part of which I interacted with brand managers of Pepsi, Kurkure and Mountain Dew. One such meeting which I would specifically like to mention about would be with Mr. Nitin Bhandari VP Mountain Dew where we discussed about all the brand perceptions of Mountain Dew and its connect with its consumers.Mr Nitin was kind enough to talk about his exceptional journey right from his MBA days as an Management Trainee to his current position. At the end I was given a Pepsico Goodie Basket with all their products in it along with a departing gift from my mentor Mr.Vipul along with his good wishes and an opportunity to connect and meet with him in the future if I ever wanted.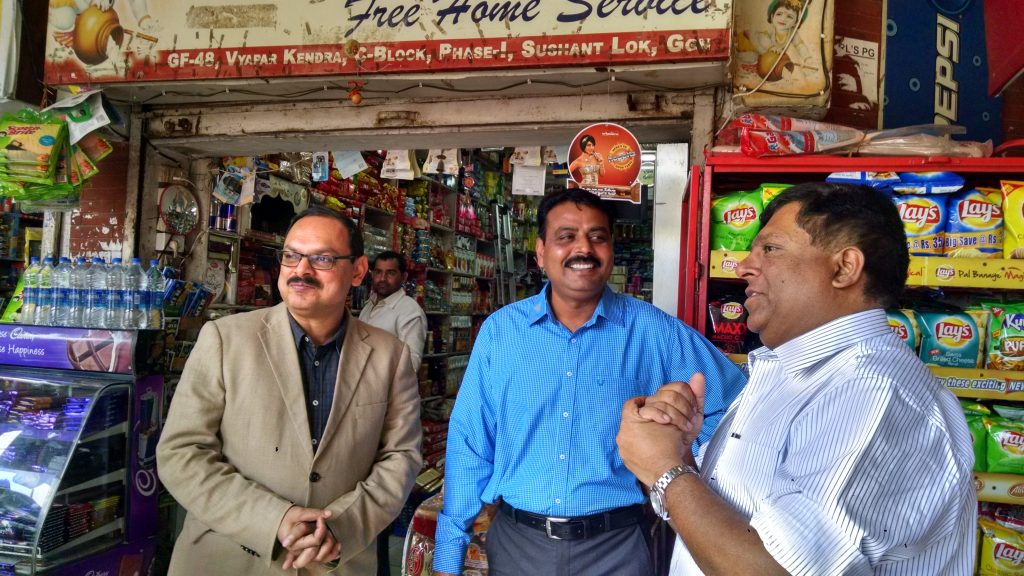 What I Learnt from My Mentor and the Overall Experience -
I found the experience of shadowing my senior leader the most informative and amazing experience of my life. The very fact that nothing different was planned just because of the presence of the apprentice made the shadowing experience as close to a real world corporate exepreince.Spending time with Vipul Sir helped me to understand the internal side of Pepsico India and its amazing knitting with its brands and employees. A personal introduction by the CMO himself at all the events and the meetings which I attended made me feel that I was a Pepsico India employee that day and made me want to interact with maximum no of Pepsico employees as possible. Meeting with all the stakeholders i.e. distributors, retailers, agencies and brand managers gave me lot of inputs on the strategy adopted by this leading brand in food and beverages sector in India and across the world. It gave me a very important lesson on how team work can work wonders for a company. This amazing experience would not just be useful professionally but also personally on how grounded and humble top leaders are at Pepsico India. I would like to personally thank the amazing HR Team at Pepsico India which managed the contest and our experience in the best possible manner. From creating an informal WhatsApp group with the HR Team and the top leaders to all the arrangements, made the three of us feel a part of the organization for a day.
My name is Parth M Doshi, and I am pursuing my MBA in Innovations from SIBM Pune. I am an auto enthusiast and write for Business Line and Cardekho.com.I love to watch documentaries and swim. I have prior work experience as a business development manager in the retail, industrial and the aviation sectors. I have completed my winter internship with HDFC Bank in the digital marketing vertical.