Trysting With Tata Steel – Rupali Patro's Internship Experience – IIM Lucknow
As I gaze into my keyboard to pull together words expounding my brief tryst as a summer intern with Tata Steel, this intense quote spoken by the divine Billy McMohan in the movie "The Internship" keeps reverberating in the canaries of my mind, "And I want to have you get out there, salsa'ing and grinding up against a complete stranger that you don't even know, having a pretty good time doin' some wrong things. Okay? Are we on the same page?" This line has pretty much harboured all the source of inspiration I ever needed for the most of my summers. Because that's what Tata Steel is! Here, the foremost focus remains on people development, growth, and employee relations, which is deeply ingrained in the culture of caring for their people. Tata Steel has always held the view that people are its greatest asset. It has adopted the finest of standards for employee well-being and quality of life, strongly promoting workforce rights. The other focal point is the upholding of Tata values through transparency and fairness in all its practices and policies.
Upon being hired, you first have some trouble trying to contain that rush of euphoria that sprints up your spine for being the chosen one. It is then that you are engulfed by feelings of both apprehension and anxiety when you ponder upon the set of responsibilities you shall be expected to deliver. And then, you ultimately set out to challenge the fiercest of your abilities and bring out the most of you during this brief stint of yours with the colossal conglomerate. And in the end, when you're winding up from the process, you have to take leave of the place wording these words to your fellow interns, "One hell of an internship, bud." I shall tell you why I tell you so as I pen down my collective experiences on some productive days during my internship.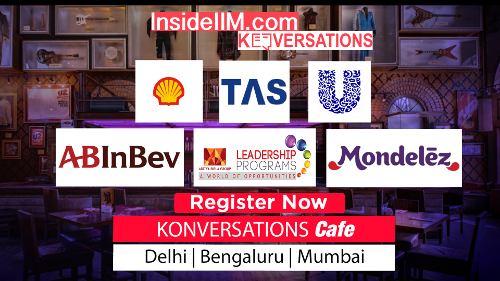 Random Day One: Two fluky weeks working with Tata Steel as a summer intern and I already feel partial (if not thoroughly) acclimatised with the ways of the Titanic Indian multinational. One fine Wednesday morning, I walk my way to the office sheltering a million thoughts in my head, wondering if this day should also turn out to be like all the others and if it shall be any more fruitful than the rest. By now, I've pored over an innumerable bunch of research papers, a whole passel of resourceful articles from a plethora of websites, glimpsed at a significant lot of videos on YouTube, scouring the Internet for dear 'data'. Thus, every attempt at comprehending the project at hand was made. Reporting to my mentor at the end of the day, while some of the deliverables were dubious and vague, others were met with absolute appreciation. Another set of reports are handed to me for quick perusal and I leave the office content with the day's upshot.
Random Day Two: Another good Tuesday morning. Endless sips of coffee. Desperate attempts at keeping those body withdrawal symptoms at bay. Amidst this series of monotonic events, I receive a call from my guide who's away on business asking me to raise a travel request to the nearest 'Grain Silo' plant in the city. An instant appointment with the busiest head of the plant had been scheduled. This is my chance to glean an ample lot of valuable project-related information. Tidying up, I pull myself together, chalking down this set of the questionnaire I long intended to ask upon. Once at the plan, I'm assisted by this very amicable Head of Operations of the plant who dispels an inside-out knowledge about the market extant, the suppliers, the manufacturers, and the prospect of business and functioning of the plant in its entirety. In the end, I pat myself on the back for having accumulated a whole load of stuff to present before my mentor. I am told I'll be embarking on more such trips outside the city in a bid to interrogate more such prudent people and grasp more discernible clarity upon the project at hand. The visit did make my day!
I have always felt at home in this place. Such is the kind of belongingness you can find here. You just bump into a 'someone' in the washroom or the lift and you are all stuffed with a mountain of friendly exchanges and good vibes. Every first person out here greets you with an overwhelming smile and every second person is willing to help you out with whatever it is that you need, be it information, consolation or anything of sorts. The managers and others with higher denominations are all utterly collaborative and informative. You feel welcomed and are embraced as if you are their very own employee. I shall now walk you through the major takeaways I received from this very benevolent behemoth during my brief stay here.
An improved set of skills. One of the most significant things I take away from my internship is my new found knowledge, which includes knowing how to fulfill tasks pertinent to my desired career path. In addition to that, I have spent time sharpening and honing the skills I already possessed. Having a sense of the skills and experiences I want to gain from an internship at the start allows me to be intentional in working towards my goals. For there goes the adorable adage by Lincoln, "If I had 8 hours to chop down a tree, I would spend 6 of those hours sharpening my axe." Preparation, folks, is more than necessary.
New connections. In addition to those people who you hope will act as references in the future, one should walk away from an internship with a handful of new connections: senior employees, clients, fellow interns, etc. These people can provide real valuable guidance and advice and aid me in future job searches. One should take the time to get to know as many people in the office as possible and learn everything that they can teach them. Then, say thanks and keep in touch.
A greater sense of professionalism. Working in an office environment (or any kind of professional setting) can be difficult to get used to – and the best (perhaps only) way to learn how to navigate the working world is through real life, hands-on experience. After my internship, I have a better idea of the appropriate way to behave as a professional and a sense of how to play the game of office politics. An internship is my first exposure to a professional work setting. I appreciate the opportunity to observe workplace culture and see how professionals interact with one another and conduct themselves.
More confidence in my career direction. An internship is an opportunity to test out a career field of interest. By the end of it, I now have a clearer idea of whether or not I really do want to enter that field or pursue that occupation.
Completed projects and presentations. Besides new knowledge and better business etiquette, I have been able to walk away with tangible evidence of what I've accomplished. For example: the presentations that I gave, articles I wrote, or designs I have created. Whenever possible, I have tried to have some kind of physical or digital place to showcase my work to future potential employers.
Feedback. The best way to learn from your performance is to ask for feedback from those with whom you worked. Remember not to get defensive. If you actually listen to the constructive criticism and take it to heart, you'll be an even better employee in the future. And if you know what you're doing well, you can deploy those attributes to sell yourself as a strong candidate to employers later on.
Rupali Patro
Free-spirited and independent in nature, she takes immense pleasure in weaseling words to create her own world, tiny or vast. With an undergraduate degree in ceramics from NIT Rourkela, she has traversed all the way to pursue her MBA from IIM Lucknow. She is an optimist and an opportunist. She is selectively social and brutally honest. Often shall you catch her humming some singsong or the other to herself. If she is not found singing, she'll be found doodling. Oh, she loves fine arts. Calligraphy is something vital to keep her sanity intact. At all other times, she shall be found scribbling, struggling to assemble those wild directionless thoughts of her wandering mind, frame them into something coherent to the world. More than anything in the world, she wishes to be a writer.