Which Are The Most Preferred Consulting Campus Recruiters? – InsideIIM Recruitment Survey 2016 – Part 11
The highest number of questions asked to us about future careers by aspirants on InsideIIM are about Consulting. A sector with relatively few firms has a glamour attached to it. A large majority of rankers at top business schools in India end up joining Consulting firms.
In part 11 of the Recruitment Survey results we check which Consulting recruiters are the most sought after among 3 respondent categories : 1) Aspirants & 1st Year MBA Students on Campus 2) The 2nd Year or Graduating Students 3) Alumni
(You can find the previous 10 parts in this series here which cover Marketing, Banking and General Management Lists, other important stats around expected salaries, preferred work cities, Cost of a MBA etc.)
It's time to reveal our findings. This is year 5 of our Recruitment Survey and Recruiter Rankings.  The only platform that provides insight into what students and management professionals think. We look at their aspirations and motivations. We also come out with lists of the most desired recruiters across top business school campuses in India. These findings are based on surveying over 1200 students who answered over 25 questions in our questionnaire.
Mckinsey, BCG and Bain have been the top 3 firms among the aspirants and 1st year students since the inception of these rankings in 2012. Bain hires only from IIM ABC where as the other two have shortlisted a wider range of schools to choose from. Deloitte is a popular recruiter across schools and edges A.T.Kearney for the second year running. The other names are predictable and play musical chairs within the top 10.
Current Students
BCG is back again at the top after a couple of years edging Mckinsey & Co. and Bain & Co. Accenture and A.T.Kearney have gained to enter the top 5 among this category of respondents too. TSMG is another winner in this year's rankings entering the top 10 among current students.
Post MBA Professionals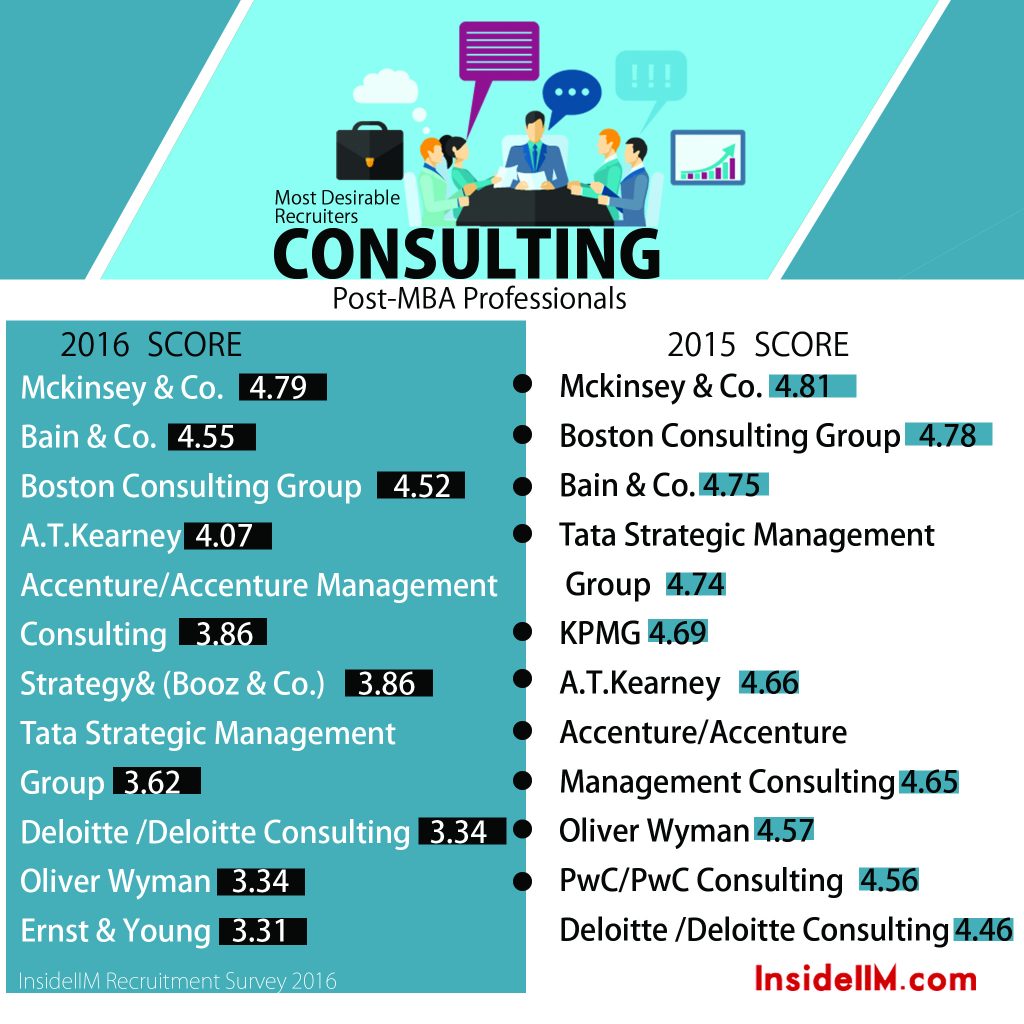 Bain gains over BCG among Alumni and Mckinsey retains the numero uno position. Again we see A.T.Kearney and Accenture improve upon last year's rankings. Clearly, something has been done by the firms to have seen an improvement across the board among all 3 categories of respondents. Interesting to see the contrast in perceptions for Deloitte, EY when compared to rank list of Aspirants and 1st Year students. Olivery Wyman also features only in the Alumni list.
To read all stories in this series please click here. For previous years' data click here.