Why Brazil are my bet to win this World Cup – a Data Driven Argument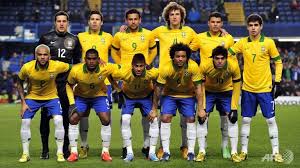 Why Brazil are my bet to win this World Cup.
There's less than a month to go for the Football World Cup, and pundits and punters all over the world are busy with all kinds of analyses about the strengths and weaknesses (and perceived strengths in the case of England) of their respective teams. Let's look at the data to see if there are some clues to help up predict the winner of World Cup 2014.
Let me start by rattling off the list of World Cup Winners from 1962 onwards, in chronological order. It goes like this – Brazil, England, Brazil, West Germany, Argentina, Italy, Argentina, West Germany, Brazil, France, Brazil, Italy and Spain. Could you spot a trend here? Yes of course! See the picture below –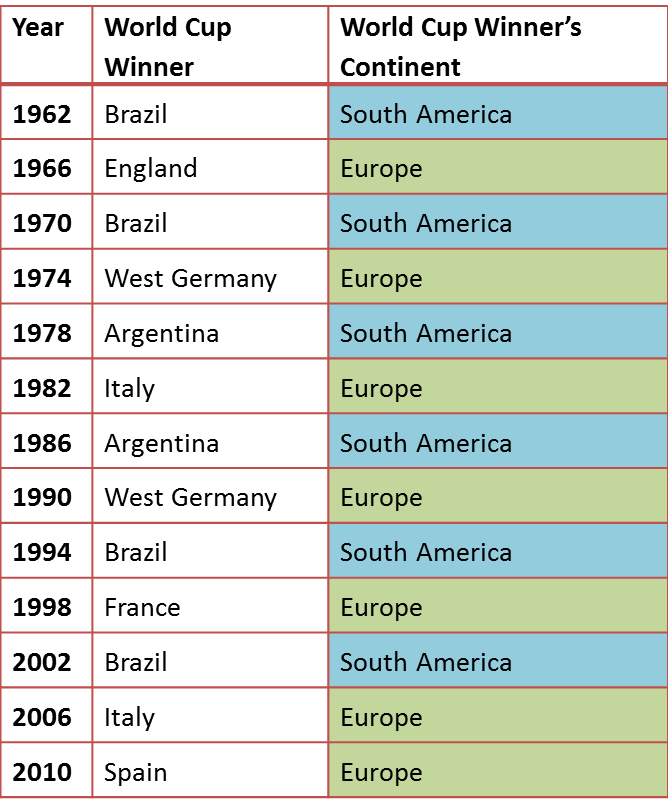 World Cup Winners have alternated between Europe and South America, perfectly between 1962 and 2006
That's quite an astonishing sequence isn't it? The world cup trophy has alternated perfectly between a South American team and a European team for over forty years. I mean, how did it transpire that South American teams never won two consecutive World Cups, and neither could Europe string together two consecutive World Cups until 2010? Are entire World Cups rigged? Or is this just an unbelievable co-incidence? Actually it is neither. Things will become clearer when you add data about the nation that hosted the tournament.
That's included in the picture below: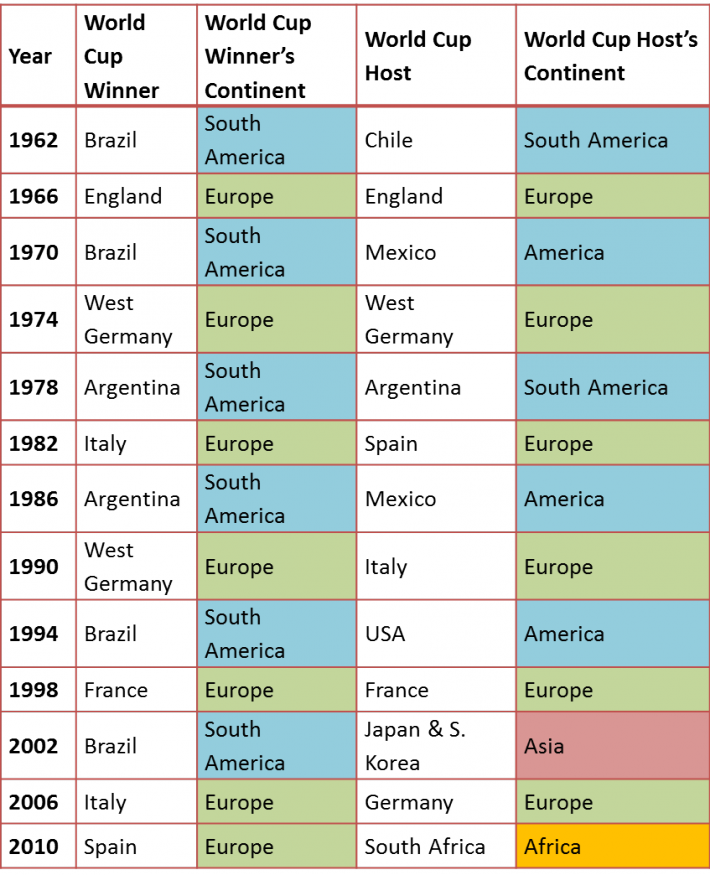 The pattern of hosts of the FIFA world cup clearly indicates that Europe and South America are the traditional homes of football. Historically, Fifa has alternated the hosting of the world cup between these two continents before embarking on a drive to 'globalize' the sport, starting in the 1990s.
Observations:
1   The World Cup is usually won by a team in its own continent.
2   No team has won the world cup outside its own continent, except Brazil (and of course, Spain).
3   In both the above cases (Brazil and Spain) the outside continent was not really a footballing power (Asia/Africa).
4   South Americans have never won in Europe (except Brazil in 1958), and Europeans have never won in South America.
Europeans fare badly in unfamiliar climes……proof ahead.
I would say that the "away-from-home" performance of European teams is much worse than the "away-from-home" performance of South American teams. To better understand Europe's struggles outside its own continent, let's look at the quarter-finalists from the last three world cups…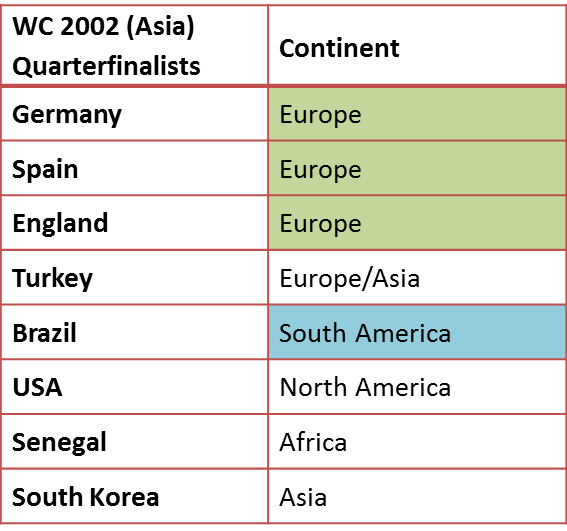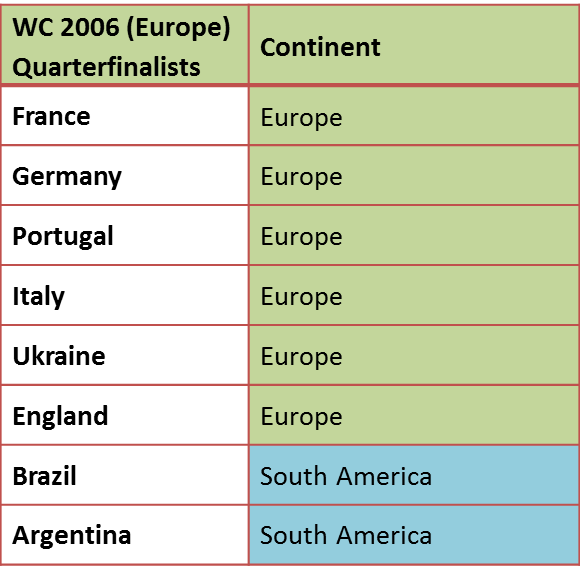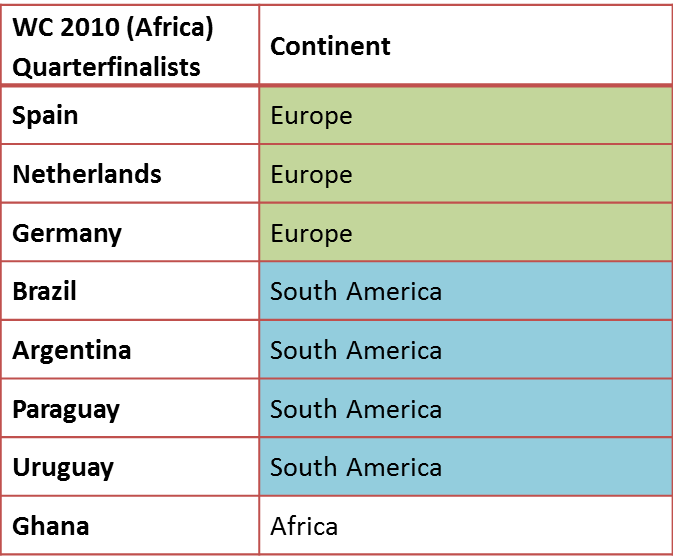 You notice the following things
1.  European teams tend to play better when the World Cup is held in Europe. Only the 2006 quarterfinalists is a list that is consistent with classification of traditional footballing superpowers. European teams had done well in this world cup.
2.   European teams and traditional powers found the going really tough in 2002. Defending champions France and highly-fancied Portugal were eliminated in the group stages. Italy also struggled before going out in the second round (albeit under controversial circumstances).
3.    European teams struggled again in 2010, while South American teams outperformed. Don't be deceived by the all-European final or by the fact that three out of four semi-finalists were European. France went out in the group stages, along with Italy. In contrast, all five South American Teams qualified from their respective groups, and the quarter final line-up was dominated by South American teams. At that stage in the tournament, most of the commentary was about how South America was dominating the 2010 world cup (see here and here).
4.    One of the possible reasons why South American teams did well at 2010, is that the world cup was held in the southern hemisphere, conditions being similar to what they are in South America.
Here's my two-pence on why South American teams generally do better than European teams at World Cups outside Europe:
1   Weather conditions: Most of Europe has the same kind of weather (at least among the countries that are footballing powers. We are not talking about Scandinavian countries). This is because Europe's axis is horizontal (most of Europe's land mass is in the East west direction). South America, on the other hand, has a land mass that is distributed in the north-south direction. This leads to extremely divergent weather conditions within the continent. Chile is a country that is home to both, the driest place on earth (Atacama desert) as well the snow-capped Andes. South Americans therefore face greater weather variations in their continent, and are intrinsically more adaptable.
2    South American footballers get more practice in adapting: They grew up playing football in their homeland, but most grown-up South Americans ply their trade in Europe. This makes them more adaptable to unfamiliar conditions.
3   Europeans never had to adapt: On the other hand, there are hardly any European World Cup footballers playing outside Europe. They are never challenged by unfamiliar conditions.
So here are a few challenges that European teams will be up against, apart from Neymar's mazy runs and Messi's dribbles……
1   Tropical climate and unfamiliar conditions in Brazil: Yep. They can train for it, but Europeans will find it hard going in the sultry climes of Brazil. What's more, Brazil is quite a huge country, and only part of the country has a tropical climate, there are regions with a temperate climate as well – where Europeans may feel more at home. Adjusting to the climate will be difficult though, and although this difficulty cannot be quantified or measured, it will play out in the results achieved by European teams.
2   Well-prepared South Americans: Teams like Chile, Uruguay etc are quite well-equipped to ambush their heralded European opponents. Brazil will be familiar territory relatively happy hunting ground for them.
Of course, none of these hurdles are insurmountable. There are some European teams with enough quality to overcome all these conditions – (Spain, Germany and Belgium) plus one that can never be counted out (Italy), plus a few decent teams like France, Portugal and Netherlands. It would obviously be somewhat foolish to say that every single one of these teams would be laid low by unfamiliar conditions. But the broader trend is difficult to argue against.
In short, the conclusion from all the data so far is that European teams will struggle, and the world cup will be won by a South American team.
Now let's look at the home team's performance at world cups to see if there is a trend….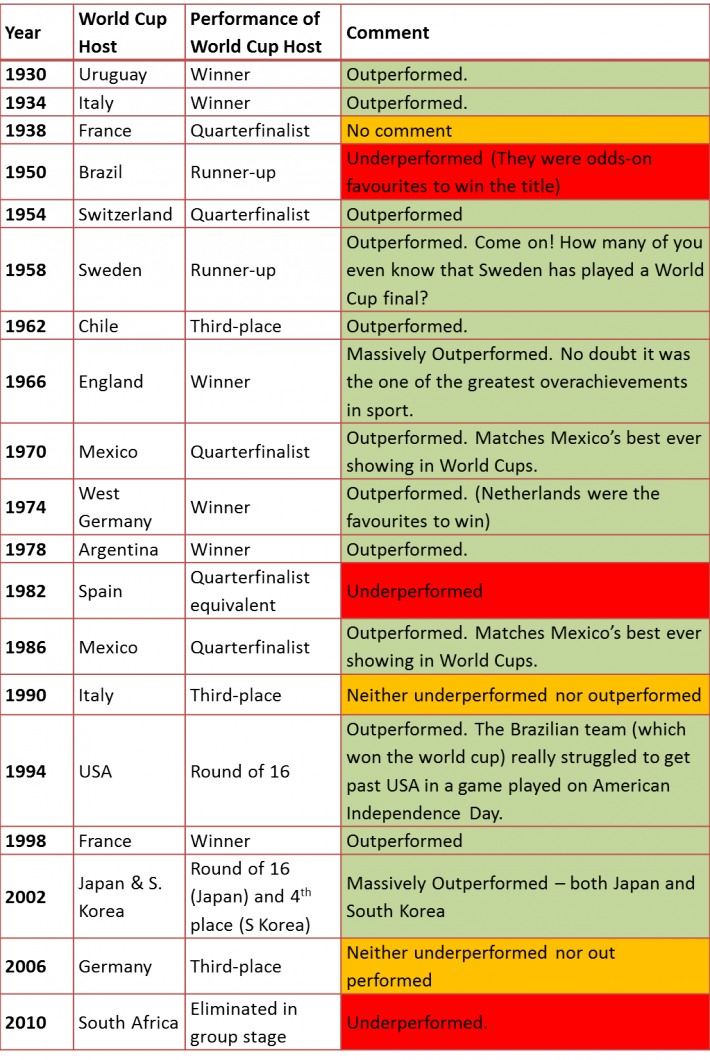 You can see pretty clearly that the home team seems to have an advantage in world cups. Specifically, if the team is a footballing superpower, then hosting the world cup often provides that additional fillip required to win the tournament (1974, 1978 and 1998 are great examples), whereas, if the team is not a superpower, then hosting the tournament results in the team punching above its weight (1970, 1986, 2002 are great examples).
Based on these data points, I can say that Brazil are my favourites to win this world cup.
1    They have the advantage of familiar conditions. Conditions that are unfamiliar to their major European rivals.
2    They have home advantage – of crowds continuously egging them on.
3     Empirical data ascribes very high importance to the above two variables in determining the world cup winner.
– Shyam
(Read all articles by Shyam shyam.insideiim.com)