Ok, I am not going to talk about the 'Fortune at the bottom of the pyramid' here. Most of us are aware of the 'immense' potential of the rural segment, atleast in theory (It's almost like an Indiana Jones' mission for corporates to find this treasure). Managers still find it difficult to understand this segment, some believe that rural people prefer economical products, others want to give them aspirational products, and some even assume rural households to have less income compared to urban households.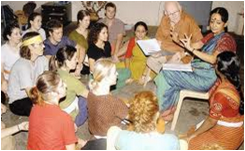 To give a perspective on this, one my friends who did summers in Amway told me that some of their premium products sell like hot cakes in rural markets. So, did any of us have the slightest hint that Amway sells in rural markets?
Us and them
I happen to interact with a Global Reach Programme participant, Mr. Russel from Mahindra Group during my summers. He gave me an interesting insight into what western management grads think about developing markets like India, China and Africa. He says most of the graduates wanted an exposure to these markets before entering the industry. Indian corporate groups like Tatas, ABG, Reliance and Mahindras also wanted to project a global image to investors. He says that number of such students/participants has doubled this year and it will continue to rise for the next few years to come. Hence it's a win-win situation for both the corporates and the management grads.
A parallel can be drawn here for Indian grads - we still don't understand the biggest market in our own backyard, we still rely on theories developed for western markets which 'may' fail for rural markets and we don't create systemic opportunities to study them.
Rural Focus
Some of the leading management institutes have begun to realise the 'lack of rural focus' problem and started several initiatives to address them. At IIM, Indore there is a weeklong 'Rural Immersion Programme' where students/participants get to visit remote villages, speak to rural people and understand their issues and also gain exposure to public policies (MNREGA, Indira Vikas Yojna etc.) through public administrators (Collector, AO, DO etc.). This helps in getting the right perspective about rural consumers and the efficacy of the public administration.

Innovative concept
The student's council at IIM Indore addresses the problem through its unique rural market insights cell, Utsaha. This team helps corporates gain valuable insights about their brand through the primary research conduct by the students in rural areas. Every year in November, Utsaha conducts its event during the Kartik Purnima mela of Janapaw Kutti village, where 50,000 people visit the Lord Parashuram temple during the 3 days of mela.
Unlike other disguised market research events which are conducted in the premises of the institute, Utsaha happens in the rural hinterland, giving the 'real' sample the brand manager desires. From my view what makes Utsaha stands apart is the way it communicates itself to the rural people through games and events. The concept is well designed to capture their inner voice through these well-thought of games. Utsaha brings rural people, corporates, academicians and students on the same platform. The student stands to gain the most from this event, by collaborating with other stakeholders.
The 'edge'
In my opinion, a person with rural exposure is set to gain in this domain by the following factors
• Very few professionals in this field and you can become a thought leader in this domain.
• Huge investments waiting to happen, which translates into lot of opportunities
• Brand managers feel that people with rural exposure are able to better visualise constraints and address them. So, you will naturally be the preferred person when it comes to big rural projects.
So, even if one doesn't look forward to have a career in this domain, it is still wise to have an exposure to get an 'edge' over others in this competitive environment.