10 Reasons to be at Rotterdam School of Management, Erasmus University, The Netherlands
Personal Leadership Development
At RSM we believe that the real benefit of an MBA comes from combining our signature Personal Leadership Development classes and activities with the core content of the MBA. At the end of day it is you as a person making it all happen, so you have to be aware of what your leadership style is, the effect you have on people and how people react to you!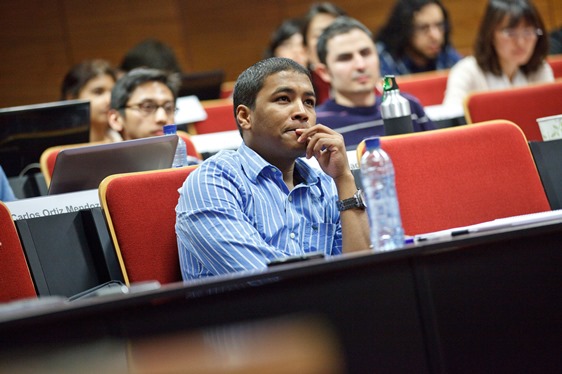 Individual Career Coaching / Alumni Mentoring / career transition
The post-MBA arena tends to be a bit of a jungle – especially when you are looking for a career transition. Via RSM you will be sure to hit the ground running, you will have the option for a personal career coach and Alumni mentor dedicated to you throughout the year. Of course this does not automatically stop once you have graduated. You will not only have direct access to various industries and networks but also someone that prevents you from some pitfalls and steer you in the right direction.
Very international classes
Some say it, RSM delivers! At Rotterdam School of Management, Erasmus University we have a very international class room. Normally we have an international class of around 95% that typically comprises of 35 – 40 nationalities from literally all over the world. This is where the real learning comes from in an MBA – learning from each other's experiences, views on business AND life!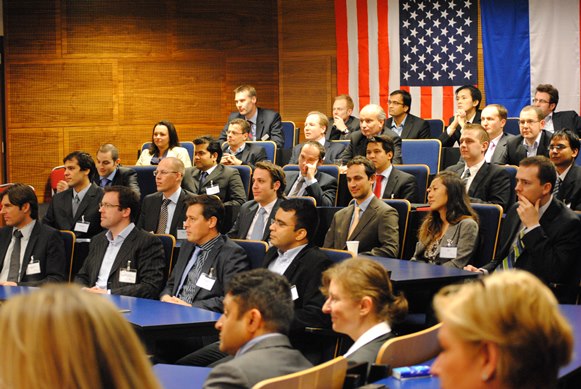 Rotterdam, a hub for business and supply chain
As it has one of the largest ports in the world (if not THE largest one) which is just a few kilometres away from campus, Rotterdam will not only give the hustle and bustle of a vibrant city but also great access to those looking for a truly international city. Rotterdam alone boasts 170 different nationalities. Paris is just 3.5 hrs away, London a short 45 min flight and Amsterdam you can reach within 45 min as well.
Sustainability woven into every part of the curriculum
Sustainability tends to be a rather intangible asset and we indeed know this. We will not tell our students what is wrong or right. We rather create the awareness of the unintended consequences of one's action. Some courses are easier to connect to 'sustainability' but you can count on the fact that our faculty will always include this theme during their lectures, even for the course 'Quantitative Platform for Business'.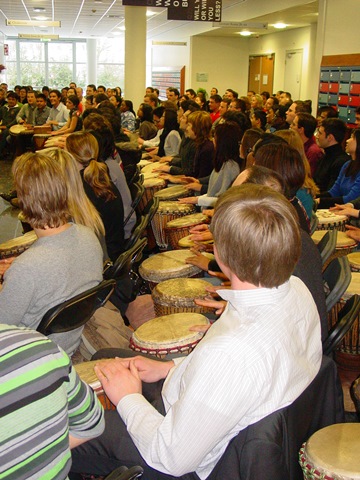 Stable and innovative economic environment in The Netherlands
The Netherlands is a small country and we know it! Therefore the Dutch economy has always been an outward looking one that depends on trade with countries from all over the world. We actually had the first company in the world that invented bonds. Due to this history we understand the meaning of long-term relationships. This has been paying off for us, just have a look at the financial situation in comparison with the rest of Eurozone!
Free and liberal labour market
Luckily, the government of The Netherlands values knowledge, even if you were not born in The Netherlands. When graduating from the RSM MBA you have the option to apply for a so-called 'one year search visa' which allows you to stay in the Netherlands for a year post graduation searching for a job, most of our students do this. It actually shows when considering that 50% of our students tend be employed in The Netherlands after graduation. Another nice incentive for our international students is the likelihood of pretty serious tax break when employed in The Netherlands after graduation.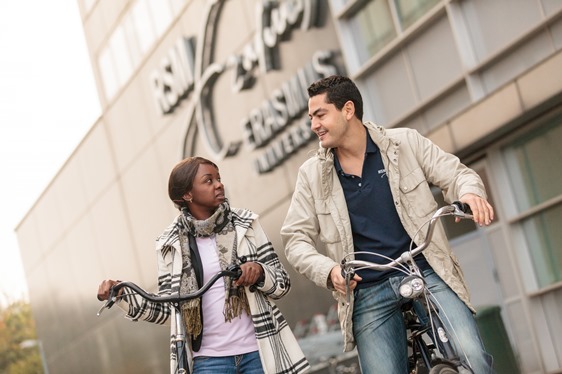 Growing international network
This year (2013) the Erasmus University is celebrating her 100th anniversary and things are still moving forward. Not only have we opened an RSM office in Amsterdam but since July 2013 we have also opened the RSM Asia office in Taipei. Next to this we also started an Executive Financial Management Programme in Lebanon, Mexico and the Curacao. This of course also helps us getting more connected with our 28.000 alumni worldwide. And it will not stop here…watch this space!
No tenure at RSM
We are fortunate to be in the position that we can select our own faculty, they literally come from all over the world. We believe that our lecturers should not only be at the top of their game but also add to the diversity of the MBA experience. Therefore you will find about 60% of our faculty from outside the Netherlands, the others are from one of the top research centres in the world called ERIM.
Friends for life
Last but certainly not least; an MBA is not only about the curriculum but also about the experience. With relatively small class sections of up to 70 students you will be ensured that you are not just a number and you will make new friendships for life.