In 2021, InsideIIM launched for the first time the E-Commerce Prodigy Challenge, an exclusive program to give India's top talent at business schools a flavor of Marketing and Growth Hacking in an E-commerce set-up. To participate, MBA students were asked to create a marketing strategy for their favorite E-commerce platforms. Amongst all the entries that came in from India's top talent, five stood out! Here is a glimpse into the marketing strategies formulated by Yogesh Kumar Das, a SIBM Pune student who worked on creating a strong marketing strategy for Quikr and is a winner of the InsideIIM E-Commerce Prodigy Challenge!
---
InsideIIM's E-Commerce Prodigy Challenge - The Case
Take Your Career To The Next Level. Ask Our Experts Anything. We Will Respond Within 48 Hours.
Participants of the E-Commerce Prodigy Challenge were asked to share their top three favorite E-commerce platforms, along with reasons to justify their predilection for these platforms. Participants were then asked to create a short PowerPoint presentation on how they would market the platform differently. The participants were given the objective to create a marketing strategy that would:
Increase user acquisition, i.e. the number of account registrations of the e-commerce site.

Increase user conversion, i.e. the number of transactions on the e-commerce site.
Participants' presentations would then be evaluated on components such as their marketing goals, the smoothness of the customer journey, frameworks incorporated, strategical tactics, marketing channels employed, and measurement of success.
---
The Winning Case - Yogesh Kumar Das's Improved User Engagement & Conversion Strategy For Quikr

Amongst the five winners of InsideIIM's E-Commerce Prodigy Challenge 2021 is Yogesh Kumar Das, a first-year MBA student at SIBM Pune.
Yogesh's winning case in the E-Commerce Prodigy Challenge revolved around Quikr, which is a popular Indian online marketplace and classified advertising platform.
To begin with, Yogesh first did a SWOT analysis and listed down the Segmentation, Targeting, and Positioning for Quikr. Below you can find the 5 problem definitions Yogesh listed related to navigation, content, and UI. He gave a brief idea on the Areas to improve and how to improve them. A customer journey map is created showcasing the customer goals with each process in the customer journey and a virtual rating of the customer pain points with each process.
Next, he listed the target groups that Quikr should focus on. The Consumer behavior insights can be used to engage with the target groups effectively. 4 Customer personas, Influencer, Researcher, Discount Chaser, and Product focused are created in order to understand the behavior and traits of the target customer better.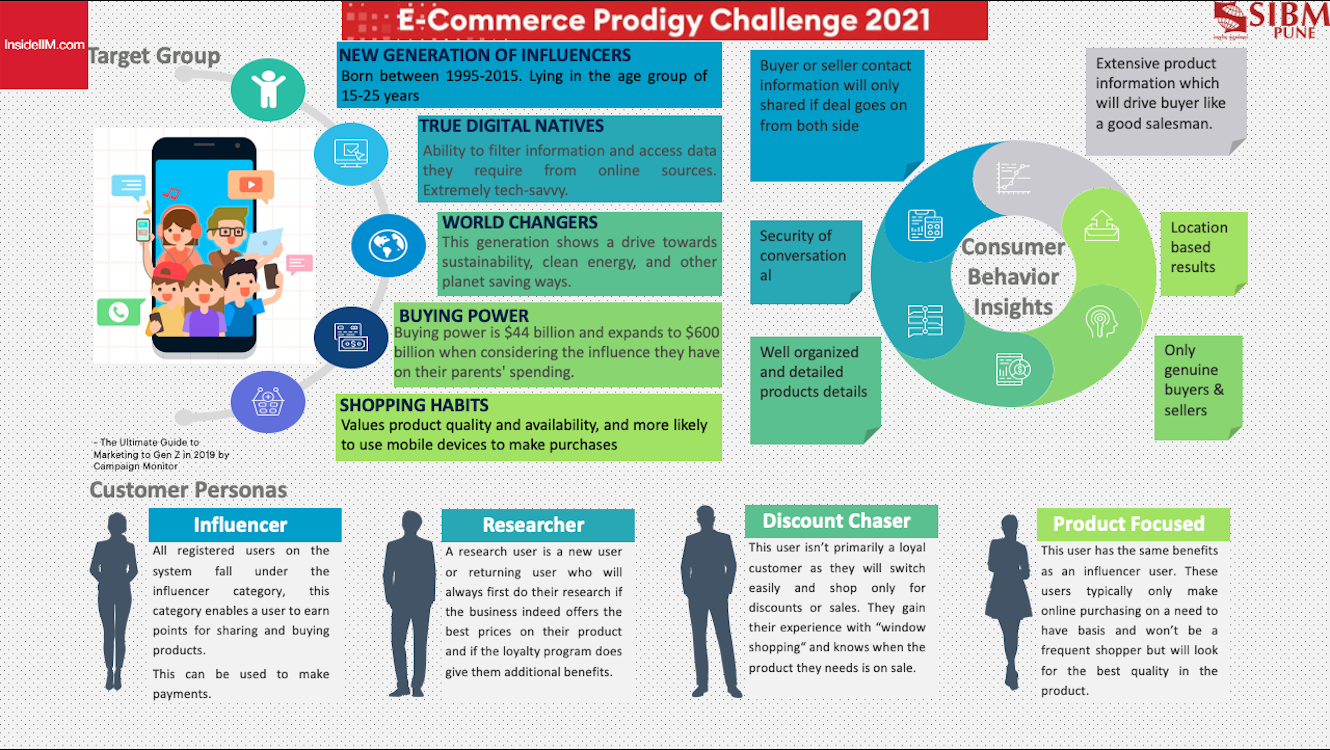 A 7P marketing mix was created for Quikr. To increase the user acquisition of the platform, a customer-centric value creation approach is taken into consideration. For this, investments in Technology, Data and analytics, and operations are recommended so that the growth of customer lifetime value is more than the customer acquisition cost. Also, a 5 element strategy that involves a unified go-to-market model, sustainable funding model, customer-centric engine, advanced analytics, and customer experience is made. These points are focused on improving customer acquisition and experience of the platform.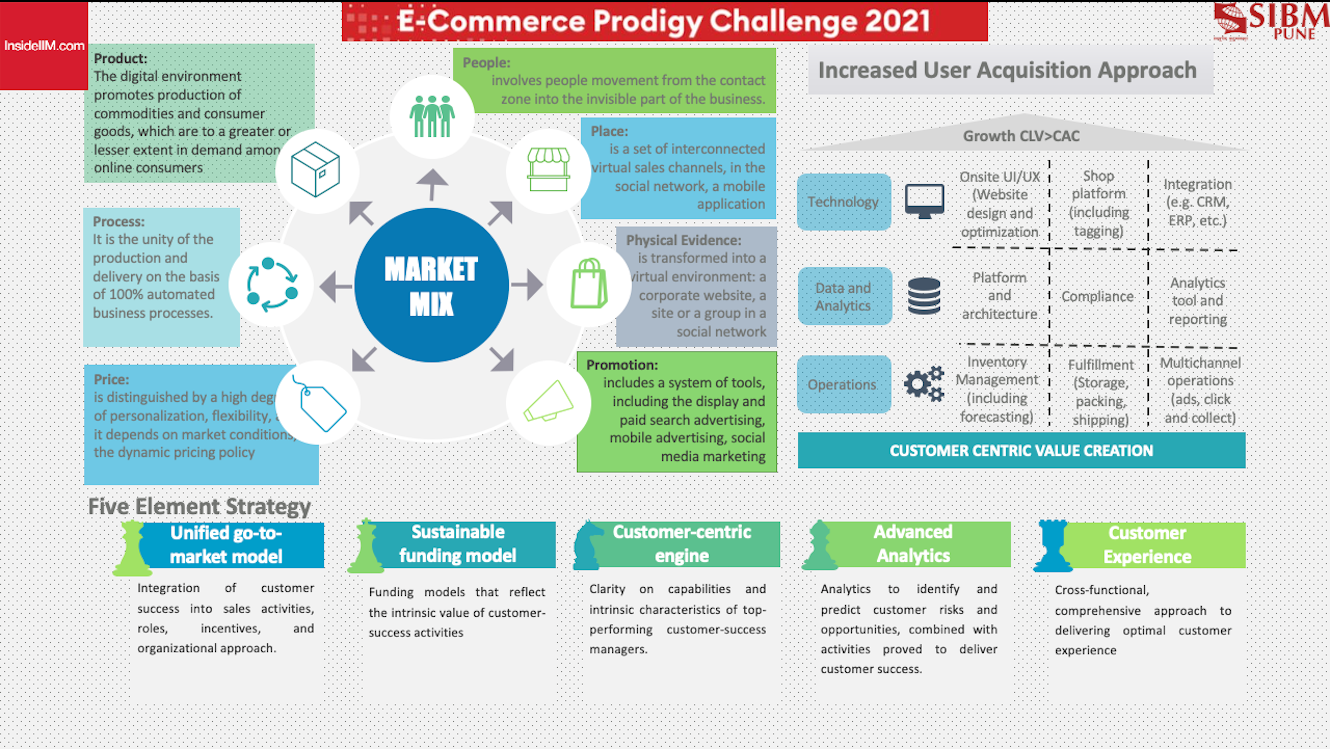 Here, an E-commerce conversion rate funnel is created which shows us conversion rates of sessions through each stage in the funnel. To increase this conversion rate, a customer conversion model is created which focuses on identity, attract, build, and retain. The factors which affect the user conversion are divided into two categories, User-centric and Website centric. Here, Yogesh lists down the impact of these factors on user conversion in detail.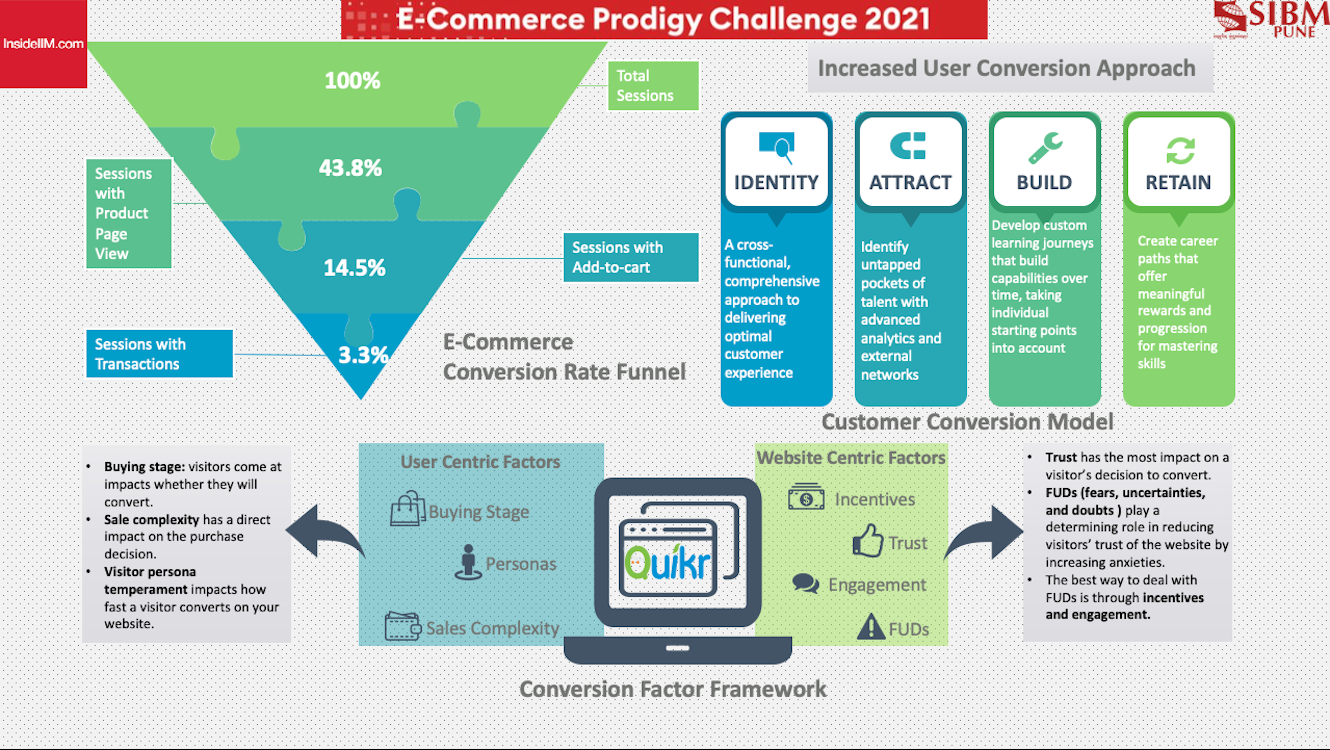 Finally, Yogesh lists down the marketing channels that would be used to achieve the objectives and proposes 4 Channel disruption strategies. He also creates a financial forecasting model for the product, focusing on the Revenues & Expenses, Profit and Loss, and marketing spends.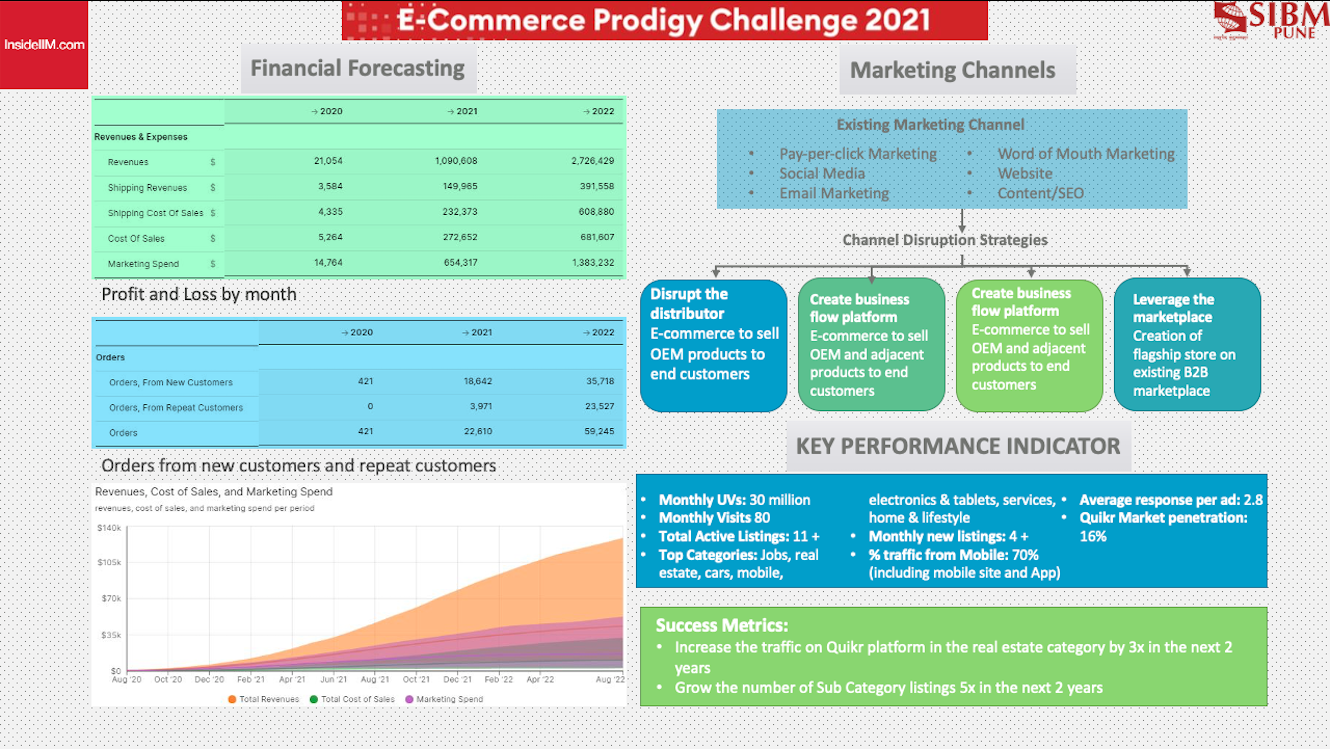 Yogesh chose metrics such as Unique monthly visits, Active listings, Percentage traffic from Mobile, Market penetration, and more as Key performance indicators.
What did you think of Yogesh's marketing, user acquisition, and user conversion strategy for Quikr? What holes can you poke in the proposed strategy? Think you have a better, more effective strategy in mind? Let us know in the comments! Read more about the InsideIIM E-Commerce Prodigy Challenge here.