ABG Leadership Program Could Be Coming To Your Campus This Year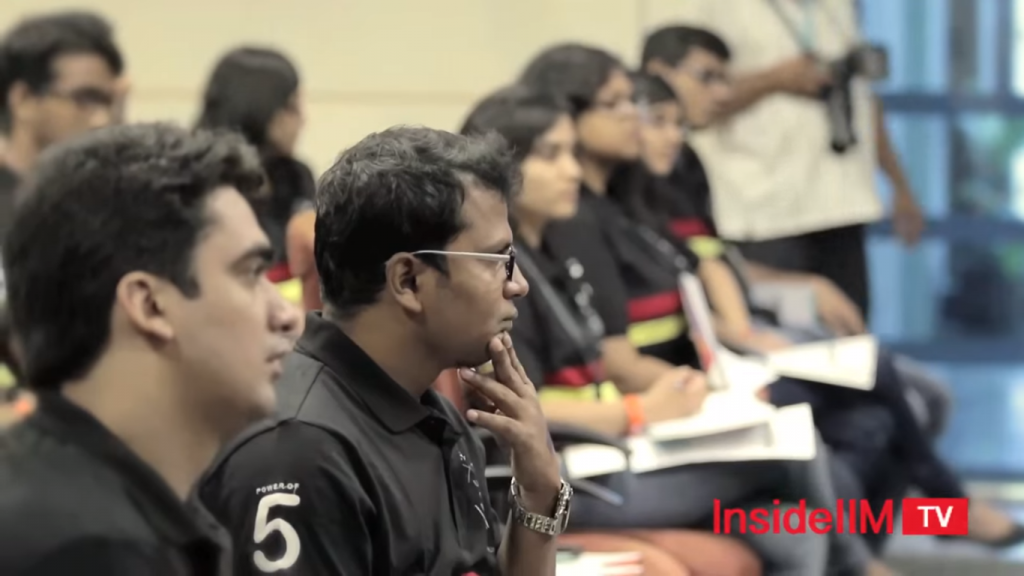 Zaraa nazar utha ke dekho (Can you look up a little?)
Baithe hain hum yahin (I am sitting right here, yo!)
Bekhabar mujhse kyun ho (Why are you ignorant of my presence?)
Itne bure bhi hum nahi (I ain't that bad, you know!)
This could be a romantic little song. But it could also be sung to your dream company. Some of India's biggest companies only manage to cover a few top MBA campuses for recruitment to their coveted Summer Internship programs. And students from all the other campuses end up singing the above song, hoping their dream company decides to look up and take notice of them too. After all, amazing candidates don't just belong to a handful of top campuses!
So the good folks at Aditya Birla Group have decided to look up and take notice. They have decided to give a chance to business schools across the country to impress them so they can add them to the roster of campuses they will be visiting for this year's Summer Internship Placements season.
It doesn't matter what ranking your B-school has, it doesn't matter how old or young your B-school is, it doesn't matter in which corner of the country it is located. This competition is open to all business schools. If your campus is able to impress the Aditya Birla Group, the Batch of 2020 will stand a chance to intern with some of India's top businesses, rubbing shoulders with other interns from the top IIMs, and being mentored and guided by pedigreed professionals with a wealth of experience.
Aditya Birla Group's Leadership Program (ABGLP) is one of the most coveted leadership programs for MBA students. Currently, ABG recruits only from IIM A, B, C, L, I, K, XLRI Jamshedpur, and ISB.
So do you have what it takes to Woo ABG?
Here's How Your Campus Can Win –
There are 3 Rounds. To qualify for the next rounds, you need to ace the former ones. Simple.
Round 1 –
Students from your campus need to write articles or make videos and publish them on InsideIIM on any one of the following topics –
What makes my campus unique.
A memorable classroom experience in my B-school.
Introducing – some of my crazy batchmates (4-5 profiles of interesting students in your batch).
For each submission, the student will also write 100 words on – Which ABG company would you want to work for and why?
These stories will be evaluated for the quality of the idea, uniqueness of the article/video and the unique page views that they manage to get!
The minimum percentage of participation from any campus for this activity will be 20% of the total campus strength – Class of 2019 and Class of 2020. Campuses which do not have at least 20% of the total campus strength participating will NOT qualify for the next round.
E.g. If your campus strength is 600 (300 – 2019, 300 – 2020), then the number of entries need to be at least 120 from your campus.
 Launch Date for the Placement Challenge – 1st April 2018.
 Final Date of Submission of all entries – 15th July 2018.
 All the entries on InsideIIM have to be from the Official Placement ID.
 Only Top 10 Campuses will be selected to go into the next round.
 Round 2 –
The Placement Committees of top 10 campuses will have to send in a detailed presentation which covers the following points:
       USP of the campus
       Batch Diversity (Gender, Education, Work ex)
       Academic rigour and freedom (ability to choose courses)
       Diversity & credentials of faculty
       Extracurricular activities
       Performance of students in B-school competitions/ fests
       Placement data/ reports
Round 3 –
From this round, only top 5 campuses will be invited to a live in-person/video hangouts session with the ABGLP team.
——
The winning campus will have ABG as a part of its Summer Placements Roster for the Class of 2020.
We will announce the results in the first week of August 2018, so the Placement Committee of the winning campus has time to prepare the batch for ABGLP and can then use this victory to attract even more high profile recruiters.
ABGLP and the winning campus will decide the day of summer recruitment participation after results are declared.
Please note that Participation in Summers 2018 is no guarantee that ABGLP will also visit and recruit for Finals 2019.
This is a one of a kind opportunity which opens a lot of doors not only from the recruiting standpoint but also the fact that you get to brand your B-school for the upcoming batches in the best way possible!
REQUEST, PLEAD, PESTER, BULLY your Placement Committee to get your campus to participate NOW!
——
Have queries?
Email us at nidhi.malkan@insideiim.com or on rima.oza@insideiim.com