How I Aced CAT In My Very First Attempt And Made It To IIM - Ahmedabad!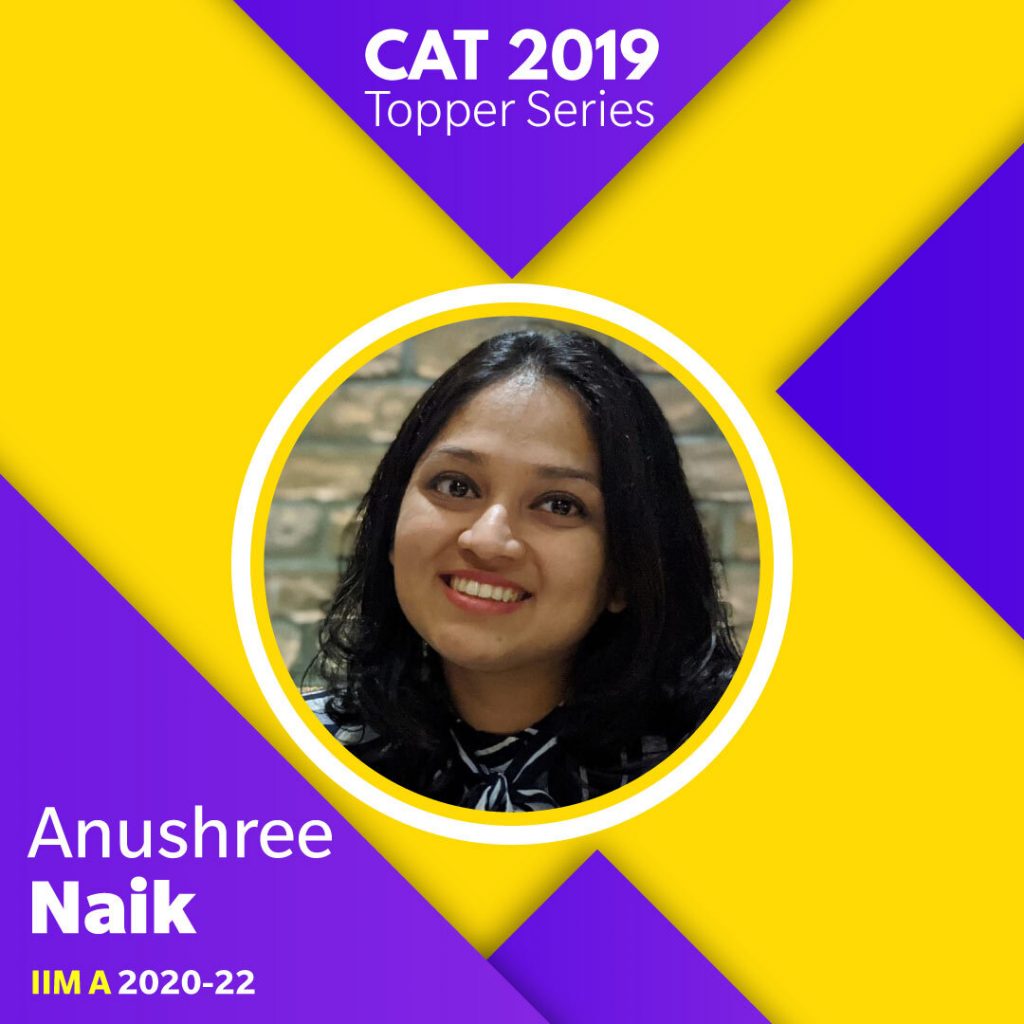 I was at my Chartered Accountancy Convocation when the CAT results were out on the 4th of January 2020. I was nervous and excited at the same time. I found a quiet corner and downloaded my CAT score card to find that I had an overall 98.2 percentile (145.54 marks) with decently balanced scores in all 3 subjects. It felt surreal.
Take Your Career To The Next Level. Ask Our Experts Anything. We Will Respond Within 48 Hours.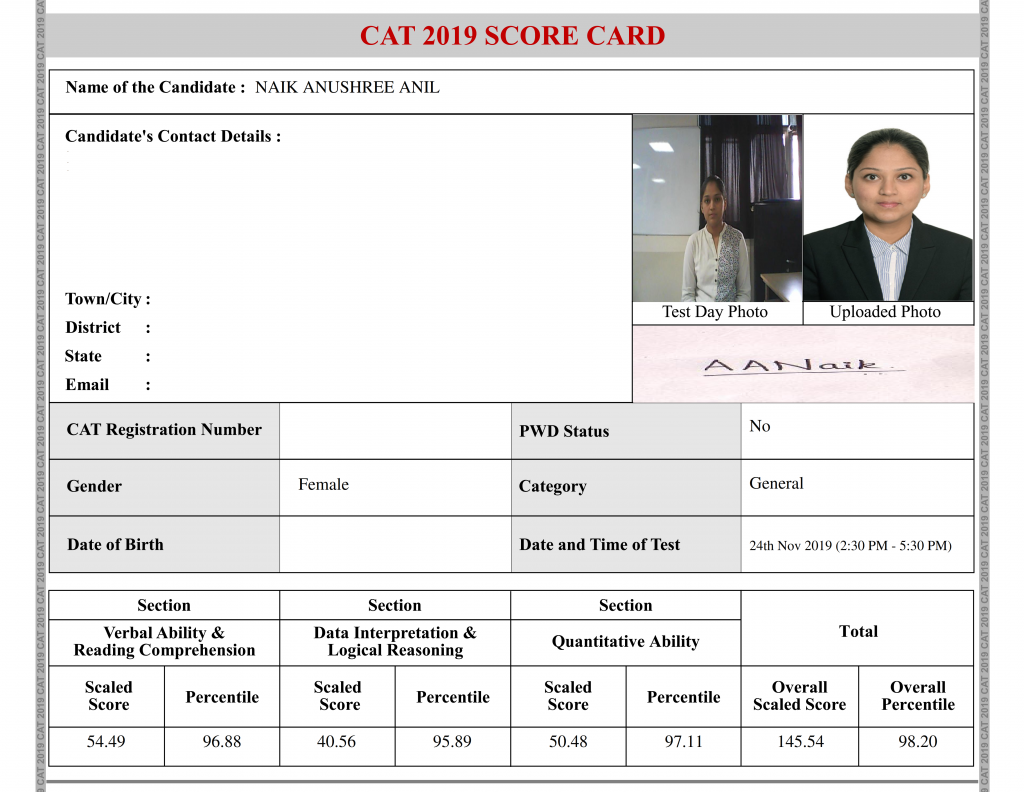 I always dreamt of being a Chartered Accountant and then doing an MBA from an IIM. But as rosy as it sounds things did not come very easily to me. Having been a student with stellar academics right from school I aimed at clearing my CA Final exams in the very first attempt (secretly also hoping for an All India Rank). I was shattered and heart-broken when things did not go as I planned. I had to take a second attempt at clearing CA Final exams and that so-called 'failure' changed my life forever. I held myself up, scored double the marks in my second attempt and decided to crack CAT in the very first shot and make it to the top B-school in the country.
Immediately after clearing my CA exams (Nov 2018), I took up a corporate job in the area of my utmost interest, Internal Controls and Risk Management. And of course, it came with a price. I had to travel for 4 hours every single day, to and from work. I knew, if I had to achieve my goals, only sincerity and determination would help. I started preparing for CAT 2019 in the month of April, 2019 by joining a coaching institute (IMS, Thane), alongside work with an aim to nail my first CAT attempt in November, 2019.
Every time I had a bad day at the office and felt like quitting, I said to myself 'No Pain, No Gain'. It sure was difficult to balance study and work but I loved my job and I soon realised that having a productive day at work, instilled more rigour in me to prepare for CAT.
I studied for about 3 hours on weekdays and utilised my travel time in reading books, building vocabulary and solving math quizzes on my phone.
This is what my time table looked like on most weekdays –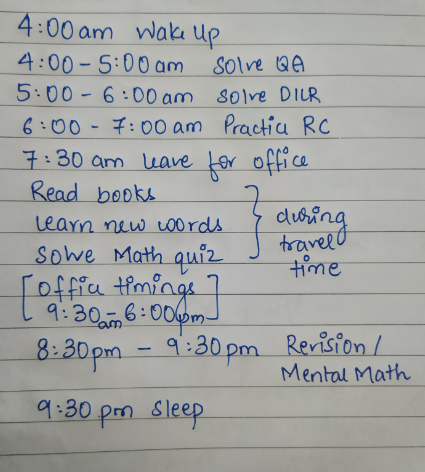 My weekends were dedicated to attending classes, solving mock tests and analysing my strengths and weaknesses.
This is what it looked like –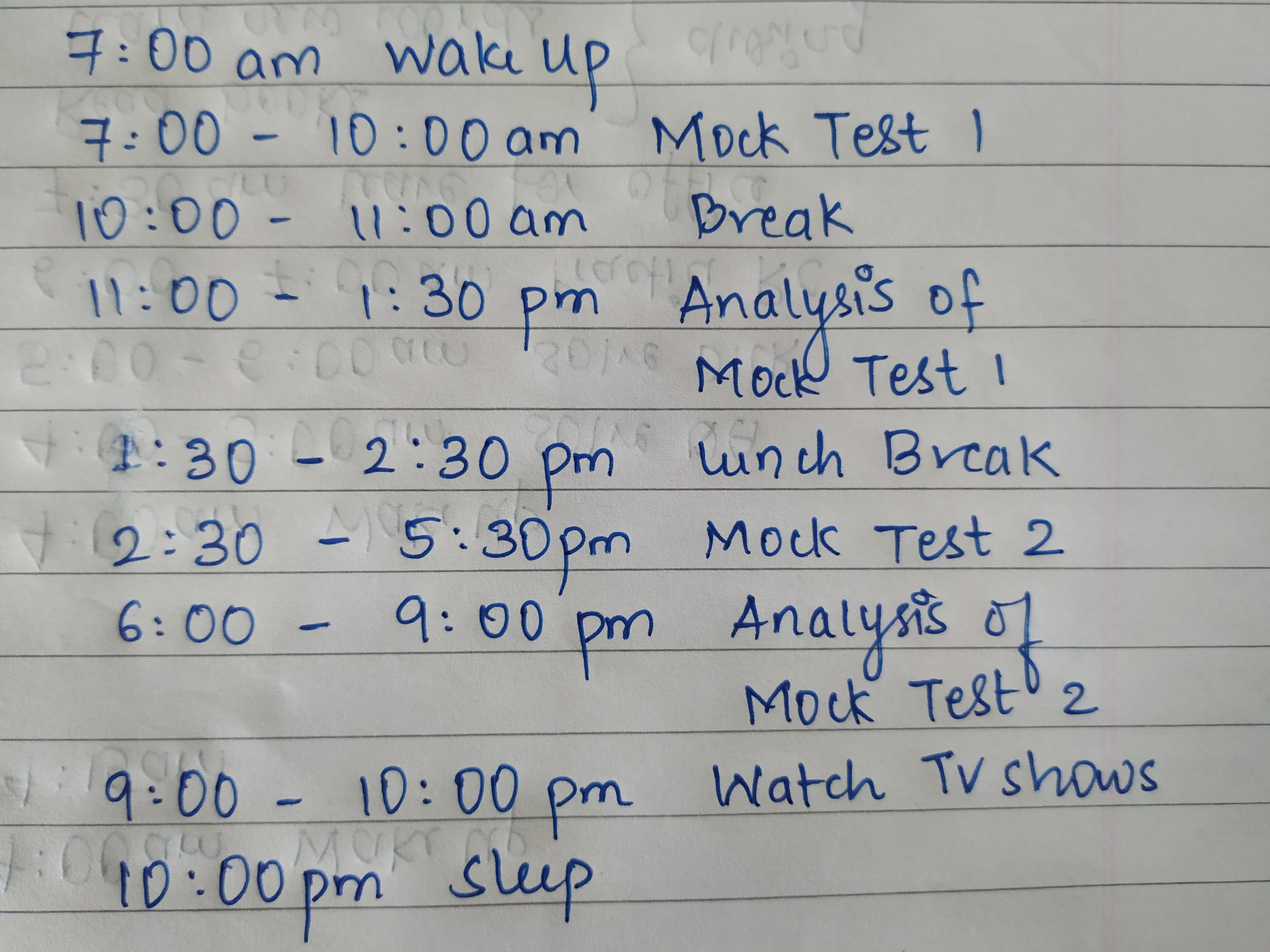 Initially, I was slow at solving Math and hence I spent most of my preparation time on steadily increasing the number of attempts and maximising my accuracy in Quantitative Aptitude (QA) section. I maintained a formula book and tried to do most of the calculations mentally.
The Data Interpretation and Logical Reasoning (DILR) section was my favourite as I was naturally able to score well in it without much practice. Basically it was my strength. Not for too long though (CAT is funny). As soon as my scores in the QA section started to rise, my scores in the DILR section began to drop and I realised that I was both over-confident and under-prepared for the DILR section. The biggest mistake one can make in CAT is neglecting one particular section. After scoring a mere 5 out of 100 in the DILR section in one of the mock tests in the month of August, I corrected my mistake, just in time, and started solving a lot of Logical Reasoning (LR) questions regularly. I asked my mentor to help me with the QA and the DILR sections. It is when I witnessed my mentor solving a live test, that I understood the knack of attempting the easiest questions first and returning to the nasty ones later.
Slowly and steadily, I started clearing the minimum cut-offs in each of the sections. Now I had to excel in at least one section so that my overall score and percentile boosts. I decided to not make the same mistake in the Verbal Ability and Reading Comprehension (VARC) section as I had made in DILR and hence started practising 4-5 Reading Comprehensions every single day.
My experience with mock tests was rather funny.
On an average, every serious CAT candidate takes around 15 mock tests before the main test and aims to score more than 100 (out of 300) in and after the 5th mock test. I was dejected after every mock test as I hadn't scored above 100 until mock test number 13. And recognisably it was already October (a month away from 'the day'), health was deteriorating and the competition was at its peak. Today, I am proud of not giving up during those times. My mentor always motivated me by saying, 'It's not over till it's over'. And it really wasn't over yet.
After a lot of trial and error and experimenting with various tactics and strategies, I very carefully decided on mine. I decided to attempt all the questions in the VARC section, as more often than not, my intuition worked in my favour during the mocks. As opposed to the popular belief of CAs not being able to nail VARC, it was my strongest section and I had relied upon it boost my overall percentile. In the DILR section, I made up my mind to attempt the most familiar sets starting with LR as I was more comfortable with them. In QA, I decided to mark an answer only if I was more than 80% sure of it as I had experienced that maximising accuracy had benefited me in the mocks more than increasing attempts. Also I never really used to get a second chance to come back to QA questions and hence I decided to solve as many as I could in the first round itself.
But having decided upon this strategy, I had also made a mental note to be as flexible as possible during the main exam and amend the strategy as per need.
I wanted to be in a very positive frame of mind on the day of my exam but finally, those 3 hours matter the most. I took my last mock test about 3 days before CAT and scored a 145 with a 96.75 percentile. Not the best score for a serious aspirant but it was my best performance in my entire CAT journey. I was content, confident and driven to do even better on D-Day.
I relaxed a day prior to exam; just skimmed my formula book, read a few RCs and slept for a whopping 11 hours at a stretch a night before CAT. The maximum I have slept before any exam in my life. I had always been a student who would be stressed before exams. I had to unlearn my way of preparation for CA exams and learn an altogether new way of preparing for CAT. I believe, being brave enough to try new methods to finally finding my forte helped me give my best on the CAT day.
I remember reaching the venue 2 hours early, with 6 big milk chocolates in my bag to pump my energy just before entering the exam hall. I was as tranquil as I could be and I guess that is exactly what one must do.
As I began the VARC section, I realised that it was a little difficult than what I had practised in mock tests. I told myself, 'If its difficult for you, its probably horrible for others'. No matter how narcissistic it sounds it helped me boost my morale. I tried to answer as many questions as I could calmly and hoped for an easier DILR section.
As I started with the DILR questions I picked up the Venn diagram question first as it happened to look familiar. 4 minutes down I had no answers to any questions in that set. Hence I moved on to the other sets and fortunately cracked 3 DI sets (2 completely and 1 partially) in the next 30 minutes (Though LR sums were my strength, DI sums looked easier plus they did not have negative marking and hence I modified my strategy real time and took the risk). I then moved on to the LR sets with an increased confidence and cracked 2 of them in the next 20 minutes. I had the last 5 minutes of the DILR section on hand and I had to make the most important choice. Either to attempt an altogether new set or go back to the Venn diagram with a rejuvenated valour and try my hand at it again. I chose the latter and those 5 minutes made the cut for me. I solved the entire Venn diagram and thus attempted a total of 5 and a half sets. Fortunately, I did not carry the burden of a rather tricky VARC section to the DILR one and hence I swayed swiftly to the last QA section.
I started the QA section chronologically and a lot of sums seemed familiar. Sticking to my strategy, I attempted as many as I could in my first round itself and in no time, those 3 hours had come to an end.
I came out of my CAT examination hall with a smile. I had already done a mental calculation of my score. I knew my score would be around 140. Definitely not being sure of whether it would be enough to get me an interview call from the top B schools.
But my mentor always said, 'The more you work hard the luckier you get'.
I started preparing for interviews by reading current affairs regularly and discussing it with my parents and friends. I took about 15 mock interviews with different people ranging from my boss at work to my mentors, friends, ex-students, seniors, etc.
Fast forward to the day of IIM – Ahmedabad Interview
I was the first in my panel and I was extremely happy about it. I finished my AWT (analytical writing test) about 5 minutes before time (that is how I had practised), rechecked it twice and was waiting for my interview immediately after it.
I entered the room with a wide smile as deep down I was really excited. They started asking me questions on my work profile, which I did answer, but they seemed to be in disbelief of it and then they switched to the topics that were out of my domain. They asked me to solve a numerical question on GST that touched on the concept and impact of the change in prices of composite services (restaurant service) due to GST; I couldn't answer it satisfactorily but yet stayed calm and confident. Basically the first 20 minutes of the interview wasn't as I would liked it to be. They then asked me to opine on a few current, political and economic scenarios, which I could, in a very convincing way. I took advantage of that opportunity and laid my views with a lot of conviction. I think that was the first turning point in my interview. They then moved on to my extra-curricular achievements, which I was desperately waiting for. Being a certified graphologist they wanted me to analyse their handwriting on the spot. I seized the opportunity and spoke for 7-8 minutes at a stretch. Though they maintained a straight face, I was overwhelmed. That was probably the question that made it for me as I believe that is how they differentiated me from the others. They closed the interview by asking me a few public policy questions which were again something that I wasn't very well aware of. Not losing any of the confidence till the very end, I came out of the conference room after a 50 minutes long interview, beaming. I was quite positive and I couldn't wait for the results.
Fast forward to the day of the result, 8th May 2020, 1 PM, my Whatsapp groups started flooding and I realised that IIM – Ahmedabad's final selection list was out. I logged into the website and started panting heavily as teardrops rolled down my cheeks and my hands started to shiver even before the page loaded. And finally, after skipping a beat or two, I saw something that I had always dreamt of. It felt surreal and I couldn't stop crying. I hugged my parents, thanked my most favourite mentor, joined hands before Ganpati Bappa because, in the end, it is he who decides. For the next few minutes, I couldn't believe what had just happened and the rest of the day was spent making calls. That day is going to be a day to remember.
I am so glad that I did not lose hope at any point and all I knew then was to keep going, no matter what!
But now when I think of it in retrospection and try to gather and organise my thoughts on what exactly worked in my favour to make it to the best management school in the country, I think there were precisely 4 things that I did right in the last one year:
Being Fearless
Having Self-belief
Consistent & whole-hearted efforts
Never giving up
Advice to Future CAT Aspirants
Don't give up until the very end. Your best performance could be on the day of the CAT itself.
There is no substitute for hard work so always give your best.
The interviewers want just one reason to select you. Give them that reason.
Something that you call as a 'failure' could actually be your strongest motivation. Believe in the power of self-belief.
***
You May Also Be Interested In Reading: