Changing Gears – A Journey From R&D To HR!
"Why Research and Development to HR"- this question still rings my ear. I have been asked this over and over again in all the b-school interviews I have faced. Fortunately, I have found a good answer to this question after coming to Tata Institute of Social Sciences, Mumbai.
There was nothing about my career till now which made me feel I was remotely related to management studies. My graduation in BTech in Mechanical Engineering followed by my stint as an Assistant Manager in Research and Development Division in India's largest car maker Maruti Suzuki India Limited, Gurgaon Plant all indicated that I will somehow continue in core sector till the end of my professional life. But somehow I had it in the back of mind that I will do MBA. My motivation to do so was not a better pay or better portfolio but it was borne somehow out of my observation while working in the factory. I came across a lot of instances which made me feel that a sound knowledge of the company as an overall entity, its core business, stakeholders, products and most importantly it's human resources is required. This arouses my interest in Human Resource management. I decided to take my experience and learning to the next level with a degree in human resource management from TISS, Mumbai, one of the most reputed school offering masters degree in HRM. For acing it, I know I had to prepare for TISSNET 2017 and I started right away with sole focus and determination to crack it. I stood risking my well-paying job to go to that "extra mile" to make this dream happen.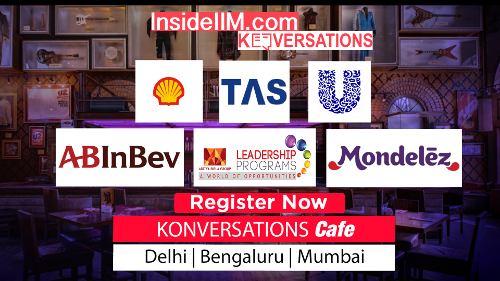 "Sometimes life is everything about risking everything for a dream no one can see but you ".
It was a very arduous task for me to shuffle between my daily office commitments and my preparation. Some days exhausted me to the extent that I had somehow decided to give up but my motivation to be in TISS drove me and kept me going. The acid test finally came when I gave TISSNET in 2017. My preparation gave results when I managed to crack the high cutoff of TISSNET 2017. My PIT and Pi went well but I was skeptical about my selection given the highly talented pool of TISSNET candidates who appear each year.
"I never dreamed about the success I worked for it". The morning sun of spring shown upon me and the leaves strewn on the road blew away to create my path to kick start my # TISSStory. It was a dream come true and I was now placed amongst the league of brightest HR minds in the country. Followed by an induction program the TISS story started for me.
Being a part of the HRM family presented me with a bag full of challenges, responsibilities and opportunities. I feel like I am a part of a startup! We have good flexibility but limited resources so we learn what to focus on and how to become more efficient. Studying Labor Law from an industry expert who practised it for more than 30 years becomes a memory of lifetime. Visiting factories of reinforce classroom learning. Attending guest lecturers remains an enriching experience.
A future business manager shapes the future of the society and to be able to do so well, it is essential that he is informed and aware about the stark realities. It is mandatory to study foundation courses on society, economics and politics in the first semester. A few weeks into the institute and you find yourself actively taking part in discussions and debates on gender equality, CSR, sustainable development and many other topics. If you hang out with the development studies, public policy and other schools at TISS who are trying to reimagine future (as our motto says), the broad perspective that you develop is truly beyond management. You are expected to read sufficient (read: super long) material provided before the class because the professors work as facilitators and not tutors. Practical assignments are often shaped in a way to make you face the harsh reality of the society. As an HR student at TISS, I feel proud about the HR heads who are TISS alumni. The long list of eminent alumni brings us pride and honour but, most importantly, a sense responsibility to carry forth the legacy.
Then came the most awaited part of the semester – field internship: every semester (yes!) the students work in different companies to understand business practically and implement their classroom learning. Many of us are now associated with ambitious projects under the guidance of great names in great companies. What field internship offers at the end of two years is an experience of working in various industries; unlike other b-schools where one summer project in one company ends it all. The concept breaks the monotony and the barrier of narrow exposure at the same time. By understanding the intricacies of various sectors, students are enabled to make informed choices and in the long run, it helps them shape their career well.
Though we remain occupied with assignments and presentations, we learn how to multitask and make time to participate in competitions, campus events and manage committee work. A serene walk around the amphitheatre in the campus, and listening to the song of rustling leaves is like meditation after a long day of work. A small batch of students has its own advantages: power-packed discussions with the guest faculties focused attention and personalised guidance.
Many of TISS alumni are in very senior positions in my chosen career path. The mentoring and help we get from the alumni in the sector of our choice; will certainly be a key ingredient in our success in the post-MBA career. A successful career after a management program comes with its share of stress and pressure and a good management program prepares you to handle those challenges. You should be ready to get grilled and churned when you take admission into TISS. Before coming here, I heard it many a time that TISS is not b-school but take my word for it, TISS is not a regular management institute but something that makes you a lot more than just a 'manager'. In conclusion, I strongly believe that the most interesting part which distinguishes TISS from other institutes is the field internship and its philosophy. TISSians believe that Institutions are not known for their infrastructure but for their vision, the legacy of alumni and the history they create. We are on our way to create another one… Join us!
——————–
About the Author:
Subhasis Debata is pursuing his Masters in Human Resources Management and Labour Relations at Tata Institute of Social Sciences, Mumbai. Previously he has worked as an Assistant Manager in Maruti Suzuki R&D, Gurgaon Plant for 35 months. In his free time, he likes travelling, doing adventure sports and reviewing restaurants on Zomato.
ARC TISS
Aspirant Relations Committee manages the entire gamut of admission related activities from aspirant mentoring to onboarding, and the induction process. The committee also manages the social media platforms for TISS Mumbai HRM & LR where it deals with public relations as well as branding related activities.