The Vinod Gupta School of Management, IIT Kharagpur had the privilege of hosting Mr. Mandar Risbud, VP-CMS for an interactive session on March 5th, 2020. A proud alumnus of IIM Indore with over two decades of experience in the areas of digital transformation, solution architecture, pre-sales, and solutions, Mr. Risbud delivered an informative talk on "Digital Transformation".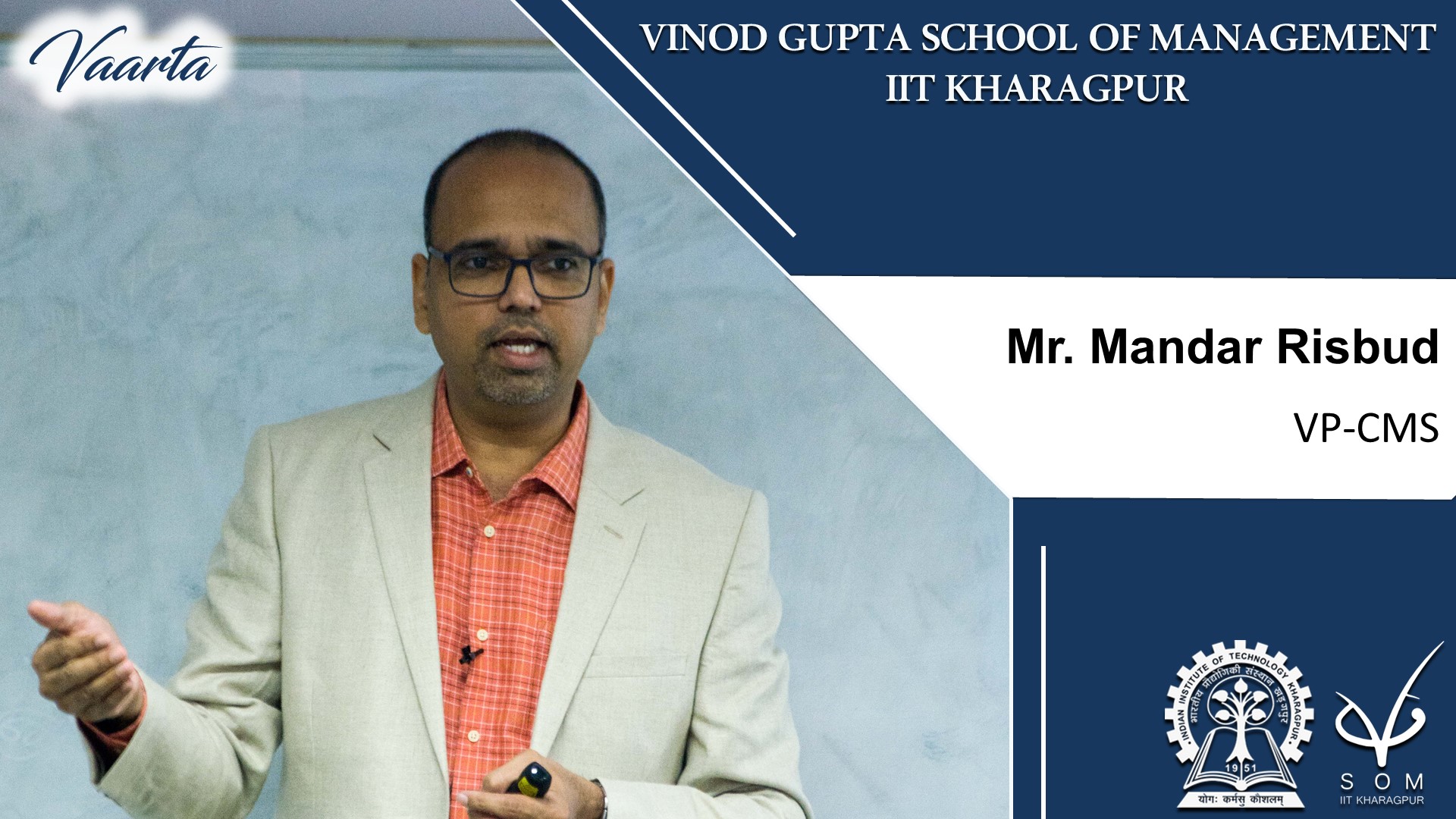 He began his lecture by elaborating on digital transformation, learning, and disruption. He explained how digital transformation has evolved beyond an aggregation of random digital technologies done through a piecemeal approach. He then demonstrated how the random aggregation approach is neither a sensible way of engaging customers nor a prudent way of doing business. With several examples, he went on to explain that digital transformation is the foundation for new capabilities and values, which inadvertently has a profound impact on demand satisfaction and revenue generation, thus achieving mobility, and excellence.
He then took the time to shed light on his industrial experiences. He put forth to the audience the question all marketers want to know the answer to - Is digital marketing hyped or real? After hearing the different perspectives from the crowd, he proceeded to elaborate his thoughts on the matter. With several anecdotes from his past, he spoke about the relevance of a high degree of customization, waste reduction, and agile methodology. He then demonstrated the difference between needs and wants as per company requirements and growth based on the size of the company.
He proceeded with the session by explaining the unique features of FAANG viz., Facebook, Apple, Amazon, Netflix, and Google. He then gave the gist of hyper-personalization through which these digital giants have understood the customer in a better manner and could associate it with the dynamic environment.
He explained the different factors such as economic growth, different customer classes, and the impact of digitization which are responsible for major economic changes in the world. He also explained how to leverage modern technologies like the internet of things, plug and play services, etc. for organizational success. He concluded his session by emphasizing that any company can operate as a technology company and the key decisions taken by the business leaders can generate immense value to the company and its clients.
The students were enraptured by his lecture as they gained insights into the art of staying relevant. The students of the Vinod Gupta School of Management, IIT Kharagpur are ever grateful to have this opportunity of learning from his expertise. We are truly thankful to him for sharing his time with us and we hope to host him again soon.