To anyone following final placements at leading Indian B schools, it would have been clear that 2013 was a bleak year, and 2014 has been a lot more promising. However, if you are at a truly top-notch B school like IIM Bangalore, you don't really feel the pinch during a bleak year, and you enjoy a great boost during a strong year. That has been the story of IIM Bangalore's placements over the last two years. In terms of diversity and richness of profiles offered, and several other parameters, IIM Bangalore has provided excellent opportunities to its graduating batch. The placements reaffirm IIM Bangalore's status as one of the two or three pre-eminent B schools in India. Here's the report with all the details.
Highlights of the final placement seasons at Bangalore (as reported by the placement committee)
- This year's batch was the largest ever to take part in placements (388 students), but the final placements were wrapped up in four days (fastest ever) with 124 companies making 425 offers in more than 200 profiles.
- Pre-placement offers made by companies increased by over 20% from 97 last year to 117 this year. (Batch size increased by only 7%). And the number of PPOs accepted increased from 77 to 94 (an increase of over 20%).
- Lateral Placement offers made by companies increased over 30% YoY to 127. Out of which 108 were accepted.
- Consulting and BFSI were the most popular domains - absorbing 27% and 19% of the batch respectively.
IIM Bangalore students of the class of 2014 had a plethora of options to choose from in the banking domain. This domain absorbed 19% of the batch. IIM Bangalore remains one of the very few campuses in India where global bulge bracket firms make offers in the investment banking domain. This year, the list included Goldman Sachs, JP Morgan, Deutsche Bank, Nomura, RBS, and Bank of America. Corporate and transaction/treasury banking roles were offered by both foreign firms (Deutsche Bank, HSBC, Standard Chartered, Citibank, RBS, American Express) as well as Indian ones (Kotak Mahindra, Axis Bank, ICICI, HDFC, and Edelweiss).
Among the highlights in this domain, Blackstone group (a premier private equity firm based out of London) hired for an international role. Also, Rocket Internet - a Germany based incubator of technology firms, hired for an international role.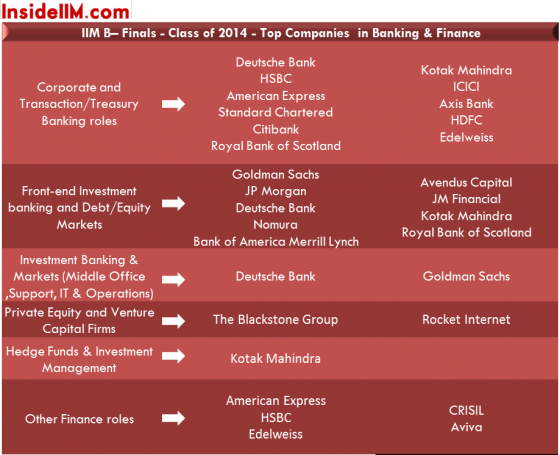 Consulting and General Management
Consulting was the most popular domain at IIM Bangalore - with 27% of the batch choosing companies from this domain, as compared to 24% last year. There is a host of big names here, including McKinsey, BCG, Bain, Booz &Co, AT Kearney, Roland Berger, PRTM and Accenture Management Consulting. McKinsey and BCG made 11 offers each, while Accenture Management Consulting made 13 offers.
Most of the traditional big name conglomerates recruited from IIM B for general management, including TAS, Aditya Birla Group, Reliance Industries, GE, Siemens, L&T etc. The percentage of students joining conglomerates was 6% this year, as compared to 7% last year.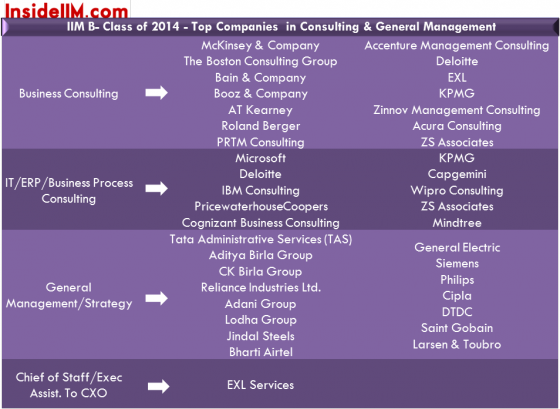 Only 7% of the batch is working in FMCG companies - same as last year. It appears that not that many students from IIM Bangalore are super-keen on an FMCG career. Nevertheless, a number of coveted FMCG companies have made offers for meaty profiles, including P&G, HUL, ITC, Coca Cola, Pepsi, Mondelez, Reckitt Benckiser etc.
Technology, E-commerce and Media
Bangalore is a hotbed of technology firms and startups, and it is no surprise that some of the best firms hired from IIM Bangalore. The list of technology behemoths includes Google, Microsoft, Amazon, Samsung, (of which Amazon and Samsung made 11 offers each) along with Indian e-commerce companies like Flipkart and Jabong. LinkedIn hired for the first time, and exclusively from IIM Bangalore.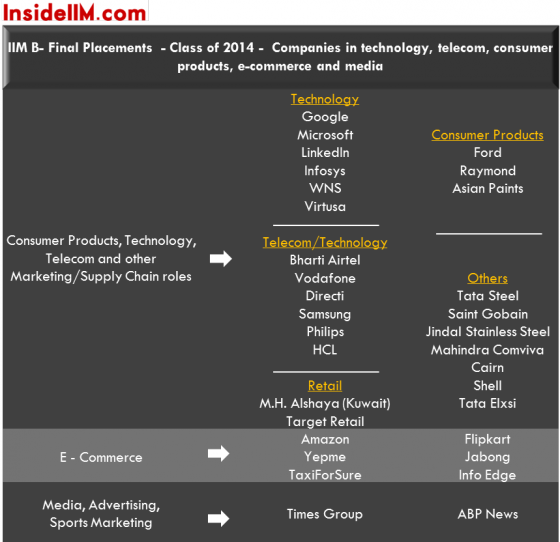 Pharmaceutical companies hiring from IIM Bangalore include Johnson & Johnson, Cipla, Ranbaxy, and Indegene Lifesystems. Practo is a startup that allows doctors to manage their appointments online, (and also allows consumers to search for doctors and book appointments online), and is therefore, a technology firm. Eight students at IIM Bangalore are taking up jobs in the social sector. One of the recruiters includes Narayana Hrudayalaya. Recruiters from real estate include the Lodha Group and Ocwen, among others.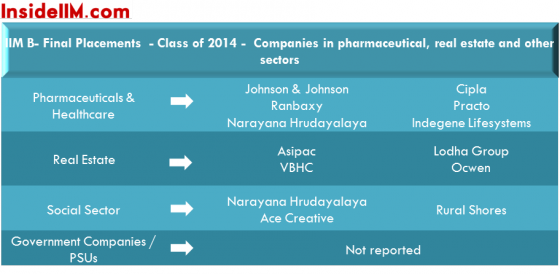 The trends have been analysed within the earlier sections. To summarize, consulting and banking are the most popular domains at IIM Bangalore, absorbing 27% and 19% of students respectively. The share of consulting has grown from 24% last year, which banking has declined marginally from 20% last year. E-commerce, retail and modern tech firms are also in fashion - ecommerce and retail have increased their share from 7% last year to 9% this year. In this year's report, 'IT' and 'tech' are broken out separately and together account for 18%, while last year there was only one category (IT) which accounted for 16%. We reckon that tech firms (product firms like Google, Microsoft, LinkedIn etc) are more popular than IT service firms like Infosys, Wipro and TCS - although both have hired in reasonably large numbers.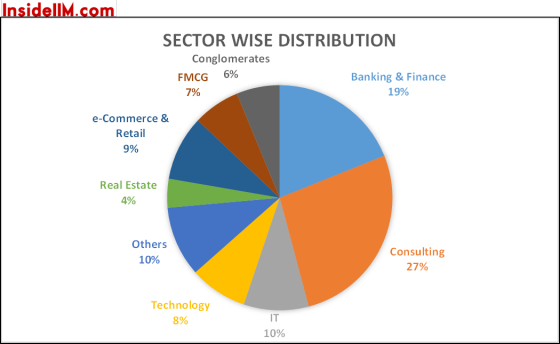 - More than 20% increase in PPOs and PPO acceptances over last year (from 97 to 117 and 77 to 94 respectively). The number and percentage of PPOs in the total batch (24%) is impressive given the batch size.
- Record number of women participating.
- Number of international offers nearly doubled from 21 last year to 41 this year.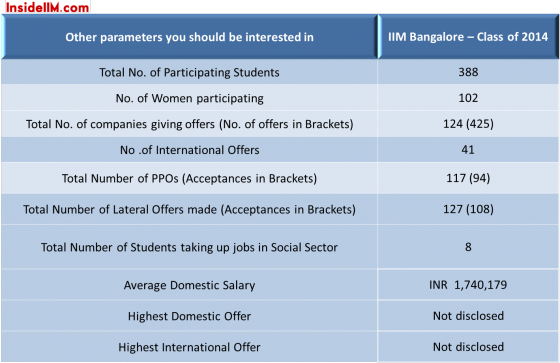 We would like to thank the placement committee at IIM Bangalore for sharing the report with us.
Although we have taken all efforts to verify the information, we cannot guarantee that it is 100% correct.
For all reports for the Class of 2013 read here