Professor D. Sriram is this year's InsideIIM Professor Of The Year. He has 28 years of work experience (industry and teaching combined) and brings seniority, seriousness and reach industry knowledge in the GLIM Chennai classrooms. Here's why Prof. Sriram has been voted by students at the Great Lakes Institute of Management, Chennai as their favourite professor!
Note - The winner(s) of the InsideIIM Professor of The Year has/have been chosen by current MBA students of a particular campus. The voting started in February 2020, and MBA students nominated their favourite professors here. The professor(s) with the maximum number of votes has/have been declared the winner(s) in 2020!
Meet Prof. D. Sriram - Professor at GLIM Chennai, InsideIIM Professor of The Year In 2020
Prof. Sriram Dr D Sriram has worked for 21+ years in the Energy and Automobile industries in various Senior Management roles. He worked in M/s Ashok Leyland Ltd., M/s Indo Mobil Ltd and M/s Reliance Industries Ltd. where he was responsible for setting up the petroleum retail network in Tamilnadu and got promoted to Vice-President – Marketing at Retail Outlet Operations, South. He also had a four-year stint in the SBU-CEO's office at Mumbai handling the strategic planning role.
He shifted to academics in 2012 when he joined XIME, Bangalore as Associate Dean (Coordination) and teaching elective courses in the Marketing domain. Dr Sriram joined Great Lakes in 2013 as a full-time faculty. He teaches core and elective courses in the Marketing area and also heads the Accreditation function. In this time he has presented many research papers and has published research articles.
To know more about him read here.
InsideIIM Professor of The Year 2020 - What Students Have To Say About Prof. D Sriram
"The way he teaches is exceptional. He has knowledge of all the industry and he delivers it so well that it gets imprinted in our brain."
"He has been my ES guide, and also guided me with my startup idea. He gave me a sense of direction and a purpose when I was finding it difficult to make sense of the concepts which have been taught in classrooms. He will be extremely patient with your doubts and queries and always give point-blank answers."
"Professor Sriram's teaching style is storytelling which indulges each and every student. Every marketing student looks forward to his class during the elective terms."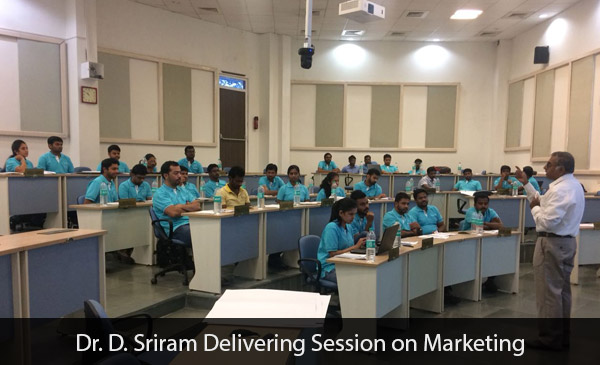 The following are professors at GLIM Chennai who just missed out on the winning title, but are loved by GLIM students:
Prof. Raghu Iyer - "The way he explains the subject matter is phenomenal, he talks about reality and industry-relevant things, not just bookish knowledge."
Prof. S. Bharadhwaj - "He has a very systematic approach to teaching. All the insights in his lecture are insights from research papers. Students are engrossed in the subject throughout the class due to interesting content."
Prof. Prem Chandrani - "His teaching is simplified and very real-time application-based."
Liked This? Then You May Also Like