Goldman Sachs - Who They Are, What They Do, Why They Do It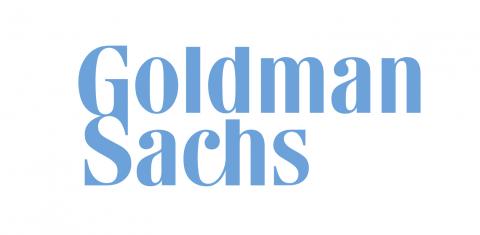 Goldman Sachs is a multi-national investment bank, headquartered in Manhattan, New York. It is a Bulge Bracket bank and is one of the largest MNC investment banks in the world. Apart from global investment banking, they provide financial advisory (M&A), institutional client services, investing & lending, investment management, asset management and securities underwriting.
According to the official website,
"The Goldman Sachs Group, Inc. is a leading global investment banking, securities and investment management firm that provides a wide range of financial services to a substantial and diversified client base that includes corporations, financial institutions, governments and individuals. Founded in 1869, the firm is headquartered in New York and maintains offices in all major financial centres around the world."
The bank has 59 offices in 14 countries, 35% of which are in the United States itself. In India, they have two offices - Bangalore (opened in 2004) and Mumbai (opened in 2006).
In 2017, Goldman Sachs generated a net revenue of $32.1 Billion, an increase of 5% from 2016. A total of 36,600 employees work at Goldman Sachs across the globe, as of December 2017.
Learn how to Land Your Dream Internship from Successful PPO holders from Top Recruiters.
Register for the latest weekly webinar here.
Business Segments of Goldman Sachs: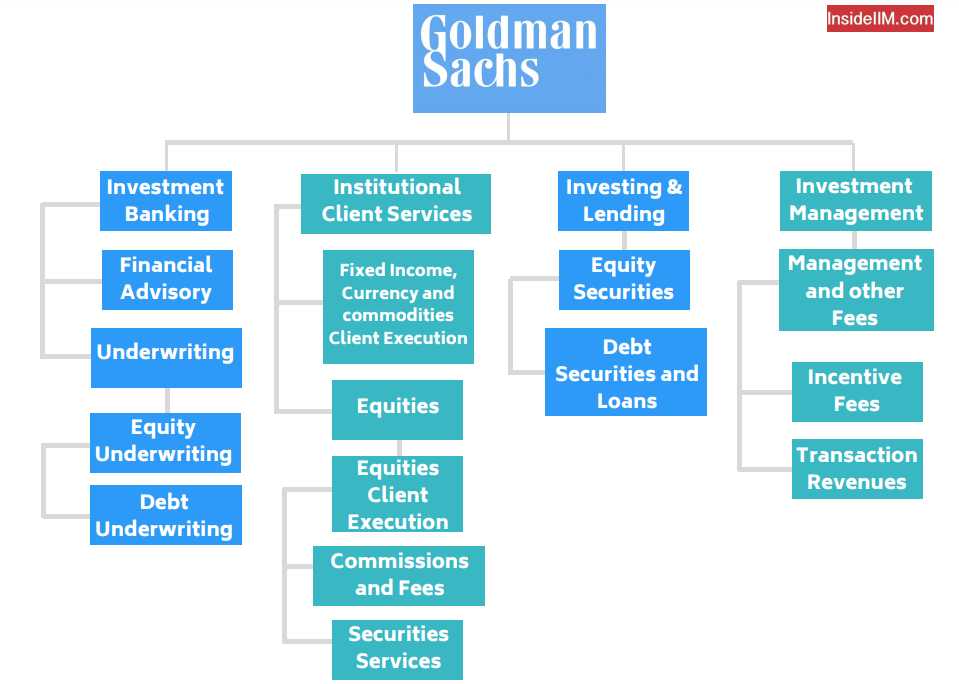 Operating Results For Segments: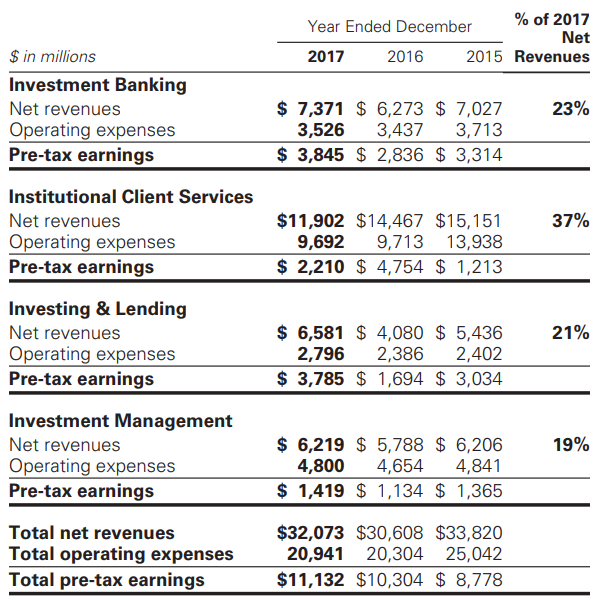 Considering that Goldman Sachs is a renowned investment bank, a point to be noted is that less than 1/4th of their revenue is generated from investment banking, and other functions bring in greater revenue - Institutional Client Services primary amongst them.
India - The Indian offices are led by Mr Sonjoy Chatterjee, who is an IIM Bangalore graduate (Class of 1994). He was previously the MD and CEO of ICICI Bank. He took over as the Chairman of Goldman Sachs in 2011. He also serves as the Head of Investment Banking - India operations for Goldman Sachs.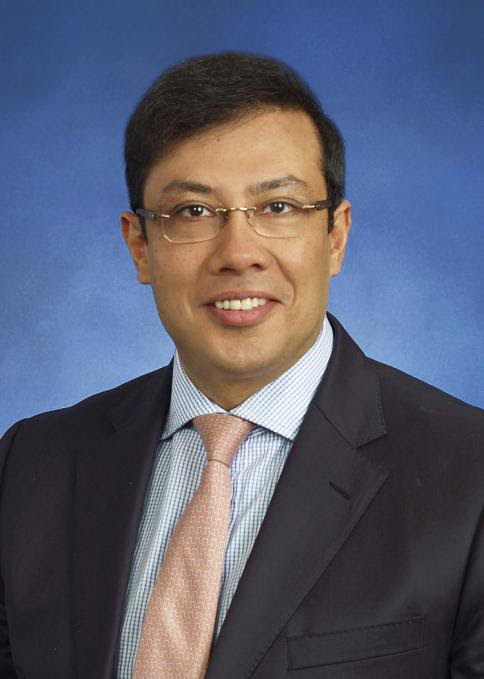 Global Leadership - Goldman Sach's global leadership consists of Lloyd C. Blankfein, who has been the Director of Goldman Sachs since 2003. He is a graduate of Harvard Law School and has previously served in the capacity of COO and President at Goldman Sachs.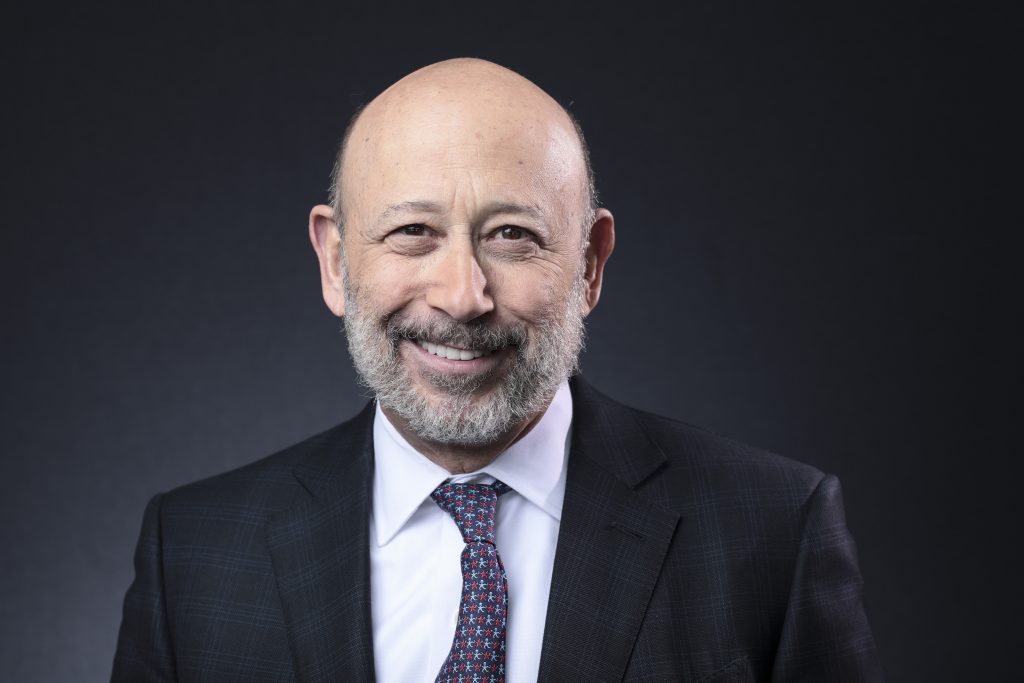 Mr Blankfein will be succeeded by the bank's President and COO, David Solomon, as the Director of Goldman Sachs.

The bank has been involved majorly in brand-focused advertising, such as this. After the 2008 crisis, Goldman Sachs, whose brand image had dropped significantly amongst clients (the bank was referred to as the "Vampire Squid" in the Rolling Stones magazine), has begun to use content as a method of building trust and enhancing its presence in the market. Goldman Sachs calls this process "Value exchanges in the digital space". Very recently, the investment bank has also begun consumer product advertising for its lending platform called Marcus.

In the InsideIIM Recruitment Survey Reports, Goldman Sachs has been one of the most desirable recruiters in the BFSI sector for the past 6 years, which is a clear indication that both MBA students and Post-MBA professionals perceive Goldman Sachs as an ideal bank to work for.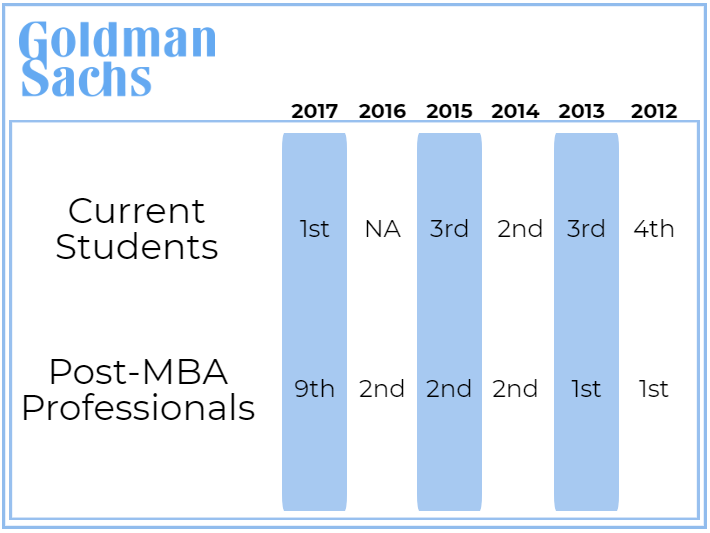 Careers With Goldman Sachs
Goldman Sachs hires only from tier-1 B-Schools across the globe, although an individual from other tiers with relevant experience can also join the bank in the capacity of an Associate at a later stage.
The bank has 17 divisions within which its employees operate. An MBA graduate joins the investment bank in the capacity of an Analyst. Depending upon the candidate's domain knowledge and qualifications, they will then be inducted into one of the 17 divisions of GS (Human Capital, Investment Banking, Investment Management, Operations, Internal Audit, Private Wealth Management etc.).
For GS, as a part of the New Analyst Programme, any individual with "an outstanding record of academic achievement and an interest in the financial markets" is an ideal candidate. Goldman Sachs looks for candidates from diverse backgrounds and focuses on qualities such as leadership and integrity. The bank looks for instances of self-motivation and hires people who are able to clearly define why they want to work for GS.
As a part of their recruitment drives, Goldman Sachs visits various campuses for pre-placement presentations, where students can gather information about the recruitment process. They can then apply for available programmes on the GS Careers Website (application dates usually begin from the first week of July), following which CVs are short-listed for the interview round.
Upon joining the bank, the new-hires undergo an orientation and induction programme at the Goldman Sachs University (GSU). The GSU also offers Goldman Sachs employees educational programs at every stage of their career. After the orientation, the employees are given division-specific training and a detailed briefing on the products that Goldman Sachs offers its clients.
Campus Recruitment Process
As a part of the campus recruitment process, Goldman Sachs has a University Relations Team (URT), which maintains relations with the students and the administration throughout the year.
Goldman Sachs recruiters lay emphasis on the academic background of an applicant and the diversity that the individual brings to the team. A point to be noted is that a lot of applicants are filtered on the basis of the quality of the content in their 300-word cover letter (in the application process), detailing reasons for their inclination to work for GS.
Following this, the shortlisted candidates are invited for an interview with senior personnel of the bank for 1-2 round of interviews. Here, the candidate is questioned on their knowledge of the industry, technical questions (which can be based on your previous work experience), followed by multiple questions on your inclination to join Goldman Sachs. There can also be case-study questions, so one must be prepared for that as well.
Work Culture At Goldman Sachs
Since Goldman hires some of the brightest minds from diverse backgrounds, there is a huge scope for career growth at the bank. The work culture is said to be highly professional, and the bank provides great training and orientation to its employees. Working for a brand as big as Goldman Sachs is great for one's future, and the bank promotes an environment of learning.
As is with most i-banks, an investment banking analyst can work anywhere between 12-18 hours per day. This is why the attrition rate in the industry is quite high.
However, Goldman Sachs has made a concerted effort to improve the working conditions for employees, which has earned it a position on multiple occasions in lists of "Best Places To Work" and some great reviews from its employees as well.
Here is what a Goldman Sachs Analyst from the Bangalore office had to say on Glassdoor:
"GS IBD Bangalore - I have learned more in my current job (despite working in an offshore capacity) than I would have thought possible.
Best part of GS is that they let you run with things. If you [are] seen as being dependable, no one will get in your way. You can execute deals and be the lead Analyst on transactions sitting out of B'lore as long your team has the faith in you."
Due to the trend of high attrition in Investment Banks across the globe, Goldman Sachs has adopted various initiatives to retain their employees beyond the 2.5-year mark. To this end, the bank has introduced the concepts of Protected Weekends (or Saturday Rule), wherein an employee cannot be in the office from Friday 9:00 PM to 9:00 AM on Sunday.
Further, they have expedited the process of promotions of analysts and associates, and an Associate can now become a Vice President only after 2.5 years at the bank (depending on performance). Also, annual performance reviews are not graded on a scale of 1-10 anymore and are instead transformed into constructive guidance from senior managers. GS also offers numerous benefits to its employees, such as healthcare and medical insurance, retirement planning etc.
The Other Side Of The Coin:
Getting a job at Goldman Sachs is a herculean task. In 2014, there were over 43,000 applicants for 1,900 available positions; the bank hired only close to 1800 people (4%), of which 80% accepted the offer. In 2013, only 2% of all applicants were hired.
For those working from the Bangalore office, the work entails back-end duties and tasks, as opposed to client-facing roles abroad in the European and American offices of Goldman Sachs. The work-culture there is said to be "highly bureaucratic". The work can get very monotonous and stressful as well, with an added element of competition with other hard-working and deserving employees at the bank.
Here is what another Goldman Sachs Analyst had to say in his Glassdoor Review:
"Stop screwing over people who have demonstrated excellence and treat them fairly in a meritocratic manner.
Stop coming to schools like IIM-B,C,K etc.. and selling this program as more than what it is. Only 10-20% of the people in this program get a good experience. Even then, they are screwed over during 'conversion time'.
You are recruiting kids who are ambitious and willing to work hard, but they have to beg for work quality even after joining and being hired. This is pathetic."
The following are the Glassdoor reviews for Goldman Sachs' India offices: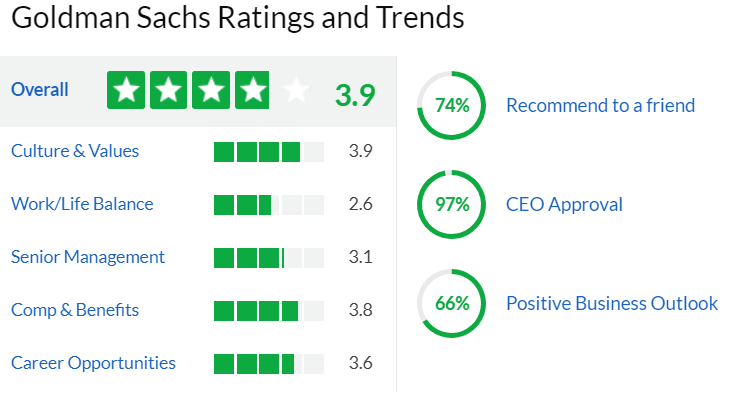 Below are ratings for Goldman Sachs on Indeed.com.
As can be seen from ratings on both these websites, the scope of work-life balance at Goldman Sachs is minimal, although the bank fills that gap with paying their employees well.
For further viewing/reading:
CEO Lloyd Blankfein's Advice To Summer Interns:
Goldman Sachs - Bangalore Office
 Land your dream internship with ONLY 3 hours of prep time. 
Check out our Internship Interview Prep masterclasses here
- Marketing
- Finance
- Operations
- HR

You can buy individual courses or get all of them in a Bundle at 25% discount. 
To know more, click here.