Swati (excited): Really? What is it?
Reshal: Tablet computers have no future.
Umang: You have to argue for the motion I hope?
Reshal: Yes! Why?
Umang: Because that's what makes sense; that is what the future is going to be, tablet computers don't have a future.
Reshal: But, Tablet computers' sales have been continuously increasing, they are the in-thing!
Swati: Well, Reshal, let me ask you something. If today your laptop breaks, would you borrow Manish's tablet for a week and be okay with it?
Reshal: Of course not! What use will the tablet be for me? At best I can reply to e-mails or watch a movie on it. My phone is also capable to doing that. It won't be much of value ads.
Umang: Technically, you can also access and edit documents on it.
Reshal( laughs): Are you kidding me? It would crawl on the 10mb excel file that I am currently working on. I would much rather go to the computer center and get my work done till my laptop gets repaired.
We wanted to see what the others think about the same. You can see their views here: Responses

When Apple launched its first iPad, it was hailed as the post-PC era of consumer electronics. While laptops were able to replace desktops to a large extent, tablets have not been able to do the same to laptops and are unlikely to be able to do that in future either. Tablets are majorly used by people for entertainment- to watch movie, play games or for some light work like checking and replying to mails, reading documents/books etc.
That, however is not the major use of computers. Tablets are restricted in terms of their processing power as compared to computers. With a smaller screen size and a touch keyboard, they are not very conducive to working either. Imagine yourself- when you have to type a 2 page document, would you not prefer doing it on your laptop, where, with regular use you won't even have to glance at the keyboard to type comfortably at a much better speed? The convenience of a physical keyboard cannot be refuted. While some might argue that one could always carry a portable keyboard, this simply defeats the whole idea of carrying a tablet. One might as well carry their laptop along. There are a plethora of sleek small laptops available in the market which would provide every feature provided by a tablet and more.
Again tablet supporters might argue that the touch screen experience of the tablet makes it better but then there are a several touch screen laptops available in the market.
Tablets are fundamentally about consumption of media. The UI, form factor, and apps for tablets are primarily focused on that. (Think, how many novels/Photoshop/sketches/designs/blog posts, etc. have been created on a tablet in the past year?)
Laptops, and every device with a built-in keyboard, have more potential and flexibility for creation of content.
Having said that, am I implying that the laptops that are currently available are the future of computing? Of course not!
We are merely saying that the likes of tablets and phablets are going to be replaced by technologies like "Google Glass". It operates on voice commands, so you don't need to touch the hardware much. It will show you text messages as well as emails you receive and allow you to reply to them via voice commands. It can record videos, click pictures, post them on social media sites, and do most of the work that a tablet would do. Similarly, the smart watches, one of which was launched as a part of the Samsung galaxy gear-which works on gestures is a step in this direction.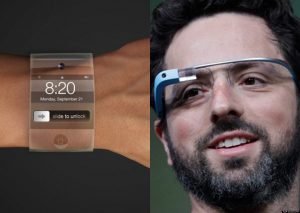 Mobile computing—the cell phone in your pocket or the tablet in your purse—has been a great bridging technology, connecting the familiar past to a formative future. But mobile is not the destination. In many ways mobile devices belong more to the dying PC model than to the real future of computing.
More than these, the Sixth-sense technology that became the talk to the town with Pranav Mistry bringing the idea to the fore is essentially what the future would look like. All the advantage of portability and ease that is typically associated with a tablet is being taken a step ahead with Sixth sense technology that allows you to work on a computer just by the help of a pendant which has a camera and a light source. It would work on hand gestures and would give the user the convenience of having his computer complete with a keyboard anywhere and everywhere.
Hard to believe?
Watch this: Pranav Mistry The thrilling potential of SixthSense technology
A similar concept is the projector pen which would give you a screen and a keyboard on the go. One would not even have to worry about the lack of storage space as in the case of a tablet because the technology links it to a watch which has a holographic storage unit with storage of a TB and transfers data between the pen and the watch via Bluetooth. While cloud storage was seen to be the solution to the storage limit on tablets and phablets, the safety and security of data on cloud storage is debatable. We have very recently seen a celebrity picture leak scandal due to the hacking of icloud. That makes physical storage a much safer and option till we discover fool proof ways of securing our cloud data.
A demo of the pen concept can be seen here:Pen Computer
The laser keyboard is already a reality and is available in the market at about Rs, 10,000.
It's just a matter of time before another technology revolution shakes the foundation on which tablets and phablets are based on and ushers in an era of practically hardware-free computing with the hardware required being as small as a chip or a pen. That is what the future is, not the tablet computers.
Picture sources:
This is a formal entry for the semi-final #1 of the InsideIIM Debate.
Team: Twisted Minds
Team mate: Reshal Jain
Institute: IIM Lucknow