Life On A Stick And Wheels | Story of A Girl That Moved Mountains | Against All Odds – Shwet Nisha, IIM Udaipur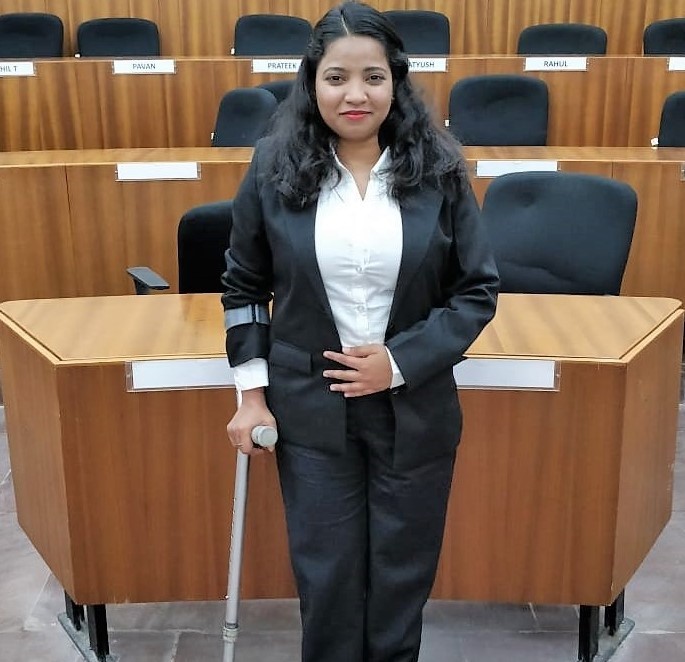 Unpredictability can be another name of life. With so many ups and downs, each experience helps us to grow and teaches the important lessons of life. But there are some touching incidents that alter the very core of our faith and beliefs. These lines depict the story of one of my batch mates at IIM Udaipur. This is the story of a girl whose positive attitude towards life and strong-headedness of not giving up moving mountains. Not only she fought against the worst demon of her life but also against all odds, cleared one of the toughest management exams of India and secured a seat in one of India's best B-school – the Indian Institute of Management, Udaipur. Below is the story in her own words:
"I was 14 years old. I had given my CBSE 10th exams and the results were out. My friend and I were on the terrace of her 4-storeyed apartment building. We were chatting away about something I don't remember clearly. Suddenly, my feet got caught in the cables on the terrace and I tripped and fell off the parapet, which was only about a foot high. There were no railings on the terrace and the fall was about 40 feet. What happened next is a bit of a blur in my memory.
I had not gone unconscious and was screaming for help. I was taken to the hospital. It was a life and death situation and the ER doctors really worked hard to save my life. Thereafter, the initial scans revealed that I had 5 broken bones including a haemorrhage in the backbone. It was then that I realized that it was going to be a tough road ahead and indeed it has been so. I went through two major surgeries within the period of a month. Screws, plates and rods were put to fix the broken bones. I lost considerable weight. Later, we also came to know that I was partially paralyzed waist-down and would probably have to live my whole life with this condition.
After around two months, I was discharged with a warning that I would probably never recover fully from the injuries and would probably be wheelchair bound for the rest of my life. For someone who had dreamt to become a Bharatanatyam dancer, it came as a shock. I was devastated. From having a plan for my life, here I was back to square one. I arrived back home and all my friends and acquaintances were just as much shocked and disturbed as I was. But I got full support from most of them. My home was flooding with people who came to see me, some of them were quite supportive and some were saying stuff to me and my parents like my life is over as I am just a girl and it is going to be a hard life for me etc. You know, typical stuff.
Initially, all these negative statements got into my skin which lead me to severe depression. It took me a long time to get out of it. All the motivational words which I kept saying to myself, meditation and yoga helped me a lot. And I did recover more than what was predicted for me by my doctors. But I had to start by changing my thought process. I read many self-help books by Shiv Khera, Robin Sharma and others. Not only was I able to gather my inner strength but also started walking with the help of a stick. Even though I am still dependent on a wheelchair but now I can walk small lengths with the stick.
None of it would have been possible without the constant support of my family throughout this journey. They continue to support and encourage me every day, especially my mother. I love her dearly. She is my absolute idol and source of strength. She encouraged me to become independent so that I can survive the world on my own without being dependent on anyone.
This coming June'19, it will be exactly 10 years since that incident. And it is unbelievable where I am now. Studying at a premier management institute. I have worked hard to get here & I am proud of who I am and where I am. IIM Udaipur has been the best thing that could've happened to me. I have some of the most amazing and wonderful people around me. And I feel extremely blessed.
In the end, I would like to say that it is perfectly okay if your life is not going exactly according to your plan. You need not to have all the answers, and everything figured out. I am deeply spiritual and firmly believe that we need to have maximum faith during such difficult times. Every cloud has a silver lining and our struggles do not go in vain. We are just a bit short sighted to see the whole picture. Faith and patience that's all that we need. I know it sounds preachy and over the top, but this is what has been worked for me when nothing else did. I don't think anyone intentionally wants to suffer in their lives. But every difficult thing that you go through, makes you stronger. And this is the reason I would not change a single thing in my life, as I would not be the person that I am without them."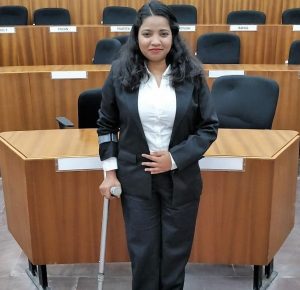 Shwet Nisha,
IIM Udaipur,
Batch of 2018-20
Editor's Note: At InsideIIM, we receive hundreds of highly motivating and inspirational stories of people giving their best against all odds. Here are some other stories similar to that of Shwet's which will leave you inspired and with a smile on your face:
– You Might Not Be Able To Run, But You Will Fly – Cracking ISB Against All Odds
After Class 10th, Nitesh Pasari was bedridden after a spinal cord injury. Doctors had given up all hope. However, Nitesh did not give up. He achieved in his life what some of us just dream of, and got admission to India's top management institute – ISB Hyderabad. Here is his inspirational story.
– How I Beat Cancer To Live My Dream – Shyamala Iyer, SIBM Pune
Shyamala Iyer got diagnosed with breast cancer at an early age. The world came crashing for her and all her dreams seemed too far off. But, she took this as a challenge and converted it into her strength. She fought cancer and got admission in one of the premier B-Schools in India! Take a look at Shyamala's story in this post.
– A Story of Courage In The Face of Adversity – Chitra Zutshi, IIM Indore
Chitra Zutshi was diagnosed with a rare condition that restricted her to a wheelchair. A brilliant student since school days, Chitra got into top undergraduate colleges in Delhi University but her condition prevented her from joining any of them. However, her grit and determination finally led her to IIM Indore, one of India's premier management institutes. This is one story you don't to miss. 
Jeetesh Varshney
Jeetesh Varshney is currently a student of the PGP 2018-20 batch of IIM Udaipur and a member of the InsideIIM Student Team and representative of Placement Preparation Committee of IIMU. He has previously completed his Computer Engineering from Harcourt Butler Technological Institute, Kanpur and has work experience in software development. He is an avid reader and loves travelling and exploring new places and cultures. He is someone who learned a lot from InsideIIM while preparing for his management entrance exams and now writing stories on InsideIIM to share his experiences for the benefit of the future aspirants.