It was a day full of excitement and enthusiasm as I along with 5 more selects started our journey from SJMSOM to Marico head office to attend the first ever Operations Boot Camp. On reaching the campus, we received a warm welcome by the members. Yes, in Marico there are no employees but only members! We took our seats in a conference hall while a bag full of Marico goodies was waiting on the table for each one of us. It was a fantastic opportunity to meet and network with students from other institutes who were also a part of the boot camp. By the time we interacted with the members of Marico, we realized the open culture of Marico.
Prateek, Head of Talent Acquisition, took a welcome session where he provided insights about Marico as a brand, its culture, values, opportunities and career paths. Then Udayraj Prabhu, presented an overview of the procurement process in the FMCG industry, the intricacies and challenges involved and cited industry examples from Marico to expound the strategies implemented to overcome such challenges. We were overwhelmed and inspired by knowledge of the innovative strategies that are implemented by FMCG Companies.
In the next session on Supply Chain Overview by Somnath Das, we were exposed to the fundamentals of an efficient supply chain. We learned how in an FMCG industry, IT and data analytics is leveraged to make the supply chain more productive and forecasts more accurate. He also discussed integrated planning module, price forecasting and how the supply chain has been optimised in response to the implementation of GST.
The session following lunch was on 3P and new product development presented by Mr. Pankaj Kapoor. In this engrossing session, we got an overview of the manufacturing process practised by Marico at different manufacturing locations.
The next surprise amazed us all since it was an exhilarating and unique experience, way beyond our expectations. We were given a VR box through which we made a virtual tour of the manufacturing plant of Marico in Perundarai, and observed the production of Parachute Coconut Oil. This was quite an amazing experience for we could understand the manufacturing process of parachute sitting in Marico's head office. It was fun to experience the feel of being physically present in the plant. Also, we realised the power of VR in monitoring multiple manufacturing locations sitting from a central location.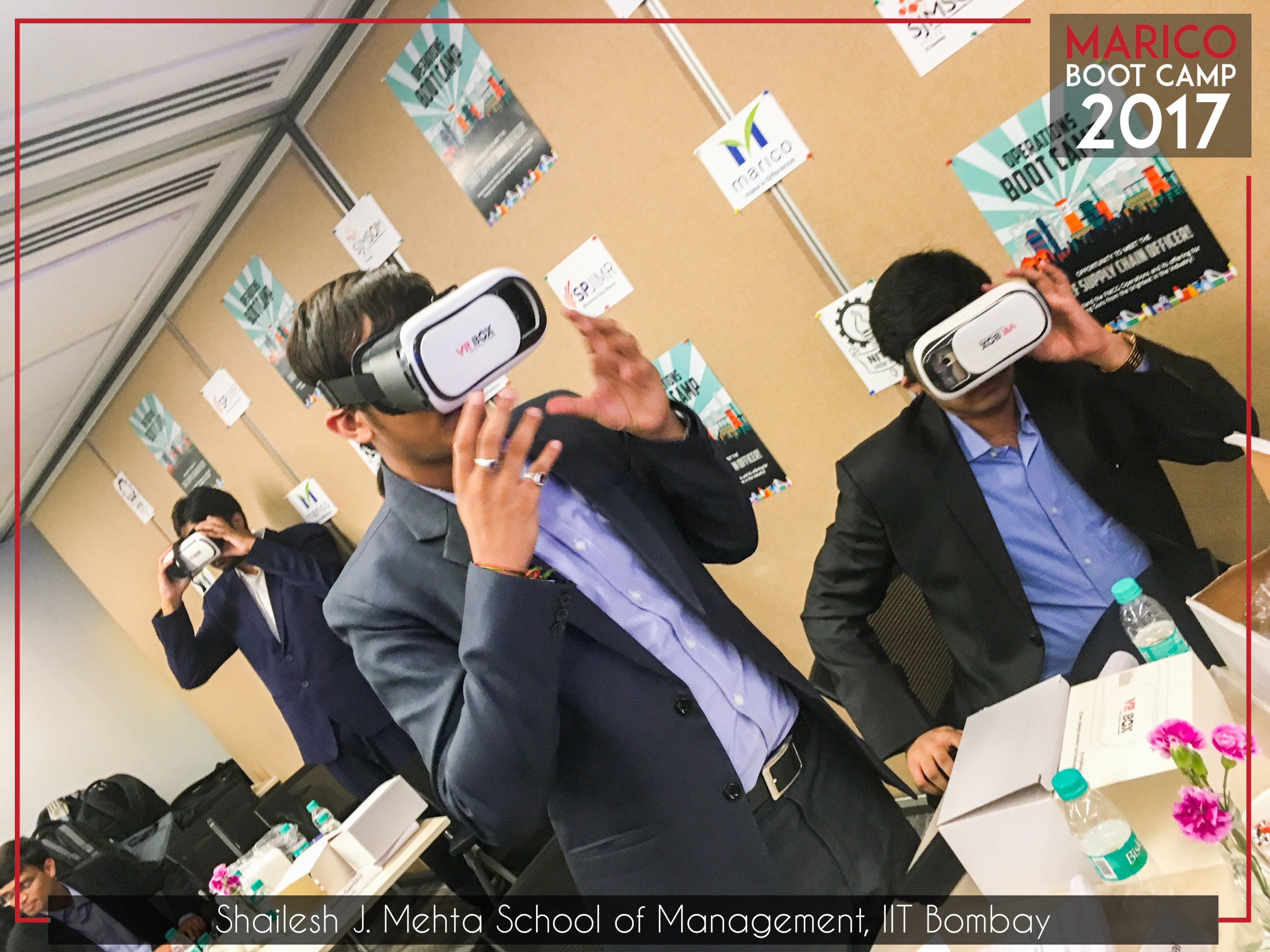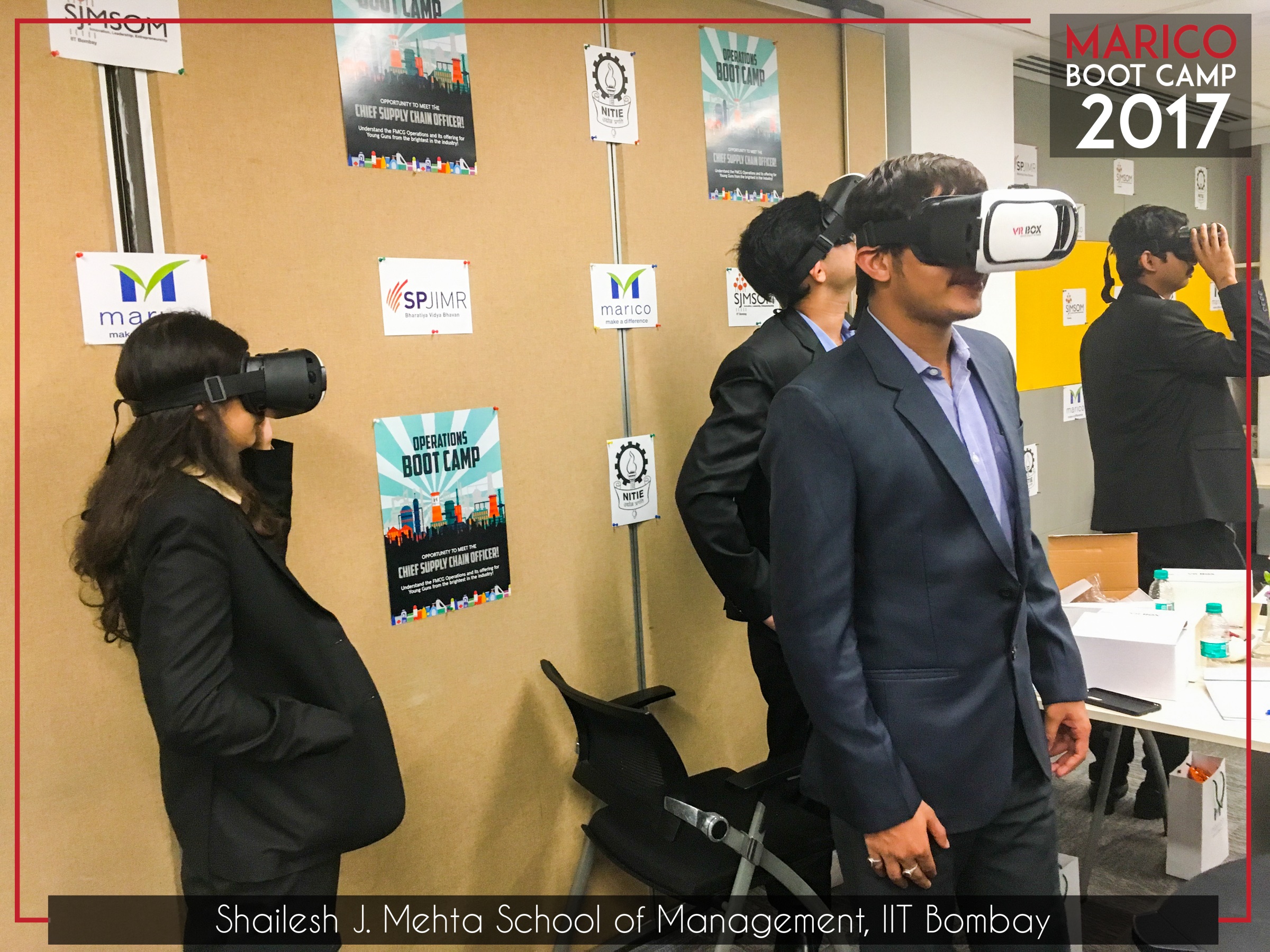 Finally, the time had come for the highlight of the Operations Boot Camp, the interaction with the Chief Supply Chain Officer of Marico. We had an informal interactive session with him where we asked several questions on a wide range of topics spanning from his personal journey in Marico to the nitty-gritty of managing an efficient supply chain. I was truly inspired and enlightened by his thoughts and his views certainly broadened our perspective on a wide range of topics.
Having spent an entire day, it came to light that the culture in Marico truly resonates with its values. The Operations Boot Camp certainly helped us build a perspective on the operations function in FMCG industry. Also, it helped us bridge the gap between knowledge gained in academia and its applications in the industry. It was a splendid experience to be a part of the operations boot camp. Thank you, Marico for the learnings imparted and for a wonderful day spent.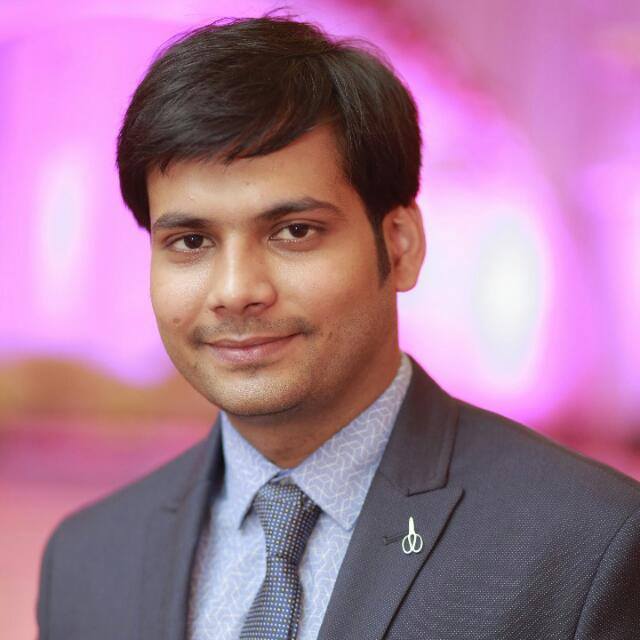 Aman Kumar Singh is a student of the Class of 2019 at SJMSOM, IIT Bombay. He completed his B.E in Electrical and Electronics from Manipal Institute of Technology from Manipal University and has a prior work experience with ABB (Asea Brown Boveri). He loves travelling, going on road trips and has travelled to 15+ cities in India. He also has a passion for western dance and hip-hop.