MBA Life – In The Words Of A Person With Work Ex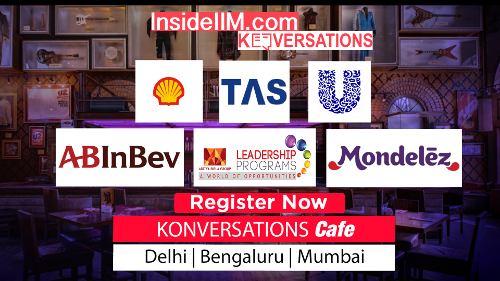 When you adapt yourself to working in a corporate environment, away from all the books and end up spending hours in front of the modern day machine know as the computer, the feeling of going back to a student's life brings in mixed feelings of both fear and excitement. However, this was something that I was keen on, from the time I decided to appear for one of the most difficult entrance examinations in this country. And it so happened on a beautiful day, early in the morning when I was busy planning my activities that my phone displayed an unknown number with a different STD Code than that of the place I resided in. I went on to assume that it would be another one of those job consultancies, offering me a job in the Middle East. And it is with that indifference that I attended the call. But to my surprise, it ended up being a call from the admin department of a reputed Business School in India and the person on the other side informed me that I had been selected for their two year PGDM Programme.
That call left me in a state of solitude even with people around and by the time you come to grips with the fact that a new journey awaits you, you shall have to cross many hurdles to get to that stage. The first thing you do is to plan backwards and find the date by which you would need to resign so that you are able to complete the notice period and be fortunate enough to leave the organisation without having to pay them anything. If finding the date wasn't a cumbersome process already, typing out the resignation later would surely be. A torrent of memories hit you and before you realise, the entire time spent in the organisation plays out in front of your eyes. And if even after this, you are in a position to send out your resignation letter to the manager and the HR, you instantly become the talking point in the organisation. You end up answering all their questions like "Is this the right time for an MBA? Have you thought this through? You have immense growth potential in the company, why don't you stay back? , and so on and so forth" Post all this, when you have finally convinced them about your decision, you are asked to complete your pending tasks and hand it over to the next in line. The last few days in the organisation are spent making multiple visits between the HR's cabin, the boss' desk and the accounts department to settle various claims. So finally the day arrives and all your well wishers gather around and celebrate your time at the organisation and bid you farewell. 
The day finally arrives that you arrive at the destination that you would call home, for the next 2 years. Even before you are there, you have actually connected with your new roomies, and the people who would be part of your cohort, through the presence of modern day technology.
So to cut the chase short, here is what you can expect from a B-School:
People
We would obviously see a mix of fresher's as well people with work experience. It wouldn't be surprising to see that the freshers would be the one who would take all the initiatives, work like crazy on the academic front and also be the ones who would want to give everything a shot. And then there would also be the people with the work experience who take a more cautious and reserved approach to things. Their prime motive would be to add another degree against their name or work towards a career change. The chaps with work experience generally tend to take a safer route through their MBA and don't get themselves involved in all the things. This is because they have seen the corporate world and know how the story pans out. What's intriguing is that you would make the best friends from among this bunch and that you would be spending a lot of nights working on projects, talking about life and its travesties, all that over a cup of coffee.
Grades
This method of evaluating won't let you rest for once, even at a B-School. If anything, it would become more competitive due to the concept of relative grading. Be rest assured that your grades won't be dependent only on you, but also on the other members of the academic group. As always there exist people who put all their efforts into getting higher grades while the other side is more than happy to scrape through with average grades. But one thing is certain. You would often end up feeling motivated to score high, but also end up cursing the system at times
Committees
Getting hands on experience about management skills is best done through working in committees. You would be asked to attend committee meetings at literally any given time of the day. You would end up debating on a whole lot of things including, how to take the committee forward. What can we do better as compared to the previous year, and so on and so forth; one of my committee members didn't even bother asking me if I had a girlfriend because she assumed that I was in a relationship with my committee.
Competitions
Be it a B-School fest or a corporate one, the campus takes on an entirely new dimension during those days. Midnight oil is burnt and no stone is left unturned to ensure that enough primary and secondary research goes into each submission, that their presentations are aesthetically pleasing and at the same time, the recommendations are both novel and implementable. If the competition entails certain prize money or a shot at placement, then the amount of effort increases exponentially.
Fests
Ahhhh! That one time of the year when you will feel relaxed without any burden of academics provided your school doesn't kill you with deadlines. Be it cultural, sports or management, each type of the fest comes with its own set of challenges. The preparation starts months in advance with the entire team split into verticals like Sponsorship, Marketing, Logistics, etc., over the course of the work, you would spend an awful lot of time bonding and interacting with your mates, which would serve as memories for the years to come. Additionally, it also serves as a confidence booster for everyone as you have firsthand experience of managing something and that it can be turned successful with the right amount of work.
Outings
While you would end up going out for the occasional lunch or dinner with your friends, planning any major trip would strictly depend on the academic calendar and its rigour. But be rest assured that most of the best memories would happen at times like these.
Homecomings
Homecomings become somewhat a rarity when you step into a B-School, which makes it even more special. You spend hours and days, planning every aspect of the perfect journey home. Additionally, stock up on enough food for when you return to the hostel because your friends would be waiting to pounce on the same.
Introspection
You would spend a significant time mulling about things which are in your control and about things which aren't. You would go on to question your decision of pursuing an MBA, question why your grades are falling despite the efforts that you put in and also question your very existence. Relax! Everyone does this, and it is a part of the journey.
P.S.:- These are just a few things that I penned down, from the top of my mind. An MBA journey is something that has to be lived to understand. It would be right to say that words don't do justice to the experience.
Credits-Lakshmi Narayanan Lakshmanan (He is the real person behind most of the beautiful phrases. The proofreader, the editor)