The Vinod Gupta School of Management, IIT Kharagpur had the privilege of hosting Mr. Siddharth Deshmukh, National Head - Modern Trade & General Trade, OnePlus, on October 31, 2019. An alumnus of IIM Calcutta with more than a decade of experience in Modern Trade Sales, Mr. Deshmukh delivered a captivating session where he shared insights on the handset industry, the importance of designing efficient distribution channels and customer engagement strategies.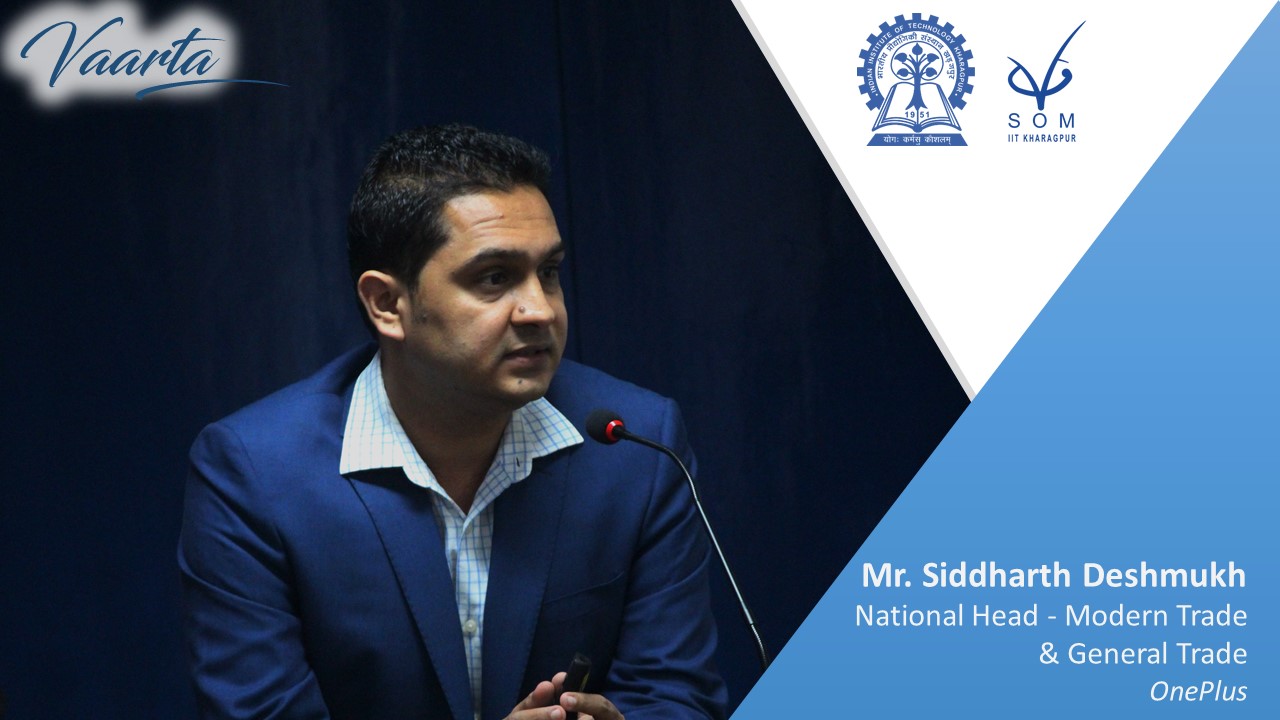 Mr. Deshmukh commenced the session sharing an overview of the handset industry. He explained why the industry had a secure future worldwide, and why the Indian market is steadily gaining importance for handset makers, especially in the smartphone segment. He then moved on to explain the importance of understanding consumer behaviour and how OnePlus draws valuable insights from them. He delved deep into the three megatrends that define digitally influenced shoppers in a nutshell – "Research digitally, Explore locally and Engage online". He spoke about how consumers go online to research about the products in-depth, and the noticeable increase in this trend with improving digital maturity.
Mr. Deshmukh then moved on to explain in detail the relevance of distribution channels, which form the backbone of businesses. He shed light on the different types and channels of distribution, focussing on the Modern and General Trade channels and the impact each of them has on business performance. He also reflected on the importance of understanding customer insights in detail to improve their overall experience with the products and the need to explore different means to engage them effectively.
The session concluded on a high note with the students being enthralled by an engaging Q&A round during which Mr. Deshmukh answered several queries encompassing the hurdles faced by the handset manufacturers to remain competitive, satisfying the growing customer base and the need to probe into unique ways to deliver maximum value to customers.
The Vinod Gupta School of Management, IIT Kharagpur extends its gratitude to Mr. Siddharth Deshmukh for such an invigorating session and for sharing his fascinating insights with the budding managers of tomorrow.