Niharika was one of the lucky few who found her calling directly post graduation. She loved marketing and worked in B2B marketing, successfully climbing the corporate ladder to win accolades. But this is where Niharika's story veers from the norm. On the cusp of getting a leadership position, Niharika decided to leave it all in order to crack the CAT and pursue an MBA.This IIM Lucknow student managed to intern with HUL and won a PPI with Colgate Palmolive in her first year! This pursuit of excellence gets her on the list of the most employable graduates from the class of 2021 - InsideIIM's Best 30. Check out her story here!
The following is Niharika Gupta's set of responses to a questionnaire floated amongst MBA graduates to determine the top-30 most employable MBA graduates of the Class of 2021. Amongst the massive number of entries and responses being evaluated by the Founders of InsideIIM-Kampus Konversations, Niharika's story and profile stood out. Here's her own story in her own words.
Take Your Career To The Next Level. Ask Our Experts Anything. We Will Respond Within 48 Hours.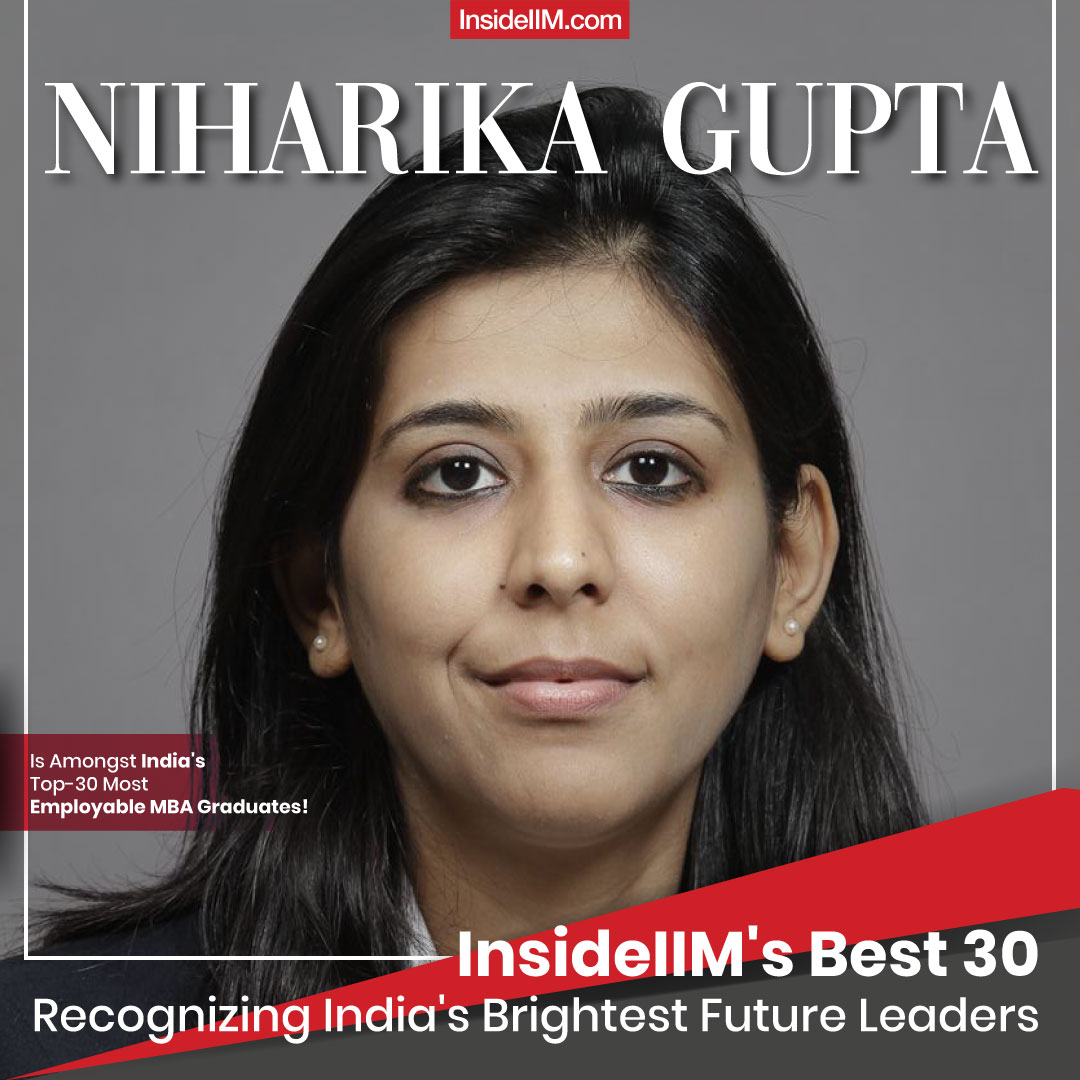 "I would like to describe myself as an ambitious yet grounded, fierce yet empathetic, a dreamer and yet a calculated individual. Having grown up in a middle-class family with two younger siblings who looked up to me, I realized education was the only way that would act as the cape to my superhero dreams. I wanted to make my parents proud and give them a life of luxury and this motivated me to remain a meritorious student from school to IIM. My roots have kept me grounded and dreams of becoming a successful marketer while giving back to the society is what I aspire for.
I have been into social service since 2012, mostly around the education of underprivileged children. Education is a means by which these families can break the vicious cycle of poverty and uplift themselves for a better tomorrow. I have worked as a volunteer in NIT Durgapur and continue to do so at IIM Lucknow. I believe in giving back to the community. I am closely associated with Chalo Padhe, an NGO in Kolkata where we identify meritorious children who drop out of school due to lack of monetary funds. We sponsor their education through fundraising activities. We are 3 people who have helped 50+ children so far and hope to keep helping more and more kids who need us."
Name an instance where you wanted something and went out of your comfort zone to achieve it OR Tell us the biggest risk you have taken so far in your life.
"I have always believed in taking risks if it is a means to getting closer to my dreams. As an engineering graduate I was working in a plant location, in a small town called Jharsuguda in Orissa for Vedanta Limited. In six months I realized that my heart lies in Marketing and I want to be a part of a role which is customer obsessed. I hustled my way to the marketing team of Vedanta's aluminum business in the city of dreams, Mumbai. I was selling aluminum to B2B customers growing tremendously in a male dominated metal space. I received awards, accolades and appreciation and I thought I was having the time of my life. I was in the pipeline for leadership positions and it was like a dream come true when I decided to push myself out of my comfort zone, quit my job altogether three months prior to CAT and try for an MBA.
My job was demanding and exhausting but very rewarding. My friends and colleagues almost called me stupid giving up this job after all the hard work I had put in, however I took the risk, quit my job, studied hard to get into a B-School only to learn the concepts of marketing and business from the best with the best minds in the country. The risk did pay off. I joined IIM Lucknow, specializing in Marketing, interned with Hindustan Unilever in summers and now have a PPO from Colgate Palmolive. These top FMCG firms which looked like a distant dream have now come true and I look forward to starting my career in the FMCG space."
When was the last time someone relied on you? OR What did you do which was purely for someone else - a truly selfless act.
"A truly selfless act is one where we do something for others which isn't in our comfort zone. As a part of the IIM fraternity I am a part of this culture where we believe in being there for one another. We enter the campus, excited and proud, eyes shimmering with dreams and hopes of making it big. However, soon we realize it is another rat race and we need to keep our guards high right from the word GO, start preparing for summer placements. That's where our seniors stepped in, they guided us, motivated us and prepared us for the most coveted summer placements.
I believe I have selflessly contributed to the summer placements of my juniors, it isn't an obligation, but I did prepare with them and for them, so that I could take sessions on marketing concepts with them, go over their answers again and again to make it perfect and keep boosting their morale when shortlists didn't come. It was almost like a full-time job, devoting hours to their prep, anxiety and sleepless nights during the process. I felt responsible for them. The feeling post placements was overwhelming and I was extremely happy to have touched some lives and helped some of my juniors to start their professional journeys.
This I feel is an act of goodness, helping others grow, nurturing others till they bloom. I owe the IIM fraternity to have inculcated this sense of responsibility in me towards others and hope this culture stays forever."
Tell us about a time when you disagreed with an opinion/idea/decision. What did you do about it?
"My younger sister did her B.Com from St. Xaviers, Kolkata and she got placed at Futures First in Kolkata. She had to work according to US timings and her office timings were noon to 11 p.m. My parents were against these odd timings because they were concerned about her safety and wanted her to immediately quit the job. My sister on the other hand was very keen as it would add immense value to her career in terms of learning and growth and she had worked hard to get this opportunity in the first place.
Having to disagree with my parents on an issue as sensitive as the safety of my younger sister was a very difficult situation for me. However, I felt that there was a solution possible and giving up on this opportunity for my sister was not an option.
Firstly, I made my parents speak to a friend of mine who had worked with the same company before and had similar timings just to reassure them that the company took care of the employees and the office cab that would drop her off was very reliable. Secondly, I suggested that our family car with a driver could go to my sister's office and accompany them back home just to be doubly sure that all was safe. It took a lot of convincing but my parents finally agreed and my sister was able to continue her job.
Danger strikes anytime and anywhere, all we can do is stay alert and take all necessary precautions, we can't compromise our dreams in the fear of something bad happening to us. I was happy that I could help my sister and at the same time make my parents feel comfortable about the situation."
What is the one thing you can claim to have some level of expertise or depth of knowledge in - it could be anything - a subject, a sport, a hobby, a venture, an initiative which has led you to do deep work in that field?
"I believe I am a person who is all things Marketing. From working 2 years in B2B marketing at Vedanta Limited and gaining the corporate experience to joining IIM Lucknow, specializing in Marketing and having the classroom experience I have come a long way. I realized my passion for this domain early on in my career, and hence started picking up projects in this domain. I have proved myself time and again as I was selected as a part of Prism, the marketing cell of IIM Lucknow, which has a legacy of 32 years, where only top 8 candidates are selected out of 200+ applications in the competitive B-School arena. I scored straight As and topped in marketing courses at IIML. I was selected among the top 12 candidates in India through a competition across select B-Schools to get an opportunity to visit Colgate Palmolive headquarters in Mumbai for a 3 day workshop and learn marketing tactics from one of the best FMCG companies. I was able to bag a PPI and finally convert a PPO with Colgate through this competition and pave a path for myself to enter the glorious world of FMCG marketing.
My summer internship with HUL was another milestone which went on to intensify my domain interest and added immense knowledge and learnings. As I learn more and more about this domain my knowledge and interest keep growing, one of my most significant contributions would be to co author a case writing with our marketing professor Rajeev Kumra which is going to be published in the Harvard Business Review. Apart from this I have had podium finishes for several corporate case competitions at campus or national level likes of which includes Colgate, ITC, Renew Power, Capgemini, Edelweiss Tokio Life Insurance. I strive to continue learning and growing in this domain and add significant value as a marketer through a brand offering that I aspire to create on my own or with a leading FMCG company."
If 10 Million Dollars (approximately INR 75 Crores) is given to you to use it any way you deem fit what would you do with this corpus?
"If I had 10 Mn Dollars, I would invest it in creating a business with a purpose that is close to my heart, I want to open a service for pets. The profits from this business will be used to create shelter homes and adoption programs for stray cats and dogs. I truly believe that pets make the world a better place. I want to create a friendly ecosystem for our four-legged friends. Dogs and Cats reduce stress, lower blood pressure and reduce the feeling of isolation and loneliness.
I would invest half the corpus into creating engagement centers for pets in Top 7 Metro cities where we would provide services like petting the dogs and cats for the day while the owners are away, walking the dog, veterinary services etc. I would be using 25% of the entire sum (5 Mn) in Marketing and Branding so as to ensure customer acquisition.
Rest of the money would be used in creating an infrastructure for stray dogs and cats. We would adopt them, feed them and treat them in case of injuries. I want to do this with the help of volunteers and focus largely on creating awareness and making people more sensitive towards these animals. It's time that we develop an inclusive attitude and understand that the planet is home to all and not just us humans to live in."
You Might Also Like To Read: