An inspirational writer William Arthur Ward once said - "The mediocre teacher tells. The good teacher explains. The superior teacher demonstrates. The great teacher inspires."
This quote is perfectly relatable. We all possess wisdom within ourselves but without teachers, we are akin to a waterless sea. Pupils are unpolished sand stones without the teachers and the students never can inculcate the ability to convert a raw piece of information into an applied knowledge without the inspiration and influence of a motivating teacher. Importance of a teacher in our lives can't be measured or scaled. And we are no one to meter their contribution to our lives. We can just be grateful enough to recognize and follow the path shown by them to give back to society.
Take Your Career To The Next Level. Ask Our Experts Anything. We Will Respond Within 48 Hours.
At IIM-T, we all thrive to achieve the motto of "Gyanam Anantam" and we all bank significantly to transform our level of knowledge and real-time exposure from the caterpillar stage to a butterfly stage by holding the hands of our professors. They are always available to help us shape our future so that we can contribute to prosper our surrounding for the holistic development of the country.
I feel honoured to introduce Prof. Suresh Paul Antony to all my readers.
Prof. Suresh is working as an Associate Professor in the Marketing area at IIM Tiruchirappalli. He has completed his Ph.D. from IIM Lucknow. He brings in an overall 34 years of practical domain experience. He has 14 years hands-on customer interface experience gathered in the automotive, financial services, direct selling, and music retailing industries, and across business and consumer markets.
Afterwards, he followed a mid-career shift to academics in 1999. He has been one of the founding members of IIM Trichy's Chennai campus. Moreover, he has been involved in a lot of activities pertaining to the initial setup of the institute. His immense contribution is reflected in the current workings of the IIM-T administration and academia.
He introduced a social project - MAD (Make a Difference), in the curriculum to sensitise the students to social issues in the immediate surroundings, which is now a mandatory requirement for the award of the PGP Degree. He believes in "action-learning" techniques in academia which he adopted from his exposure to global academics practices. We, at IIM-T, are fortunate enough to have a Professor like him who is a reflective practitioner with an entrepreneurial outlook.
You may refer to the IIM Trichy website to learn more about Prof. Suresh and other illustrious professors at IIM Trichy.
Without further ado, I once again welcome Prof. Suresh as he enlivens us with his domain knowledge, experience, and journey in this short interview.
Readers may note that this article is the first part of the two-part series articulating the journey of Prof. Suresh (more popularly known as Prof. SPA) in IIM-T. This article highlights his work towards building the Institute during its inception in 2011. More about Prof. Spa will be revealed in Part-2 of this series.
1. Sir, you have been associated with the Institute for so long, having joined IIM Trichy in April 2012. Please share with us how you started your journey at IIM Trichy.
Although I was interviewed for the position at IIM Trichy in February 2011, due to other professional commitments I deferred my joining. By the time I joined the community in April 2012, IIM Trichy had set its sight on being a leading business school. Though we did operate under severe constraints of space and staff, we never were short on ambition and never felt a constraint. We were growing at a frantic pace, with our sights set on adding value to the IIM brand. We were entrepreneurial and ambitious. The initial years were truly exciting times.
No sooner had I joined the community that I was appointed Chairperson of the Post Graduate Programme in Business Management (PGPBM) and tasked with the charge of setting up a campus in Chennai. We had to convert a 14,000 square feet BPO unit into a campus. By the end of August 2012, we had negotiated rent agreements, made arrangements for faculty stay, set up the basic infrastructure (classroom, library, Wi-Fi etc.), organized faculty, staff and back office operations, formulated the curriculum, obtained internal approvals, announced admissions, organized press meets and road shows, released advertisements, interviewed applicants and admitted 28 candidates for the first batch of the PGPBM for working executives.
It was tough addressing reporters in Tamil and giving interviews on Tamil TV channels about our Chennai Campus. My performance must have been hilarious, given my lack of experience in addressing Tamil audiences!
The campus was formally inaugurated on 21 November 2012 by Dr. TS Sridhar, IAS, the then Additional Chief Secretary, Govt. of Tamil Nadu. Within a few months of operation, we had made major changes to the attendance norms and the schedule based on feedback from the students and faculty members. There were also vexatious issues like excessive electricity billing that had to be resolved.
In its 2nd year of operation, IIM Trichy had set up its first satellite campus in Chennai. In contrast with IIM Kozhikode, a much older IIM, that set up its first satellite campus in Kochi the next year. As much as it was entrepreneurial it was a strategic move by IIM Trichy to set up a campus at Chennai. It is gratifying to note that we have made great strides at our Chennai Campus and the fourth batch will graduate this March.
By October 2012 we had in earnest started to plan for our 1st convocation. I was entrusted with the task of writing the convocation document. The mandate was that the document should be written in great detail that even a blind person could "see" the entire convocation. The document which is still used for our convocation lists the procedure, a minute-by-minute plan, instructions for the graduands, general guidelines, the academic procession, the seating plan on stage and floor, etc.
It was a proud moment for us to conduct our 1st convocation on 16 April 2013 without a hitch on a temporary facility at our new campus with Shri Kumar Mangalam Birla as our Chief Guest.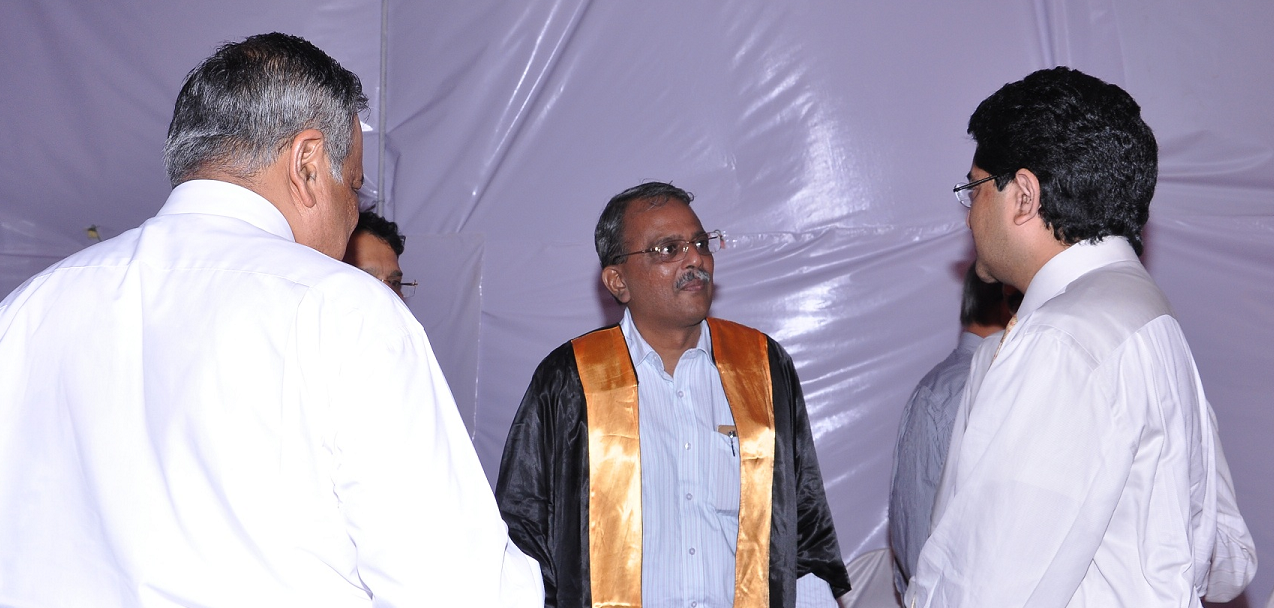 (Interacting with Mr. Kumar Mangalam Birla (Chairman, Aditya Birla Group) on 1st convocation at IIM Trichy on 16th April 2013)
2. Must have been exciting to interact with Shri Kumar Mangalam Birla. Can you tell us something about your association with the Post Graduate Programme at IIM Trichy?
In April 2013, the office of the Chairperson, Post Graduate Programme was created and I took charge as its Chairperson with an explicit mandate to set up processes. Over the next three years the 7-member PGP Committee over 28 marathon meetings, undertook a slew of reforms, made several legislations and incorporated them in the curriculum after getting internal approvals. We debated long hours, with intense bipartisan views and yet in true collegial spirit, achieved consensus on most matters but with full knowledge that we were making significant contributions to the building blocks of IIM Trichy.
We framed regulations for the slow track option and academic probation of under-performing students, attendance, mentoring of student clubs, window shopping of elective courses, publication of course-grades and introduced mid-course faculty feedback. We also set up an approval process for electives and framed requisites for the course outline. Over several open house meetings with students, in close collaboration with the Administration and Faculty we resolved several teething operational issues; remember that we were not operating out of our own campus then.
We broadened the scope of the PGP Orientation by including workshops on Ethics, Gender Diversity and Sexual Harassment at the Workplace, Academic Honesty and Plagiarism, Unlearning and so on. In order to improve our industry connect, we finalized norms to invite two guest speakers in every course. We introduced plagiarism software in line with global best practice. An Academic Diary was published with critical deadlines and blocked dates for student cultural and social events.
We also framed detailed guidelines for elective subscription norms and the appointment of a student Academic Secretary. The elective bidding system was streamlined and the PGP Office began to manage it to maintain integrity. Regarding examinations, rules were revised for review of answer scripts and collection of review fee. We laid a maximum cap for accumulating credits at the end of two years. We contributed to the setting up of the Language Lab in our Library to help our students improve upon their communication skills. We revised rules for students to pursue a course of independent study.
3. What is the story behind the MAD project at IIM Trichy?
The MAD project entered late into our curriculum. Amongst the multiple initiatives of the PGP Office in my stewardship, I consider the introduction of a social project in the curriculum as a significant contribution. The need was felt to sensitise our students to social issues in and around the command area of IIM Trichy, in a radius of about 30 kms.
Another objective was to get our students to get their hands dirty on unstructured problems, which they would encounter in the real world. We also wished that our students would go beyond the 'business management' remit, and extend 'management' concepts to all spheres of life. We examined several models practised in leading schools.
What was initially conceived as a Rural Outreach and Immersion Programme took shape as the 'Make-A-Difference' (MAD) project that became part of our curriculum from the 4th PGP batch in June 2014. A working group of Professors, Prof. Jang Bahadur Singh, Prof. Manikandan and Prof. Vijaya assisted me actively to operationalise this dream project into reality.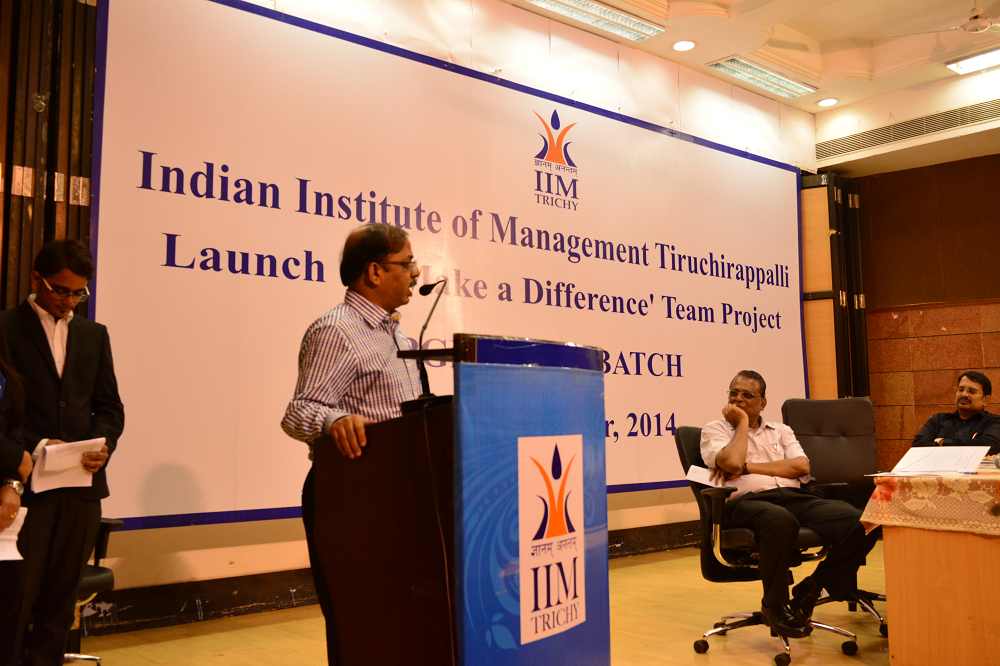 (Launch of 'Make-a-difference' in PGP Curriculum by Mr. Chandrakant B Kamble, IAS (Managing Director, Tamil Nadu Cements Limited) on 25th November 2014)
4. Were there any other significant milestones in your journey at IIM Trichy that you remember?
Another significant milestone was helming a Strategic Planning Retreat in October 2015 to take a holistic view of our activities right from our Vision and Mission. Over a period of three days, 26 faculty members and 8 key members of the administration conferred, debated, deliberated on several matters like accreditation and revisited and rewrote our Vision and Mission as per the requirements of AACSB (The Association to Advance Collegiate Schools of Business). Over several sittings, this group of faculty and officers also rewrote the Programme Learning Goals for each of our three programmes. At the end of the Retreat, we also wrote the document that details the appointment process of Area Chairs and their roles and responsibilities.
I had the opportunity to be associated with two UKIERI (United Kingdom - India Education and Research Initiative) projects. The 1st was a consultancy project to develop training modules for SMEs (Small and Medium Enterprises). Towards this, we conducted workshops with academic partners from Brunel University in London, to assess training needs one in Chennai in December 2012 and the other in London in May 2014. Furthermore, we conducted several five-day MDPs (Management Development Programme) in Trichy, Chennai, and Coimbatore over a two-year period in 2013 and 2014. The challenge was to deliver the sessions in Tamil to suit the SME audience.
The 2nd opportunity was to attend the UKIERI Higher Education Leadership Programme held in two modules, the 1st at New Delhi in February 2016 and the 2nd in Birmingham in April 2016. The objectives were to develop personal leadership strengths and skills, learn to create and develop teams, enhance interpersonal skills to influence and to be effective in challenging situations and address the strategic issues in our institution through learning from the UK experience. The other key areas were on building a research eco-system, international collaboration, understanding higher education organisational structures, including flat structures, looking at available resources in other universities and understanding the value chain from innovation to commercialisation.
In addition to classroom sessions and exercises, we had field visits to several universities in the Birmingham area like the University of Birmingham and Aston University. The interaction with the late Baron Bhattacharyya of the iconic Warwick Manufacturing Group was truly inspiring. And of course the mandatory visit to the Warwick Castle and Stratford-upon-Avon!
A group of students desired to host a TEDx at IIM Trichy. It was exhilarating to host young achievers from our region and hear their success stories. A well-attended event, this was partly an attempt to add value to the IIM Trichy brand. Along with Prof. Manikandan, I mentored the 1st TEDxIIMTrichy in 2013.
After a hectic but soul-satisfying three-year term in the PGP Office, I was in charge of the Executive Education & Consulting (EEC) Office over the next one-and-half years. The programmes with HPCL (Hindustan Petroleum Corporation Ltd.) and Saint Gobain were signed up during this period. We conceived the idea of offering blended modes (both synchronous and asynchronous) of learning after making field visits to leading schools that had far more experience than us in distance learning. The idea was to make learning opportunities available to working executives constrained by time and other resources, who though wish to continue learning at their own pace.
We extended the reach of our TEQIP programmes; TEQIP stands for Technical Education Quality Improvement Programme which is a World Bank assisted project run by the Government of India to improve quality in our technical institutes. We made several contributions to the consultation process with the World Bank and framed the curriculum.
In addition to coordinating several editions of the Management Capacity Enhancement Programmes held under TEQIP, I have delivered about a dozen sessions on the topic 'Branding in Higher Education' for senior academic administrators of technical institutes across our country. I make a strong case for the higher education institutes to adopt branding strategies and detail the necessary steps to build brands. These interactions have given me a golden opportunity to reflect on extending branding concepts beyond the traditional product-marketing context.
I found yet another opportunity to extend branding concepts in 2015. I was invited to address the CII Ayurveda Marketing Conclave on 'Ayurveda – Global branding and marketing opportunities in Kochi.
In 2017, I headed the Campus Relocation Taskforce (CaRT) that was formed for the smooth relocation to our new campus at Chinna Sooriyur. We even conducted a pilot test of the PGP student hostels. I along with a few faculty colleagues and a dozen 1st year PGP students stayed at the new hostels for two consecutive nights, before we shifted our 1st-year students from Beryl Hostel in August 2017. By October 2017, the new campus had become fully operational, and by April 2018, faculty and families had also moved in.
In my other training assignments, I have engaged with executives from HPCL, Asian Paints, Larsen & Toubro, Optum Global Solutions, Manipal Global, and Saint Gobain. I have also delivered sessions in the vernacular for the Irrigation Management Training Institute of the Tamil Nadu State PWD (Public Works Department), the Thanjavur Chamber of Commerce and TREC-STEP, Trichy (Tiruchirappalli Regional Engineering College - Science and Technology Entrepreneurs Park).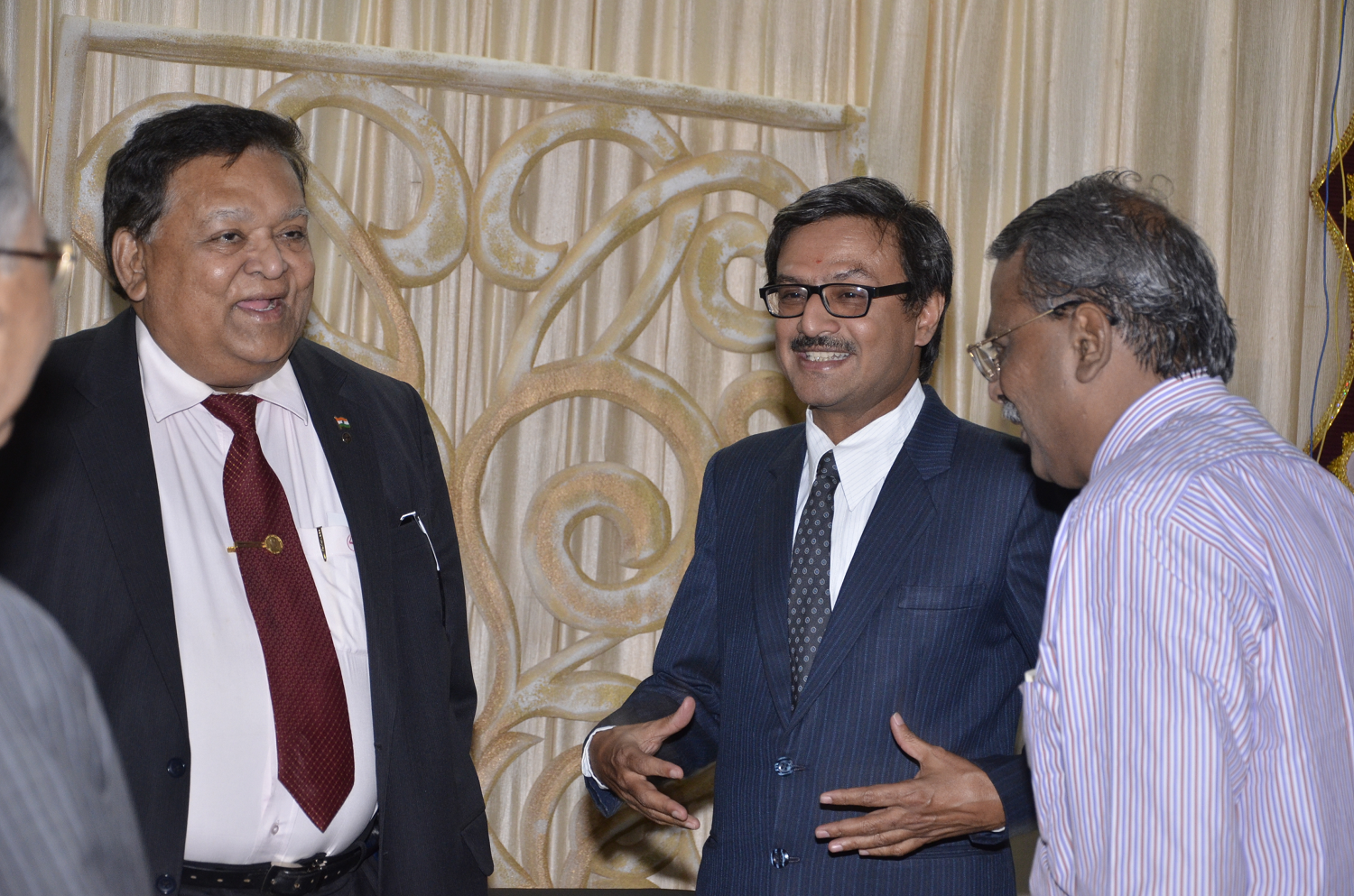 (Interacting with Mr. AM Naik (Group Executive Chairman, Larsen & Toubro) and Prof. V Gopal on 2nd convocation ceremony at IIM Trichy on 15th March 2014)
I also represented our institute at two meetings of the AACSB one in Delhi and the other in Shanghai. In addition, over the last seven years I have chaired a few others and served on several other committees at IIM Trichy; for instance, Internal Complaints, Programme Review, Accreditation, Placement & External Relations, Purchase, Library, International Relations, Faculty Handbook, Recruitment of Officers, Trademarks, Branding, Staff Welfare, Student Activities and the like.
I have served on the Board of Studies of a practice school, a state university, a central university and three private universities; Internal Quality Assurance Cell of a state university and another private university; Governing Council of another private business school, and Academic Council of a private university. Besides, I was a member of the expert committee formed to restructure an MBA programme for a central university.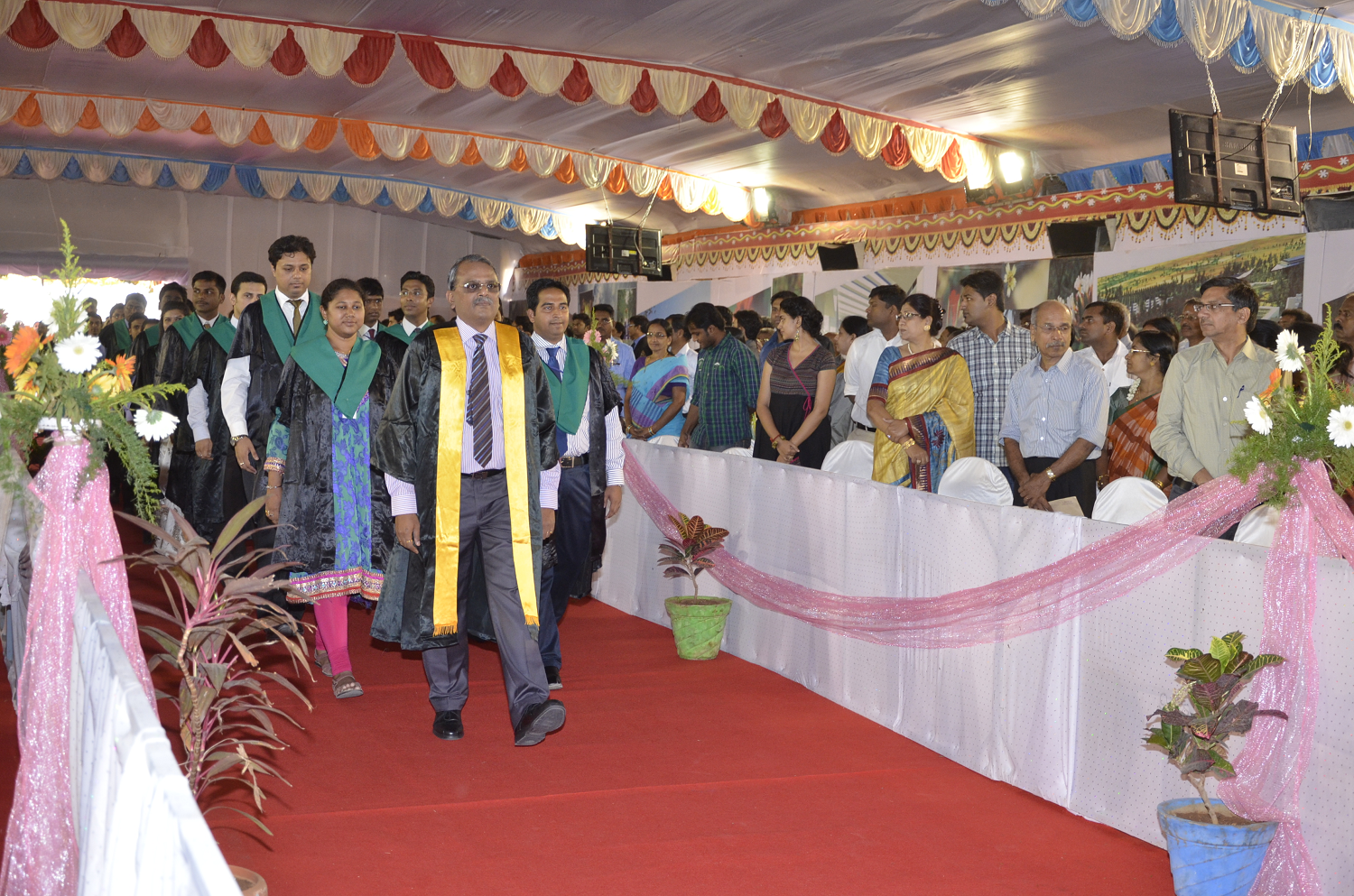 (Leading graduands of PGP Class of 2014 in convocation procession during 2nd convocation at IIM Trichy on 15th March 2014)
Thank you for reading this article about Professor Suresh and his efforts towards building the Institute from its nascent stages. Let us learn more about his practical knowledge in the next article (Part-2).
A fair warning - the journey passes through Hel(L)!