If you were asked to juggle a health condition like PCOD which plays havoc with your hormones at random times, preparation to get into IITs and NITs - the best engineering schools in India and move out of your comfort zone all at once, you might just feel like running away. And furthermore, if you have to deal with the disappointment of not making it to your dream IITs, you might just feel a load of self doubt. Very few people would be able to bounce back from such a failure to not only become award winning students but also Merit Scholarship holders. But that's what sets Sancy Isaac (SIBM Pune student) apart and among India's most employable graduates from the Class of 2019-21. That's why Sancy features as InsideIIM Best 30 this time. Read on to find out more about dealing with failures here!
The following is Sancy George's set of responses to a questionnaire floated amongst MBA graduates to determine the top-30 most employable MBA graduates of the Class of 2021. Amongst the massive number of entries and responses being evaluated by the Founders of InsideIIM-Kampus Konversations, Sancy's story and profile stood out. Here's her own story in her own words.
Take Your Career To The Next Level. Ask Our Experts Anything. We Will Respond Within 48 Hours.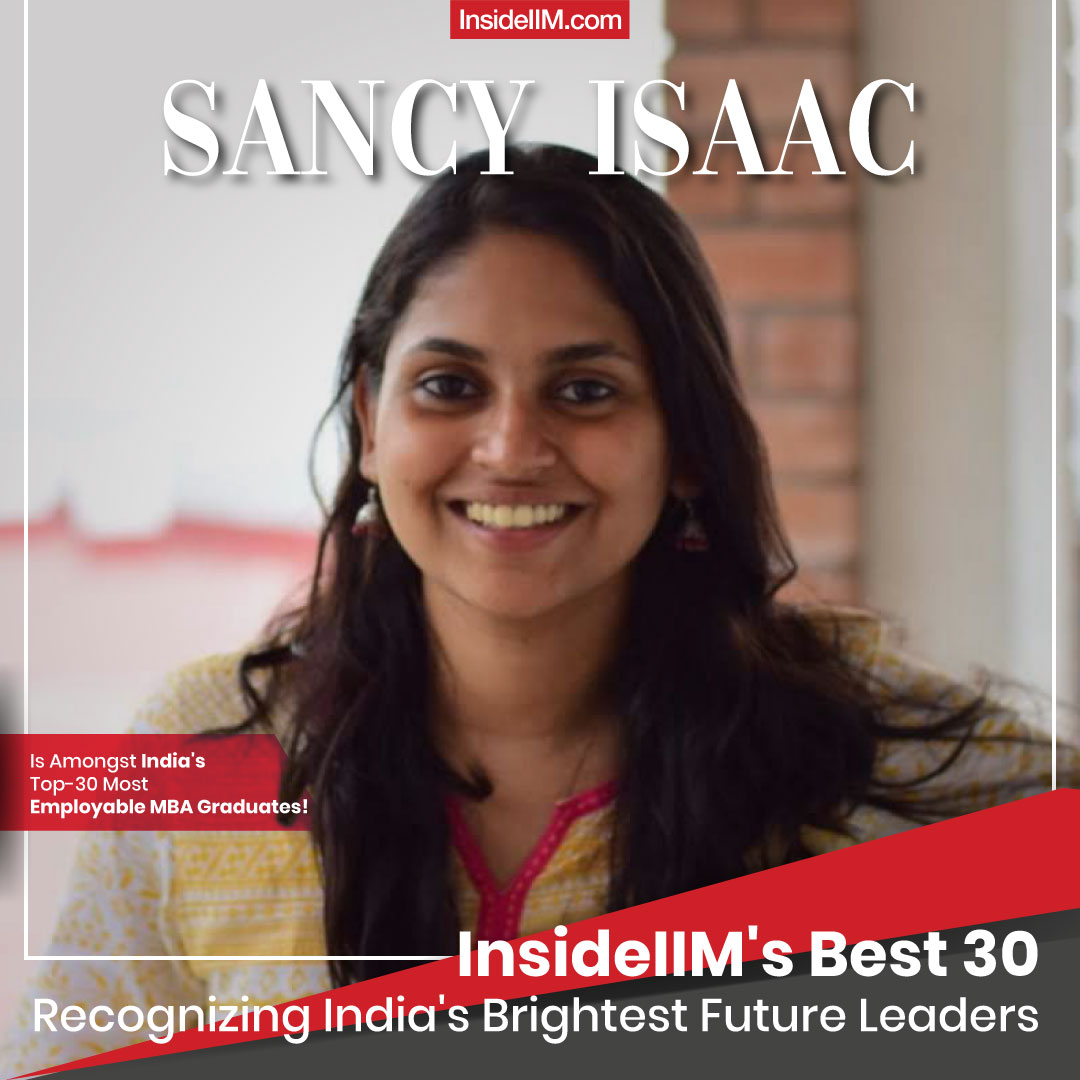 "SANCY means diamond, ISAAC means happy, GEORGE means hard worker. True to my name, I would describe myself as a bubbly, motivated, sincerely hardworking person who is ready to walk the extra mile. I have received accolades along my journey, but they are nothing more than small stepping stones. I aspire to learn and grow more. I am a strong believer in god and keep looking for challenging circumstances to keep me grounded. When I am not working, I like to follow my other small pleasures of life, to eat and review food, crack sudoku and watch entertaining sitcoms."
Name an instance where you wanted something and went out of your comfort zone to achieve it OR Tell us the biggest risk you have taken so far in your life.
"I was born and raised in Jamshedpur, one of the largest industrial areas in India. This had fuelled my interest for the field of engineering naturally. In my 12th standard, just like any other student, I was burdened by the pressure of boards (ISC board being toughest), participating in extracurriculars and studying for the entrance exams. To add to this, I also suffered from PCOD. Maintaining a balance among the three along with my health was a herculean task. I was just learning the ropes on time management and prioritising tasks. When the results came, I was happy with my board results, but disappointed as I could not make it to my dream IIT 's or NIT's. My dream of studying in a premium institute had completely shattered. I thought I was not adept enough to pursue engineering. However, my dad motivated me, inspired me to go with the flow and I went all the way from Jamshedpur to Chennai to pursue a degree in Electrical Engineering from SRM University. For me staying away from my parents, embracing new culture, taking a risk of not waiting for better opportunities and managing my PCOD all by myself threw me out of my comfort zone.
Through the course of four years, I not only learnt and understood the subject, but more so I gained key analytical, quantitative and problem-solving skills. My efforts and hard work led me to achieve scholarship throughout 4 years and secure the Silver Medal among a batch of 600 students. In the end it was all worth it."
When was the last time someone relied on you? OR What did you do which was purely for someone else - a truly selfless act.
"At the end of my grueling 4 years of engineering, I had secured a core job in VA Tech Wabag Limited, a leading multinational in wastewater treatment. The salary was meagre enough to take care of my basic amenities and the rest dived straight into my savings. After being on the job for a couple of years, once my brother was facing an issue in arranging the money towards payment of his semester fees. Immediately without any hesitation and expecting anything in return, I gave him the corpus I had saved for years. The importance of saving money was taught to me in my formative years; this quality assuredly helped my brother rely on me."
Tell us about a time when you disagreed with an opinion/idea/decision. What did you do about it?
"I had joined the Global Business Development team in Wabag. Over an intensive year, I had successfully handled high-profile consultants and client meetings, was influential in procurement of contracts, and played a key role in helping the company shape its Oil and Gas strategy.
Wabag was known for being one of the top 10 players in the desalination industry. However, it was losing its edge and was not able to grab any credible project in the last three years. The common reason sighted in the strategy meeting was the pricing quotation. However, I was not convinced with the reasons sighted for the failure.
As I was only a graduate trainee, it wasn't my place to state opinions during the meeting. Later, I took up the issue with my boss, the head of global business. He gave me a week's time to showcase whatever I had in mind with data and proof. I set in my heels, researched as much as I could, figuring out every individual case where we had lost the bid. I found out there were many other reasons apart from pricing; choice of partner, evaluation criteria, approved vendor lists and specifications. My boss was impressed with the presentation and asked me to present it to others in the next strategy meeting. For showcasing the drive and commitment, I was even awarded with the Extra Miler Award. This experience just reinstated in me the confidence that I have the capability to find the root cause of a problem and add value to the organization."
What is the one thing you can claim to have some level of expertise or depth of knowledge in - it could be anything - a subject, a sport, a hobby, a venture, an initiative which has led you to do deep work in that field?
"Sincerely speaking I feel I am still too young to say that I have achieved expertise in any field. However, I can honestly say that the one thing that I have pursued relentlessly since the past 3 years is the field of marketing. I got introduced to the subject when I was in the Global Business Development Team. This was the first time I was being exposed to the management sector, having only worked on technical projects before. This exposed me to a lot of opportunities – working with regional and international clients, developing 360-degree strategy to enhance the Oil and Gas sector business, successfully completing high profile registrations. This also helped me hone my presentation, customer engagement and analytical skills. My seniors and colleague's encouragement led me to perform better because of which I got the Extra Miler award. As a result of the deep interest in the field of marketing, I decided to pursue MBA to understand the effective way of managing a company, marketing a product, establishing a brand and also to be a well-rounded professional.
My interest peaked throughout my MBA course. I topped my semester 1 and was also awarded the Cummin's Best Student in Marketing Award. Even during the course of my internship in Bajaj Auto Limited, I applied the subject matter helping me to get recommendations, enabling me to bag a PPO.I have a long way to go and lots to assimilate and apply, before I proclaim myself to be an expert."
If 10 Million Dollars (approximately INR 75 Crores) is given to you to use it any way you deem fit what would you do with this corpus?
"75 Crores is a huge sum of money and could definitely turn one's life around if one knew how to manage it well. I would start off by paying education loans for me and my brother. My dad has spent the majority of his life savings on our education, so I would buy him a house in his native place Kerala and give him some amount as he is nearing his retirement. I would also buy a house for myself, help out some of my relatives who are not financially stable. I am a great believer in God, and would love to share his blessings with the less fortunate. The remaining amount (around 25 crore) would be put to good investment which can be of use to my children and their education. I would continue working hard and add to the corpus, so that it can be used in an efficient way. "
You Might Also Like To Read: