ShARE Network at IIMs – Must read for new admits at IIMs A,B,C & I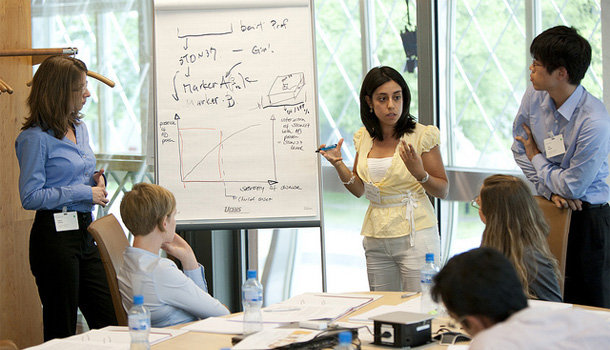 Team InsideIIM looks at a very different kind of an organisation that exists across a few Business schools in India. ShARE exists at IIM A, B, C and I apart from other institutions in India. We also speak to the former ShARE president of the IIM Indore chapter who recently graduated.
About ShARE
ShARE (http://www.share-share.org/) is an international student organization which connects talented students to corporate and social leaders to discuss world economic issues.
ShARE is a multicultural, non- profit organization for students that strives to better understand the complexities of socio-economic and business issues. ShARE's first team was created in Shanghai in November 2002. Today, more than 600 members in Shanghai, Beijing, Hanghzhou, Seoul, New Delhi, Kolkata, Indore, Lahore, Jakarta, Lausanne, Porto, Warsaw and Paris, gather regularly to discuss economy in Asia and Europe. In India, ShARE chapters are present at DSE, IITR, IIMI, IIMA, IIMB, IIMC, ISI Kolkata and NUJS. With the current emergence of a global knowledge and information society, ShARE's long term mission is to generate, share and use knowledge to contribute to regions' human, social and economic development.
Each ShARE member is part of a knowledge network and global projects. Examples of few global projects are "Smart grid in China and India" for EDF & CISCO, "Social business towards 2020" for Yunus Center, "Asia: an emerging R&D center for the world" for EADS & Valeo, "Study on the Voluntary sector in India" for the UN Volunteers program in India and many more. To know more visit http://www.share-share.org/index.php?page=whatwedo
Given below are the excerpts of a conversation with Bhoomika Goyal , former president of ShARE at IIM Indore.
1) What made you apply for Share back in 2009 when you started your first year PGP programme?
ShARE looked like a good opportunity to gain knowledge via research presentations and global exposure via its projects and world seminars. Also as ShARE was a select group of people it was a good way to differentiate my resume.
2) Did Share meet your expectations? What were your major learnings from it?
Yes it very much did. I got to learn a lot from my work on my presentation as well from those of my peers. The topics varied from energy to development economics to strategy.  Also I got a chance to be a part of a global project for Yunus Center, Bangladesh. Working with ShARE members across different campuses in different countries was a good value add. On top of all this, I was selected as the ShARE Campus President during my 2nd year which provided a good opportunity of hone my leadership skills.
3) We've heard there is a lot of international collaboration that takes place? Is it really effective? Any examples of people getting an opportunity to go on projects abroad?
Yes there is via global projects and world seminars. Each global project has members from different campuses across different countries. This provides a real good global exposure. IIM Indore has done over 10 global projects over the last two years with Valeo, EADS, Alcan, EDF, Total, Yunus Center and others. World seminars are held every year in which ShARE members from all over participate. This year's world seminar was held in Shanghai and 10 members from IIM Indore campus went to participate in the same.
One of the ShARE members from IIM Indore was invited to Paris by a leading automobile company to make a presentation along with representatives from across the globe working on the same project.
4) Have any of the Share projects ever been implemented by a company in practise and benefitted from it?
All ShARE projects are live paid projects. So the results and findings of the project are very much used by the companies and we have received very positive feedback for our work till now. The money from the projects is used to organize events, team outings and seminars. ShARE doesn't make any profits from it.
5) Areas you feel Share as an organisation can improve?
It's mainly a student run organization and we tend to lack in putting up a very professional front in running it. Students have other commitments but so far we have done fairly well. And we are in the process of learning. And as we grow our alumni join in to lend a helping hand which helps a lot.
So why should an MBA student join ShARE? Being a ShARE member gives a student the 5 essential exposures for which one joins a B-school:
Networking: One would be a part of network of 600+ members across more than 20 prestigious universities across more than 10 countries. ShARE has set up teams in prestigious engineering, economics, business and law universities till now.
Knowledge: A ShARE member is involved in various research presentations as well as global projects. It helps gain practical knowledge and experience which is different from theoretical academics taught under the IIM pedagogy.
Presentation Skills: This is one of the most important skills an MBA should have. Working on ShARE presentations and projects hones a member's presentation skills as a standard consult like format is used. Appropriate training is provided for the same to members.
Selling Value: At the end of the day everyone wants to secure their dream jobs. ShARE selection process is extremely rigorous to ensure the best get selected and only around 10-15 members are a part of any campus chapter. An exclusive ShARE global membership and project experience is definitely a big boost to your resume.
Fun: ShARE team events, outings and global world seminars provide a lot of opportunity for members to have fun.
– Team InsideIIM with Bhoomika Goyal
(Bhoomika Goyal is an alumnus of IIM Indore Class of 2011 and currently works with Marico. She has worked with Microsoft before and was part of the prestigious APEX programme. She also finished her two years at IIM Indore in the top 10 students of the institute and had bagged a pre-placement interview with Marico. She hails from Mumbai and is also the alumnus of VESIT,Mumbai – Class of 2007)