IRMA and SIMSREE, established 4 years apart, are 2 desirable management institutes in tier-2 and tier-3 categories (depending on which B-School categorisation you see). IRMA is an autonomous institute known for its flagship programme, PGD in Rural Management (PGDRM). SIMSREE is a government management institute, and its flagship programme is the Master of Management Studies (MMS).
In this article, we will discover which business school will be more well-suited for an aspirant, based on ROI, Batch strength, Infrastructure, and many other factors.
Before we start with the comparison, it is imperative to understand that IRMA is not your usual MBA college. It offers a highly specialised programme specifically for those interested in the Rural Development sector. Therefore, the subjects that are taught will be very different from what is taught in a conventional PGP or PGDM course.
IRMA - The institute offers PGDRM, which includes Rural Society and Policy, Rural Research Methods, Managing not-for-profit organizations, Rural Marketing, Rural Finance, etc. There are also conventional subjects such as Financial Accounting, Production and Operations Management, Market Research and Analytics etc.
This course is suitable for those interested in Rural Development and who want to work at the grassroots level. As we will discover, later on, not all salaries will be hefty packages, the biggest recruiters may not visit the campus, and the course will be not a conventional MBA programme. So these factors must be considered before joining IRMA.
SIMSREE offers the MMS (Masters of Management Studies) programme, which is a conventional MBA programme with subjects such as:
Operations Management
Business Mathematics
Marketing Management
Managerial Economics
Perspective Management
Organization Behaviour
Financial Accounting
Communication skills and Management Information System
According to T.I.M.E.'s B-School categorisation, IRMA features in the top 50 B-Schools of India, while SIMSREE features in the top 40 B-Schools of India. These rankings are based on various factors decided by T.I.M.E.
IRMA accepts CAT, XAT and additionally the IRMASAT scores for admission to its PGDRM course. IRMASAT is the IRMA Social Awareness Test, which is conducted approximately 2 months after CAT and XAT results are declared. It consists of 40 objective questions that need to be solved in 80 minutes.
For 2017-2018, the IRMA cut off stood at 80 percentile for both CAT and XAT.
Once an applicant meets the cut off for IRMASAT, they are called for the Group Activity and PI round. In this round, the candidate is scored based on their Test Score (40), IRMASAT Score (10), GA (25) and PI (25).
SIMSREE accepts CAT, CMAT and MAH-CET scores of applicants for short-list calls. Following this, there is a CAP interview process which includes GD-PI and marks are allotted for a candidate's academic record and work experience.
The cut-offs for SIMSREE are a bit intimidating. For CAT, a candidate requires 99.95 percentile, while a CET candidate requires 99.36 percentile (Maharashtrian resident) and 99.96+ for candidates outside of Maharashtra.
Note - It is clearly much easier to get admission into IRMA than into SIMSREE. It is quite surprising that CAT 99 percentilers would opt for a non-tier-1 management institute, or would not be able to convert any of the premier management institutes.
| | | | | |
| --- | --- | --- | --- | --- |
| | Fees | Average CTC | Median CTC | Highest CTC |
| IRMA | 12.08 Lakhs | 12.17 LPA | 10 LPA | 46.50 LPA |
| SIMSREE | 1.38 Lakhs | 10.92 LPA | 10.50 LPA | 20 LPA |
Highlights of Placements:
A total of 175 students participated in the placement process.
At IRMA, recruiters are categorized into:
a) Business Organizations, where the mean CTC stood at 12.07 LPA.
b) Development Sector Organizations, where the mean CTC stood at 9.42 LPA
The minimum salary offered at IRMA was 3.5 LPA, and the institute mentions that the graduate who took the job offer from an NGO "consciously chose to follow his dream of making a difference in the lives of people." In 2017, the minimum CTC stood at 4.5 LPA.
The institute received 315 job offers from 114 recruiters. That's approximately 2 offers per student. Recruiter names included ITC, Godrej Agro, Mapro, KPMG, etc. BFSI recruiters, which recruited the maximum number of graduates, included ICICI Bank, Tata AIG, Reliance and IndusInd Bank.
DSO recruiters included the National Dairy Development Board, Livolink Foundation (Associate organization of TATA Trust), BAIF Development Research Foundation etc.
The average CTC for:
a) Top 10% - 24.77 LPA
b) Top 20% - 19.56 LPA
c) Top 30% - 17.27 LPA
The highest package of 47 LPA was offered by the Singapore-based Tolaram group.
A total of 160 students were eligible for the placement process.
More than half the batch (55%) opted for BFSI roles, while almost 30% of the batch preferred the Marketing domain.
A total of 139 companies visited the campus for recruitment, out of which 27 were first-time recruiters. These included Aditya Birla Capital, Dabur, Reliance Commercial Finance, DBS etc.
Recruiter names included Godrej & Boyce, Bank of America, Deloitte, TATA Capital, Kotak Mahindra, ICICI, JP Morgan Chase etc.
Note - It is very clear that in terms of ROI, SIMSREE is way ahead of IRMA, which is not a bad option itself. The highest CTC offered at IRMA is comparable to the top-10 management institutes of the country (In 2017, IIM A's FABM Course had the highest domestic package as 27.07 LPA. The highest international package was 75.63 LPA when converted from Dollars to INR).
Batch Strength (Class of 2018)
Note - The batch strength for both these institutes is lesser than premier B-Schools of the country such as FMS, SIBM Pune etc. This can be perceived as an advantage during Final Placements, with lesser number of students to compete with for the best packages.
57% of the batch consists of Engineers, 13% consists of those with a Commerce background, 11% consists of those with a background in Agriculture, Dairy etc.
SIMSREE (Class of 2018) -
77% of the batch consisted of Engineers, while 12% were from a Commerce background.
The male to female ratio stood at 3:1.
42% of the batch consisted of freshers, while 28% of the batch had more than 2 years of work experience.
IRMA has various clubs and committees to allow students to pursue their hobbies and work in teams. For instance, the institute has student clubs such as The Student Photography Cell (Reflexion), Health Care Cell (Anamaya), IRMA Book Reading Cell, and IRMA's well known Organic Community Farm.
The institute also has its own Humans of New York format Humans of IRMA Facebook page. Anyone looking to know more about the institute and its people should go through this page.
The institute's annual fest is "Simerations", a 3-day event consisting of various management, cultural and sports events.
The institute is spread across 60-acres of land, consisting of hostels, mess, Students' Activity Centre, Ravi J Mathai Library, 400 seater IRMA auditorium etc.
The IRMA hostel consists of 216 rooms divided into 9 blocks.
Hostel Room at IRMA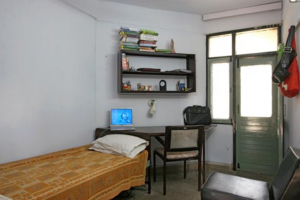 Classroom at IRMA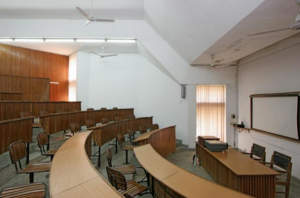 All the hostel rooms have internet connectivity, and each hostel block has a common reading room. The classrooms at IRMA are air-conditioned and have state-of-the-art facilities available. The institute also has a Sports Complex, with a gym and facilities for sports such as Football, Basketball and Volleyball.
Being a government institute, the infrastructure is modest but is sufficient for the students.
The SIMSREE campus is known for its Sydenham Excellence Centre. The campus consists of air-conditioned classrooms, a gymnasium, seminar halls and a cafeteria.
IRMA - The institute is located in Anand, which is known as the Milk City of India. Anand has a rich history and is an education hub. Amul has its origins in this city, and the economic growth of the town is rapidly growing due to the presence of multiple industries set up there.
The city is 38 kilometres away from the Vadodara Airport (1 hour away) and is 84 kilometres away from Ahmedabad's SVP International Airport (1.5 hours away).
The closest railway station is the Anand Railway Station, which is just 10 minutes away from IRMA.
The temperatures at Anand can soar up to 42C, and can drop to as low as 12C in the months of January and December. The town also receives a substantial amount of rainfall in the months of July and August. The city is known particularly for its low crime rate and is relatively safe for women.
SIMSREE -The institute, which is located in South Bombay, is in one of the most happening locations in the city. It is also very close to the Churchgate station, so commute becomes easier for even those staying away from the institute (since rent is expensive and SIMSREE doesn't provide hostel services). The institute is in close proximity to a variety of highly-rated eating and hang-out spots. The iconic Marine Drive is only a few metres away from the institute.
Modes of transportation are the black-and-white metre cabs, Ola, Uber, BEST buses, autos and local trains. The city is very well connected in terms of public transportation, which is very cheap.
The city receives heavy rainfall in the months of July and August and is cool in the months of January and December. The city is relatively safe to travel at night and has a vibrant nightlife.
The choice is simple between these two institutes. IRMA offers a highly specialised programme for students specifically looking to work in not-for-profit organisations or government organisations committed to the professionalisation and development of the rural areas. SIMSREE on the other hand provides conventional generalised management education, and excellent ROI. It is located in the financial hub of the country, attracting some of the biggest brands and industry leaders.
If you have any suggestions to improve this report, let me know in the comments.
In case of any corrections, please mention the correct data and cite your sources as well.