In words of Eleanor Roosevelt - "The purpose of life is to live it, to taste experience to the utmost, to reach out eagerly and without fear for newer and richer experience." What caught my attention is "newer and richer experience" and perhaps same was the intention but who would have thought that it would turn out to be more than that when a bunch of 29 participants including me from IIM Shillong landed in Paris for a short term Study Abroad Program at IESEG School of Management, Paris.
Study Abroad Program, aimed at providing it's participants a global exposure was strategically initiated in IIM Shillong's offering in 2015 when 31 participants experienced Nanyang Business School, Nanyang Technological University and this year IESEG School of Management, Paris was chosen. The curriculum was very carefully designed keeping subjects from broad areas.
The program started with Intercultural Management taken by Jacob Vakkayil. The focus was on understanding culture and its frameworks, an insight into synergy between European and Indian culture and how global leaders can benefit from this knowledge. At global level, leaders are exposed to various cultural issues and a good understanding of various cultures can help them in their decision making. We further discussed couple of cases and performed a group activity to make it more engaging
Paris is known as the Fashion Capital of the world and including subjects like Luxury Management and Fashion Communications makes these subjects even more relevant. Fashion industry has evolved over the years and so do their way of communication and that was the takeaways of Fashion Communications – To Study and Analyse the Fashion Industry as a whole and European Industry in particular. The most important takeaway from this subject was the change in perspective. India is a developing nation and the luxury brand's market is still in its budding stage but that's not the case with the Paris. Luxury Management was a subject that I personally liked a lot as it will be having immense potential in Indian context in coming years considering the pace of Globalization and Westernization that is shaping Indian consumer and their taste. As part of the curriculum several nuances of managing luxury brands were touched upon which were further extended to case analysis of a luxury giant firm and store visit to Galeries Lafayette, a French department chain stores which hosts stores of numerous luxury brands - Louis Vuitton, Hermes, Dior, Longchamp, Chloe, Kenzo are few to name. The visit was aimed at providing a first-hand experience of such brands and what goes in creating and maintaining such brands. The Fashion Communications and Luxury Management were taken up by Marta Marcheva and Gwarlann de Kerviler (a Harvard Graduate) respectively.
IIM Shillong is known for its emphasis on sustainability and considering its relevance in today's era Sustainable Innovation taken up by Malia Belkacem was inducted into the curriculum. Malia is an industry professional with more than 20 years of industry experience and also a lecturer at IESEG. Generally classroom learning provides more of a theoretical angle to a subject but Malia because of her vast industry experience helped us having a more realistic perspective. She also organized a short visit to Engie, a firm operating in areas of electricity, natural gas and energy services. Overall, it was a good subject to have in the list.
Other key highlights of the program were a presentation on European Financial Markets, European Commission and European Parliament by Eric Leurquin, a European Union official and visit to Ateier Lesage, a firm specializing in art of embroidery by Ida Djamon.
Paris is a great place to be and it won't stop amazing you – be it pace of life, process automation it has brought in their day to day activities and most importantly hosting plethora of scenic places. If Eiffel tower is a great example of great engineering then Louvre has major works of arts to offer and the list goes on.
But as all good things must come to an end for a better tomorrow, so was this tour and a better tomorrow would be when we can spread and implement the learnings wherever and whenever possible. We all left Paris with a heavy heart but with a smile in our faces and a promise to come back again to this beautiful city. In words of Dr.Seuss – "Don't cry because it's over, smile because it happened."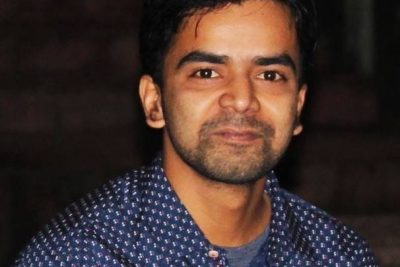 Vivek Kumar is a first year PGDM student.