Sujith got an offer from New York University to pursue a Ph.D - Masters in Biology. A product of the famous IISc, Sujith knew the value and impact of such an offer. But he decided to turn it down. Why, you wonder? Because Sujith wanted to rather work on creating more opportunities for research right here at home in India. Which is why Sujith happily bid adieu to New York dreams and decided to pursue an MBA right here, from IIM B. This insight and vision for the future is what makes Sujith one of InsideIIM's Best 30, one of India's most employable graduates from the class of 2021. Read Sujith's story in the article!
The following is Sujith Kumar's set of responses to a questionnaire floated amongst MBA graduates to determine the top-30 most employable MBA graduates of the Class of 2021. Amongst the massive number of entries and responses being evaluated by the Founders of InsideIIM-Kampus Konversations, Sujith's story and profile stood out. Here's his own story in his own words.
Take Your Career To The Next Level. Ask Our Experts Anything. We Will Respond Within 48 Hours.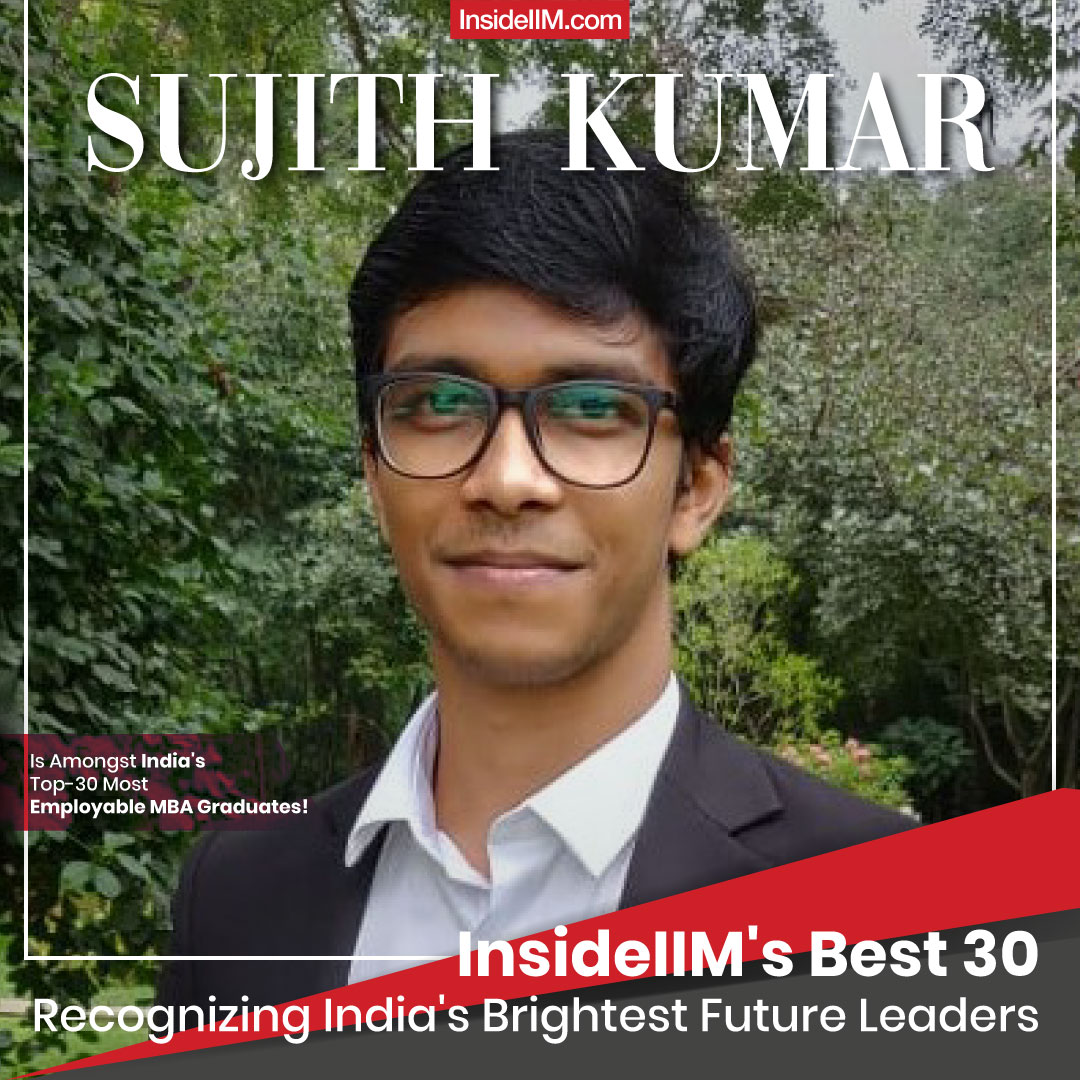 "I was an All India rank 46 in GATE 2019 Life Science and All India Rank 6 in CSIR NET 2018 in Life Science. Was a KVPY between 2014-19 and an NTSE scholar between 2010-14. I am a Master of Science graduate from IISc, Bangalore with a major specialization in Biology and a minor in Material Science. Currently studying at IIM B, I am focused on business analytics and finance. I am a member of "MITR", the student welfare club and a member of the Sports Council of IIM B. I have varied interests in academics and sports, was a part of the victorious contingent of IIM B Volleyball Team to Sangharsh 2020 and currently am the captain-elect of IIM Bangalore's Volleyball Team."
Name an instance where you wanted something and went out of your comfort zone to achieve it OR Tell us the biggest risk you have taken so far in your life.
"If someone were to say that their biggest risk was to join MBA at IIM Bangalore, anyone would laugh it off. But if they were to add that the person threw away a lucrative career in research in pure science with a PhD offer from Dept. of Bio Systems Science and Engineering at IISc and a Masters in Biology from New York University, I doubt people would feel the same. I think that was the biggest risk I have taken as of yet, with the hopes of developing private equity to extract the large untapped potential of research and development in basic sciences in India. The need to develop young minds and make basic research accessible to everyone. At the moment, few youngsters have ever dreamed of a career in research for it being less lucrative, yet whose necessity has become more pronounced especially during these trying times."
When was the last time someone relied on you? OR What did you do which was purely for someone else - a truly selfless act.
"Being a "MITR", a member of the student welfare club of IIM Bangalore, I have signed up to be the support system to 40+ PGP1s. As opposed to being there to take away the problems of my fellow juniors whenever they pop up, I try to make sure people build up to be self reliant over the time they spend at IIM Bangalore. Although it does sound contradictory to being selfless, the act of keeping people reliant upon someone is a means to keep them dis-empowered, which is highly selfish in my opinion. Over the past 5 months spending over 100+ hours with my juniors, I have been striving to empower them while trying to make sure I am available to them when things get tough. To be self reliant is what's necessary to survive post MBA which I do at my best capacity to make them better future leaders, while hoping for a ripple effect of them building better leaders out of their juniors."
Tell us about a time when you disagreed with an opinion/idea/decision. What did you do about it?
"A lot of us would love to brag about the burnouts and sleep deprivation of working late nights in our college times. As someone who has been exposed to hectic workload and strict timelines at IISc, the workload at IIM B wasn't worth losing sleep over. Over time I realized that to wear such a badge of honor was rather a romantic idea than reality. The act of staying up is not really supported by workload but rather was an excuse to justify procrastination. The idea of working late at night was something I disagreed a lot with my peers. With the burden of proof over me, I kept my schedules consistent to prove that timely sleep helps in improving concentration and subsequently energy levels and grades. Although a few got convinced, a lot of them did go back to the previous cycle of sleeplessness. As the old adage says "You can take a horse to a pond, but can't force it to drink water.""
What is the one thing you can claim to have some level of expertise or depth of knowledge in - it could be anything - a subject, a sport, a hobby, a venture, an initiative which has led you to do deep work in that field?
"I can claim to be "Master of Biology" in the literal sense and maybe, in a broader sense, I think I do have a better understanding of R&D in Biology from the academic perspective. Being an undergraduate at IISc provided me the opportunity to explore cutting edge research done in India. Every summer was a new experience and I have covered from a macro to micro levels of Biology over the past 5 years, ranging from probing potential Ayurvedic herbs to understanding the means of drug action in the microbial system to computationally analyzing gene and protein expression in cancer cells. Technicalities apart, ~30 months of thesis projects and internships have made me understand the depths of academic research and how contrasting it is with private pharmaceutical research in India, which focuses primarily on producing low cost generics. This may be sustainable in the short run, but India eventually has to enter the arena of mass innovation in pharmaceuticals and drug discovery."
If 10 Million Dollars (approximately INR 75 Crores) is given to you to use it any way you deem fit what would you do with this corpus?
"Our conventional educational process relies a lot upon rote learning which led to less development of rational thinking and scientific temper. For education like every investment, if we start small early on and through consistent efforts, we gain large returns in the form of human capital. A part of the corpus would be used to set up schools that train children on rational thought process and experimentation apart from conventional learning methods with the rest put up in an endowment fund to keep the schools running perpetually."
You Might Also Like To Read: