TISS Mumbai's HRM and LR programme (erstwhile PMIR) is arguably among the top two HR programmes in the country.
We are happy to feature TISS and we begin their journey on InsideIIM.com with their impressive summer placement report.
It was a 60 student batch and as expected from a school of TISS's reputation the process was wrapped up in good time for a school with a small batch. However, it is always a little challenging when all companies recruit only for a single domain. It closes options for the school in terms of being able to tap opportunities and in this regard TISS has done extremely well to get some very big names in the industry to offer internship to their students. This programme has been in existence since 1962! Also, TISS is located in Mumbai (Bombay).
Aspirants, Students and Recruiters should note that all roles below are in the Human Resource and Labour Relations domain. It is not prudent to compare the TISS report with reports of schools which offer a general management degree with roles across Finance, Marketing, Management Consulting, Operations, IT etc.
As always we would encourage you to look at the companies that have visited the campus. Since stipend figures are not audited, we do not vouch for the accuracy of the figures and we won't be making any comment on it either.
First Time Recruiters : Amazon, Bosch, CRISIL, HCL, Nomura, Philips, RIL , Sab Miller and Export Credit Guarantee Corporation (A Govt. of India Enterprise) were all first time recruiters.
It is an extremely impressive line-up. We believe a group of 60 would be spoilt for choice. There are companies across industries who hire at TISS Mumbai. Foreign Banks, MNCs, Indian Conglomerates, Technology bigwigs. Have a look at the entire list of 36 companies that recruited at TISS!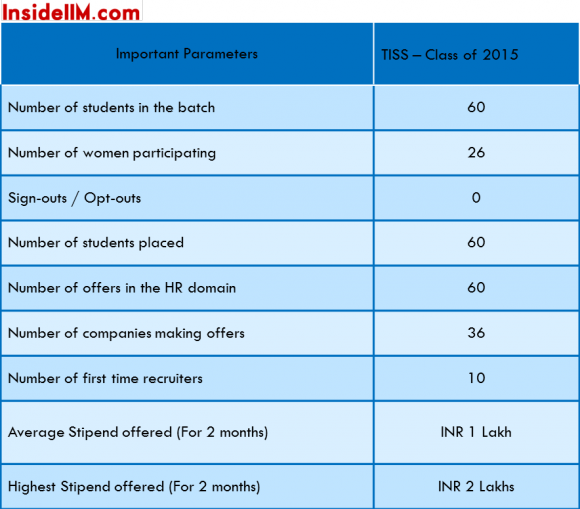 We cannot guarantee that 100% of the information above is accurate but we have done our best to verify. We would like to thank the Placement Team at TISS Mumbai for sharing the information in detail.
In case you wish to point out anomalies in the report, do write in to us at editor(at)insideiim(dot)com. We will try to clarify it with the placement committee. Anonymity will be ensured.
Summer Placement Reports - Class of 2014