"A woman with a voice is by definition a strong woman. But the search to find that voice can be remarkably difficult." – Melinda Gates
When was the last time you saw an article featuring the foremost ladies of the corporate world in one of the leading business dailies or the elite corporate magazines? Not long back, isn't it? Well, in the recent years, India Inc. in particular has produced some of the finest CEOs of the recent times including big names like Mrs. Indra Nooyi, Mrs. Chanda Kochar, Mrs. Kiran M. Shaw.. the list is pretty long. The question worth pondering is - what is it that has led to this sudden yet phenomenal trend of emergence of the talents of the apparently 'not-so-smart' fairer sex to the fore front? Well, one of the many factors that have led to this development is the sort of exposure and platform that they experienced while in their respective B-Schools. It would be highly unfair if we refrain from granting the due credit to their alma maters which, in most cases have moulded them into what they are today.
If we go by the track record of the most outstanding Indian B-Schools, it is clearly evident that the trend of increase in the enrollment as well as intake of female candidates is on the rise. 2010 was one of the most crucial years for the Indian education industry with the adoption/introduction of a somewhat reformist strategy of boosting education facilities and revamping the pre-existing norms, to facilitate a rather fair representation and hence, encouragement and empowerment of the fairer clan of the society.
In such a scenario, if a fortunate woman has been endowed with the opportunity to study in one of the finest B-Schools of the country, it is binding on her part to make the most of this opportunity. First and the foremost step towards achieving this is to work towards dispelling the widely accepted myth that women are 'self-doubters'. This could be achieved by streamlining one's thought process with respect to one's aspirations and goals in life and working untiringly hard towards achieving them, by overcoming all dejecting obstacles that come one's way.
One thing that every girl in a B-School has to keep in mind is that she has earned it for herself and hence, deserves to be there. Therefore, she should never let herself be engulfed with feelings of self-doubt or hesitation. She should try and participate in the ongoing class discussions to the best of her capabilities, and without any fear of being laughed/mocked upon. Also, this should be out of her free will and not just a desperate attempt to earn class participation marks. She should speak with authority and should never shy away from speaking her heart out, even in matters that she feels she is unsure of and are too trivial to discuss.
Also, women should make sure they have ample, healthy interactions with their peers as well as their professors. Apart from that, they should also make a conscious attempt to look like they mean business. Dressing appropriately not only gives one the self-assurance that is inevitable in most tasks and improves one's performance manifold, but also helps one communicate the fact that one means serious business. Their behaviour itself should be such that it commands respect.
It is true that India, like most of the other countries of the world, is on its way of busting the popular myth that B-schools are male bastions. A special emphasis is being given to women for admissions in B-schools that has been and will continue to be instrumental in giving them a better chance to showcase their potential. In such a scenario, it is up to the female candidates to not take these opportunities for granted and make the most of these splendid chances at their disposal. They have to realize that they are not in competition solely with the other women of the world but instead with possibly every single soul on this earth. They have to realize the very fact that nobody really gives them any power, they have to take it themselves, after all, sky is the limit!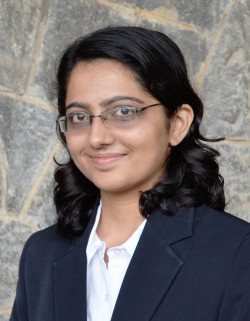 An Upantya Visharad in Hidustani Sangeet and in Bharatnatyam, Venu has been the epitome of versatility and consistency throughout school and college life. An EC engineer, she was a member of AIESEC & NU Tech where she managed various activities. She loves micro blogging and working for stray animal welfare. She is currently a management student at IIM Kozhikode (Class of 2015).
Read everything about IIM Kozhikode here