It's remarkable that he is working towards this noble cause when most people of his age are concerned only about their career – M Neelima, Founder – Cherish Foundation, Hyderabad.
Next time when you are going to throw your half un-eaten food on your plate into dustbin, take a PAUSE and think that the food you are going to throw can be a whole day meal for not so fortunate individual. You are lucky but many are not – says Mustafa Hashmi, Founder of GlowTide a non-profit initiative working towards the problem of 'Excess food wastage' in our country.
GlowTide Society Development (GSD) collects clean and untouched leftover food from Hotels, Restaurants, Function Halls and Corporate offices and Distribute them among the homeless and needy at orphanages, old age home and slum areas for free.
Prashant Sinha, PGP candidate (2013-15 batch) and member of Utthan – social sensitivity cell at IIM Indore UAE campus had discussion with Mustafa Hashmi about his initiative. Here is the full interview:
Q) Please tell us about your background before starting GlowTide.
Ans) I was born on 13th /March/1992 in Hyderabad, India. At an age of 4, I moved to Jeddah, Saudi Arabia with my family. I belong to a middle class family and was an average grade student at school. In 2010 after finishing my high school, I had to return back to Hyderabad for my graduation in Mechanical Engineering.
Q) What made you think to start GlowTide? Any personal experience that led to this decision? Elaborate your entire journey from start till now.
Ans) When I came to Hyderabad I was living all alone. I used to eat outside as cooking was not my cup of cake.
One fine day when I went to eat food outside as usual, I saw on the other side of the road a person drinking drainage water, on further enquiring about him, I came to know he was hungry and did not get even water from last few days.
This disturbing sight was something unusual for me to see and got imprinted in my mind, Later on the other day I decided to skip my dinner and go to sleep to see how it feels to be hungry. The whole night passed out and I was still awake. These are the experiences which made me think that if I cannot sleep hungry then no one in my country should sleep hungry either, Hunger changes the personality of a person and I must do as much I could to help those who cannot afford to achieve even a meal in a day.
I then tried looking up for organizations and institutions that work with these lines but was not able to find suitable one.
This is when I decided to start a initiative to reduce the hunger and later registered it as GlowTide ( Glow meaning the glowing of a person from inside when we feed then & Tide meaning We will come as a wave to ensure hunger is wiped-out )
Q) Being NRI, from middle-east to India for engineering and then to social work. Explain your journey.
Ans) My journey of life has been full of weird experiences and learning the facts of life the thought way. I thank God for making me pass through different phases of life from the Top-Highs to the Bottom-Lows which made me more matured as compared to the youths of my age.
Q) How tough is to manage your education along with your food wastage campaign. How did you manage?
Ans) I had to start everything right from the scratch with hurdles in-between. But by the grace and mercy of God and strong determination I was able to achieve and streamline all the processes in a workable format.
My routine during the initial days of these project was like :
- Be at the college from 9 to 3pm
- Leave for collection of the food at 5p,
- Distribute the food on streets from 6 -7pm
- Reach home and have lunch at 8pm
This routine would completely exhaust me. However, as the activity started expanding and receiving larger amount of food, and things got better I hired an Auto for our operations which is continuing till now.
Q)Challenges you have faced in terms of execution from inception till date. Please elaborate.
Ans) Well with every act comes its own challenges likewise for us the challenges were.
- Finding a good team and like minded people
- Finding a food donor – Who could provide us with Clean and untouched food on daily basis.
- Arranging a regular on time Transportation facility
- Packaging of vessels to ensure the food does not get spoiled during transportation
- Make sure distribution is done on time.
- Generate funds to keep the operations alive.
- Make surprise visits to the collection points as well as distributions points to ensure the quality and the methods by which the food is served.
- Expanding operations in various places to stop food wastage as much as possible and to benefit to a larger group of people.
Q)Explain your model for food distribution to needy which you collect from various sources? Kindly elaborate the whole model of execution.
Ans)We presently have partnered with an IT Giant Company and a three star catering vendor who provide us with fresh and clean food for about 160 empty stomachs daily (Monday – Friday). We are also in talks with few other companies and Indian Army for their food.
The cycle of operations is like:
- The lunch for the corporate employees takes place from 2-3pm
- Our Auto Vehicle reaches the collection points around 3pm
- By the time the vessels are filled and packed its 4pm ( Earlier we use to make packets of 500 grams of Rice and 200 grams of curry, But now we have containers of 25 liters for rice and curry)
- By 5pm the vessels are dropped at distributions spots.
- By 7pm the food is served
Q) How do you identify the needy ones?
Ans) When it started,we identified few slum areas where homeless stay nearby my locality.
My aim was to feed to those needy who were not able to find food for themselves after struggling whole day and that is the reason during our initial days we were distributing packets of rice and curry to each individual. But over the curse of time many people came to know that a good food was being provided free of cost, So many unwanted people would gather for taking up the food such as nearby watchmen, daily wage workers etc making it difficult for us to identify who the real needy was.
Hence, we decided to stop distribution this way and started searching for a Slum school which was not funded by the government and was struggling for food which eventually we found. This was it help both the causes by attracting the poor kids to come to school and providing them nutritious food.
Q) Share some stats to support your initiative and also success stories if any.
Ans) At an average we are feeding 150 souls daily from last 15 months
- Serving 75 kg of rice and 30 liters of curry daily
- Serving 1900 Kg rice and 800 liters curry monthly
- Feeding about 4000 monthly
- Spent nearly2,20,000 INR on Excess food management (EFM) for prevention of food wastage.
Cherish foundation a shelter home which rescues kids from railway stations, roads etc and send them to a Govt. English medium school and provides them means of living. Before a year they had about 30 kids and these kids would run away due to lack of comfort and poor food provided.
Glowtide has been supporting this organization from a year proving them with a day's meal. Today they have about 90 kids and no one is running away. They are happy and pray for the success of GlowTide.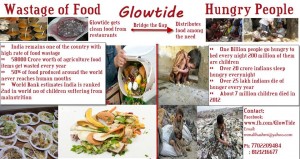 Q) What is your future plan in terms of count of food receivers to geographical expansion?
Ans) We are working on ways to achieve a target of being able to provide food to about 3000 individuals daily by the end of this year.
With the flow of funds we are planning to dedicate a full time VAN, which will collect leftover food from anyplace in the city, Just by giving us a call or by submitting the details on our website (www.GlowTide.org) , The pickup will be provided free of cost to the food donor. This way we will save an approx. 800 TONS of food.
We are in talks with like minded people to start glowtide in Delhi and Mumbai.
Q) Is your initiative sustainable for long term? Please Justify.
Ans) Yes, This Initiative is sustainable at a long-term because there is lot of food being wasted on one hand and on the other hand there are people dying of hunger in the same locality. With proper channeling of our activities we shall continue to serve till there is no more wastage of food and no homeless sleeping hungry.
Q) How can today's youth and readers contribute towards your initiative?
Ans) We would like to see our youth coming forward and taking part in society development activities, They could volunteer for us on the field activities.
We would ask the readers to help us by providing financial donations.
We ask people to help us find or be Food Donor whenever they have excess amount of food leftover.
Students from other colleges could join us and help us in donating the leftover food in their canteens to their nearby slum areas.
Q) What is your message to all the readers?
Ans) If they are able to read this and If they are able to sleep peacefully with a full stomach, then they are among the very fortunate and blessed ones, According to the Global Hunger Index Report released in October 2013, India is home to a quarter of the world's hungry. About 210 million people sleep hungry in India.
I want people to be more mature, more understanding and more responsible. We are not answerable only for the wellbeing of our family and relatives but we are questionable also for the beggar who was shivering in rain right in-front of your gate, While you just shook your head away when you saw him through the window at laying at your comfortable bed, Pause for a while, THANK GOD, Try to help him/her in whatever little way you could, Just a prayer is not enough. Don't wait for anyone else to do a good act or wait for the government to pass bill on these issues.
Stand Up, take the lead, improve somebody's life, Try to bring a smile on at-least one face during the 24 hours of a day. Because this is what is going to be remembered when you die.
Lastly Support and help GlowTide reach its aim and full fill the mission. I would be glad to receive any suggestion or recommendation, should you have any.