The Harvard US India Initiative Conference (HUII) is a student-led organisation that aims to foster long-term cooperation between youth from the United States and India, to address some of India's most pressing social, economic and political issues. This initiative started out in 2011 and over the years has grown by leaps and bounds, as a platform which inspires the youth to debate, discuss and deliberate their ideas for India's future, define the challenges that confront our nation and seek solutions to them.
This year's conference was conducted in Mumbai on January 7th and 8th and saw the participation of around 300 delegates from leading universities of India, US, UK and Australia. Having been selected as a delegate for the same, in this write-up I shall try to throw some light on what I learnt from this conference through my interactions with the panellists which included a plethora of leaders from the corporate world, academicians, lawyers and people from the creative world.
The very first keynote speaker was Mr. Sunil Bharti Mittal (Founder and chairman of Bharti Enterprises). He spoke in length about strategies that Bharti Enterprises pursued for their expansion in Africa. He also stressed on the role and importance of disruptions in the technological space and how it is important for organisations to understand that disruptions need not only be limited to products and deliverables, but also can be achieved in terms of creating new business models. The second keynote speaker was Mr. Amitabh Bachchan and needless to say, the entire audience went crazy when he arrived and broke into a huge round of applause as soon as he said "Good evening, ladies and gentlemen" in his trademark baritone. Mr. Bachchan spoke about the evolution of Indian cinema, how movie making has changed over the years and the role of cinema as an instrument of change for the society.
However, for me the most enriching part of this two day stint were the panel discussions on social topics, culture, science & innovation, economics and politics. The panel discussions that I was a part of were:
· Engaging Difference: Building Voice And Empowerment for Vulnerable Groups by Jacqueline Bhava, Professor at Harvard T.H Chan School of Public Health and Lecturer at Harvard Kennedy School and Harvard Law School
· Science: Days Of Future Past by Ashok Jhunjhunwala (PhD- Professor in the Department of Electrical Engineering at IIT Madras) and Manmohan Sharma (PhD- Director of Institute of Chemical Technology, Mumbai)
· Down But Not Out: Underrepresented Sports & Commercialization by Parth Jindal (Managing Director of JSW Cement), Supratik Sen (CEO, Unilazer Sports) and Narendra Batra (President, International Hockey Federation)
· Rural Development: Financial Inclusion In Rural India by Bindu Anant (Co-Founder and Board Chair of IFMR Group of Companies), Rajiv Lall (Managing Director and Vice Chairman of IDFC), Abhishek Agarwal(General Partner at OperatorVC) & Shinjini Kumar(Director, PwC)
· Hello Neighbours: India And The Geopolitical Balance In South Asia by Dhruva Jaishankar(Fellow for Foreign Policy at the Brookings Institution India), Pramit Pal Chauduri (Foreign Editor of Hindustan Times) and Abhinjan Rej (Fellow at Observer Research Foundation, New Delhi)
The discussion on vulnerable groups focussed on the role of schools in the process of sensitizing individuals against various forms of discrimination. In the panel discussion on financial inclusion, Ms Sinjhini Kumar pointed out something very interesting. She said that 'financial inclusion' is a very patronising term and rather it should be called as 'financial access'. The panellists spoke about several regulatory and technological challenges that the banking sector is facing in its penetration to rural India. The discussion of the science panel focussed on how to create a balance between research in areas with immediate practical implications and the ones where scientific curiosity needs to be nurtured and encouraged for path-breaking innovations. The panel also spoke about some of the hot topics in science research at the moment, including the vast domains covered by machine learning and artificial intelligence in particular. There was an interesting debate in the politics panel on the question of whether Indian foreign policy is more reactionary and less visionary. The discussion in the sports panel was on privatised leagues, their success & effectiveness and whether their models are sustainable and scalable across different sports.
All in all, being a part of the conference was a truly enriching experience for me not just in terms of what I learnt from the elite panellists but also in terms of what I learnt from my fellow delegates. I have always believed that we can learn a great deal from everyone we interact with; from their experiences and stories. While I can't possibly write down in length about all the discussions that I had with other delegates, there was one story which really touched me and I can't possibly end my article without mentioning it. There was this school girl from a lesser known town of our country (yes, even kids aged 12 were a part of this conference) who spoke about how she and her friends had taken up the issue of their school not allowing girls to practise volleyball and how they had convinced the administration to act on this problem. Moral of the story being, we don't need to be thinking of big changes. We witness enough problems and suffering around ourselves on a daily basis. If we can make the life of even one person better through some act of kindness, that would be enough for one lifetime.
_______________________________
About the Author: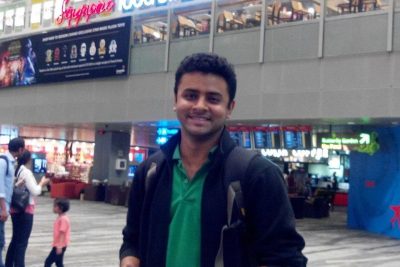 The author is a final year PGDM student at IIM Shillong.