Having known the different male 'types' who exist in the hallowed portals of the IIMs, it is but natural that we explore their female counterparts too. The paucity of the feminine species in these big campuses, more so in WIMWI, makes their presence all the more important. In an effort to ensure that gender sensitivity prevails, this section features quite a few of the female prototypes you would come across in IIM campuses.
Take Your Career To The Next Level. Ask Our Experts Anything. We Will Respond Within 48 Hours.
Her title gives it away. She could be eldest of the 'em all and the queen bee of sorts. She is very fluent in her thoughts and assumes that talking (a lot) is her right. Talking to her is a big fight. She is a perpetual chatterbox hell bent on hijacking the CP component of the class and transforming it into a monologue (at times, at the cost of the professor's silence.). She is relentless and doesn't distinguish between courses. She takes the 'learning' experience to an all new level replete with random CP. And all this despite the disapproving nodding of heads around her, the suppressed giggles from her neighbours and the rebellious whispers. In some cases, queens do have their set of loyal male side-kicks who, at her behest, could bash up any soul who would rebel against her. She is unputdownable.
Pretty, shy, coy are the words that come to mind when you see her. Mostly a fresher, she brims with innocence, and doesn't exhibit even an iota of oomph. Although the FB friendship requests she gets easily outnumber the CAT applications received by the IIMs, the guys in her batch ultimately steer away from hitting on her for fear of being branded as paedophiles. The girls around her treat do not acknowledge her as worthy competition and treat her like a kid straight from the kindergarten, which enrages her a bit. There is an element of structure, basic hygiene and cleanliness about the way she dresses and presents herself. She is soft-spoken and does not go over the top. When she starts to speak, the whole fish market (Read 'GD') listens to her like civilized beings. Apparently she is yet to score a CP point.
You see her in college mess, stuffing a slice of bread into her mouth with one hand and devouring information from the Economic times held in the other hand whilst she supports her cell phone with her shoulders. She already raises visions of the next Chanda Kochchar or Indra Nooyi when dressed in chic business formals especially at company pre-placement talks.
Flamboyance and extravagance do not find a place in her lexicon. Smooth in her conduct, confident in her speech, a subdued smile; there is everything proper and professional about her. She looks you in the eye without as much as batting an eyelid. She wears a cloak of exclusivity while all the males look at her with silent awe and respect but none wanting to be part of her circle. She possesses the silent resolve to break all the stereotypes which restrain females. She has a flawless profile (much like 'the stud'), has a slew of achievements against her name and does not mind being relegated to side-lines on the 'hotness stakes. She is just the sort who makes it to the shortlists of every Day-1 recruiter (without her credibility being questioned)
She has all the makings of a die-hard wannabe. She is found with her batch of 'cool' guy friends, one of whom is silently having a crush on her. Their adda is a spot on campus, namely the mess entrance, classroom corridors etc. conducive for her to capture enough eyeballs and gain instant visibility. She purrs like a cat, loud enough to be heard by all, lamenting to her guy mates that her operations assignment is still incomplete (hoping that one of the losers would pitch in with some help, which ultimately happens). She sounds cheesier than mozzarella and loves being in the limelight knowing well that each guy is looking for an opportunity to hit on her. Attention-seekers love each other, don't mind PDAs between themselves (limited to hugs and kisses) and serve as the nucleus around which the group dynamics is built.
She has the looks that could kill. And that's all she is believed to possess. But she does have the last laugh during the summers when she is the cynosure of most eyes (when the stakes are really high). Her IQ levels raise a big question mark on the CAT standards. She is the one who is invariably cold-called, in every course much to the professor's regret later. Her extra-curricular record is flawless, she is a member of an art club and best expresses her abilities in a non-classroom environment. Her dress sense helps understand 'intervals' better than the Probability and Statistics class.
She too is surrounded by guys like the 'attention seeker' but only before a quiz or a big exam for the junta to salvage a 'C' in. A college topper and gold medallist, big grades, bountiful quizzes etc. are things which define her. She is at peace with herself and displays a sense of sanity and serenity. She competes closely with Nandita Das on fashion stakes and does not attach much importance to glam quotients. She doesn't mind her other female dorm-mates attracting colourful love-mails from guys while she goes about her business in a work-woman like manner. She shuns off all talks of having a boyfriend but nurses a secret crush on Hrithik. Her notes are the holy gospel and she admonishes herself for not coming prepared to class with the relevant case on a given day.
If ever there was a mascot for this type, Lindsay Lohan would fit the bill to perfection. Unlike the low-profile muggu, these types care not for grades, marks or quizzes. Life for her is much more than just worrying about such petty things. Her looks wildly fluctuating between "unkempt, just- out of- the -bed" to "ready- for –the- party look", she wears the trademark bad-girl image which conveys the message of 'I am what I am. If you have a problem, I don't give a damn." She puffs away like a chimney, in the company of the 'wackos' who are her best buddies. From stilettos to purses or hand bags, she smells of the choicest brands. She uses cuss words with gay abandon, especially when describing some of the above female types whom she despises.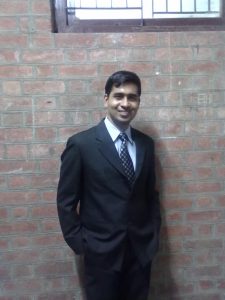 The author is a first year PGP student at IIM Ahmedabad (Class of 2013). He graduated from NIT Trichy in 2007 and worked for nearly 4 years in Mahindra & Mahindra, Automotive Sector in the vendor management function. His blog page is http://my-newsense1.blogspot.com.
You may also like to read :