For some of us, an MBA is a choice for others it is all or nothing. Our today's feature Vasundhara Singh dreamt of IIMs since a very young age. She even shaped her academics and co-curricular accordingly. After her undergrad, she joined EY and work 13-14 hours along with her CAT prep. She even resigned from the company during the last mile of her CAT journey, when her company refused to give her a study leave. This determination and focus towards her aim placed her amongst India's Best-50 Most Employable MBA Graduates!
The following is Vasundhara Singh's set of responses to a questionnaire floated amongst MBA graduates to determine the top-50 most employable MBA graduates of the Class of 2020. Amongst the massive number of entries and responses being evaluated by the Founder of InsideIIM-Kampus Konversations, Vasundhara's story and profile stood out. Here's her story in her words.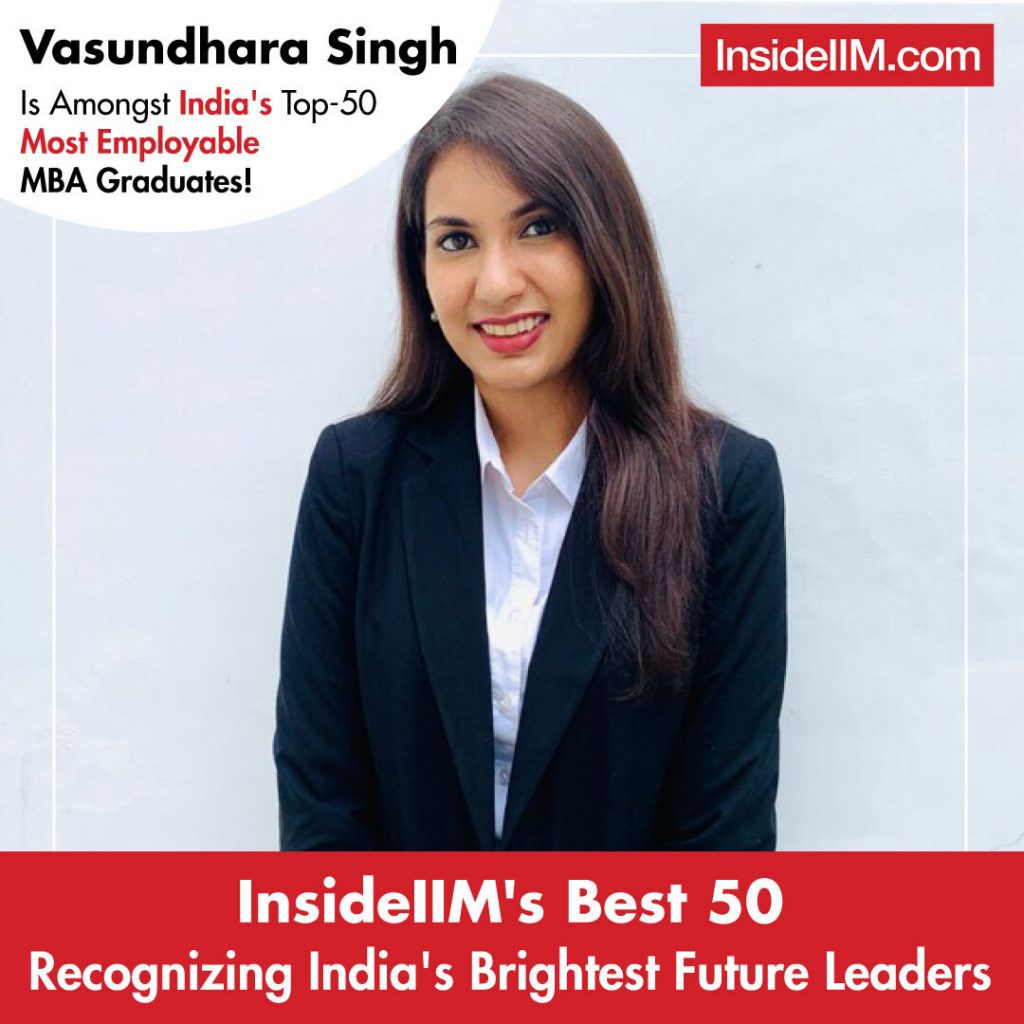 "I come from a family, which always laid emphasis on embracing knowledge. This followed up my admission to a prestigious college of Delhi University, Hindu College to study economics. Working as a member of Enactus and Kitaab Club NGO, deepened my sense of duty towards society. After graduation, I joined EY where I gained first-hand industry exposure and decided to study management to widen my horizon. I recently graduated from IIM Shillong, which shaped my personality to solve the most challenging situations with sincerity, hard work and discipline. I have a keen interest in dance and have represented my state in national level skating competitions."
Name an instance where you wanted something and went out of your comfort zone to achieve it OR Tell us the biggest risk you have taken so far in your life.
"Doing MBA from an IIM was a dream for me. A dream that had been with me since the tenth standard and I started working towards it since a very young age. I focussed on my academics and extracurriculars throughout my school and college. I got a college placement in EY. I joined the company but I also wanted to pursue my dream. Hence, I went out of my comfort zone towards turning this dream into a reality. My job was a tough one, our team was going through some difficult situation which required 12-14 working hours a week, including weekends. I tried giving my 100% to the job as well as studies. Along with this tight schedule, I studied 3 hours every day, burning the midnight oil every night. It was very strenuous but my dream was the eye of the fish. Incidentally, this was also the time when I took the biggest risk of my life. One month before the CAT, I wanted to put the maximum of my energy towards cracking it. I applied for study leave but the company rejected the application. My seniors liked my work, they asked me to take sick leave and give a fake medical. But somewhere in my heart, I couldn't cheat the company I work for. Instead, I decided to resign. I even betted my job for the dream, and from the day I resigned till the day I gave my interviews, I gave my all to my dream."
When was the last time someone relied on you? OR What did you do which was purely for someone else - a truly selfless act.
"I got placed in EY through campus placement during my under graduation. Just 15 days after joining the company, I got a call from one of the project lead telling me to join her project. This new project was a very tough and important project for our company. Our team was constantly working under pressure with insane working hours. Unfortunately, the team lost its motivation and everyday team members were calling in sick to avoid work. So, we had two problems, one we were late on deliverables and second, we had less manpower every day. One day, the client shouted on the project lead in front of the entire team. She was in tears but tried to keep herself calm. She was the senior-most on that project while I was the junior-most. No one was talking to her, and I felt bad for her. My heart cried out for her. I went and offered her a bar of chocolate and she looked at me smiling. That day I understood the power of empathy. She slowly started giving me more work. My progress grew exponentially. I started doing work far superior to my position and I excelled with flying colours. The incident showed me my true potential and I got a new friend as well."
Tell us about a time when you disagreed with an opinion/idea/decision. What did you do about it?
"Just like any other family, my family has always wished the best for me. But one time I went against their wishes and decision, in the pursuit of fulfilling my dreams. My father always wanted me to be an engineer and when I decided to study PCMC in high school, his hopes got higher. I had always been good at academics, so he made his decision without ever consulting me. He even got me admitted to one of the most prestigious engineering colleges. I tried not to break his heart, but then it meant breaking mine. I thought if I can't stand for myself today, I will never be able to. I liked studying science, but I wanted to be an economist and not an engineer. I told him my decision, made my first PowerPoint presentation to explain and convince him about my dream. The presentation included all my achievements until then and what I want from my future. It has a roadmap of my future goals. That day, for the first time he saw me as a grown young lady and not his little daughter. I made sure he was happy and proud of my decision. The most memorable part of that day was when he said that while giving the presentation I looked like just the businesswoman I wanted to be."
What is the one thing you can claim to have some level of expertise or depth of knowledge in - it could be anything - a subject, a sport, a hobby, a venture, an initiative which has led you to do deep work in that field?
"Finance is one subject which has my heart. Whenever I study this subject, I feel like studying and learning more and more about it. It's a very difficult subject, so I can't say I am an expert in it but I keep trying to learn more concepts and topics so that someday I can actually be an expert of this field. During my under graduation, I studied one subject on finance and that's where our love story started. In order to know more, I started doing some NSE courses and certifications. When I started my MBA journey, finance used to be my favourite subject and choosing the electives was like a piece of cake, I just had to select all finance subjects. I also did my internship with the investment banking division of Nomura. During, the internship I worked on a sell-side deal for a UK based company. I did the various types of valuations and gave some portfolio considerations for the company. I further want to learn and work in this field. Hence, I am studying for my CFA Level 1 December attempt as well."
If 10 Million Dollars (approximately INR 75 Crores) is given to you to use it any way you deem fit what would you do with this corpus?
"I would first use the money to clear all the debt obligations of my father. He is going to retire soon so I would invest INR 5 Crores to take care of all my parents' requirements of the future. I would give INR 30 Crores to an NGO. Given the time of the pandemic, I would donate this amount in the PM Cares Fund in order to help the underprivileged people of our country who have no income and savings in these sad times. INR 35 Crores I will invest in a venture capital firm as an LP. INR 5 Crores I would invest in different types of financial products as my savings."