The current pandemic has shattered previously held preconceptions, debunked many beliefs, and refuted scholarly claims. Among its many victims, are the arguments against the effectiveness of virtual workplaces. The story of the emergence of the virtual workplace is one of change, that was swift and crucial to survival. As organizations rushed frantically to arrange logistics and coordinate action plans to ensure continuity of business, unprepared employees grappled with the socio-cultural and health effects this change foisted on them.
The past months of adapting and acclimatizing to this new normal have also been periods of discovery with new technological and behavioural challenges threatening to undo the modicum of stability accomplished. There is a host of research being undertaken to study the effects of the virtual workplace on employees, and its interaction with their social, cultural, and emotional spheres of life.
It is in the light of these raging transformations that the Vinod Gupta School of Management, IIT Kharagpur will host its online management conclave, Vishleshan - an enterprise that seeks to engage some of the brightest professional minds and industry stalwarts in a captivating deliberation to unlock answers to the pressing challenges of the current times. The theme for the event which is all set to go live on 16th August 2020 is "The Virtual Workplace: Upholding employee well-being while ensuring organizational productivity."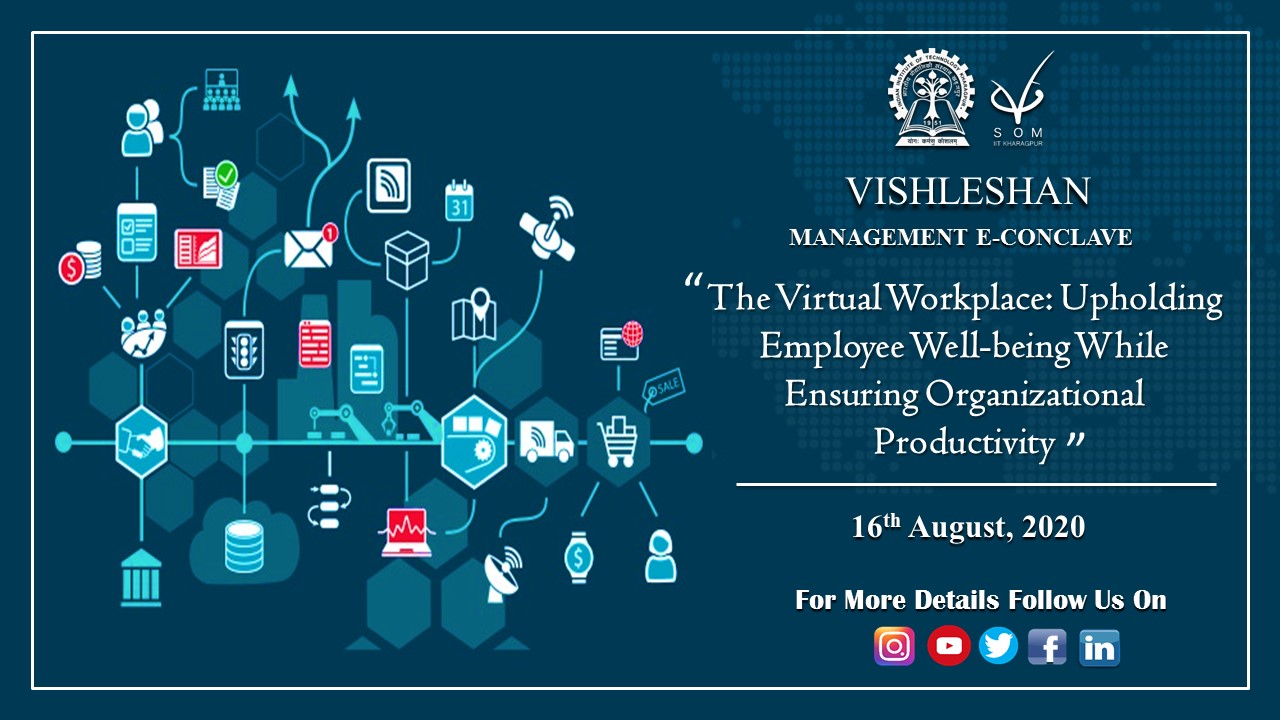 The purpose of this corporate-academia engagement is to create a learning experience that infuses the real-world complexities and thoughtful insights of the panellists with their academic and technical proficiency. The current times offer a unique opportunity for budding managers to learn how industry veterans respond to such volatile business scenarios in a very practical setting.
While technology and the internet have allowed us to transcend geographical boundaries, they have raised concerns over security and the adverse effect on interpersonal networks and relationships, both professional and personal, between colleagues separated by distance.
In the absence of the control that proximity provides, employers are trying to ascertain methods to reduce potential distractions, engage with employees, develop improved communication benchmarks to prevent poor decisions, and boost the overall productivity of the organization. Virtual assistants and the whole gamut of innovative solutions that technology has to offer are being deployed by organizations to ensure undiminished interactions, establish trust, and foster cooperation.
New studies pointing to increasing mental health problems and burnout experienced by employees while working from home have brought discussions regarding the perils of remote working to the fore. Human resource experts and leaders are tasked with treading the delicate line between employee satisfaction and organizational growth.
With all signs indicating that virtual workplaces are here to stay, the discussion revolving around how their use can be maximized and associated risks be mitigated becomes even more pertinent.
The theme of the event highlights the relevance of these challenges that the panel will address in what promises to be an insightful deliberation.